In the bag! Artist-designed accessories to covet and collect
Louis Vuitton, Dior, Fendi and Loewe and Akris present state-of-the-art accessories for exhibiting in your archive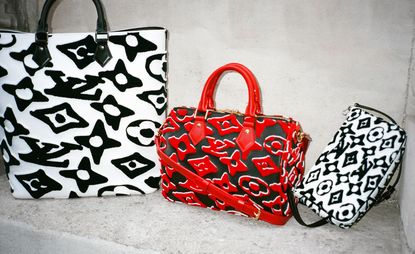 (Image credit: Louis Vuitton)
On the hunt for an eye-catching piece of arm-candy? We suggest you invest in a handbag that doubles up as an artwork too. There's a historic portfolio of artist-designed accessories that are collectors items today, from Takashi Murakami's 2003 collaboration with Louis Vuitton, which featured styles with Vuitton's monogram reimagined in 33 different colours, followed by 2008's cherry motif and 'monogramoflage' print, to Prada's 2013 partnership with Damien Hirst, boasting Plexiglas handbags crawling with beaded insects.

For 2021, turn your curatorial eye to styles from Dior, Louis Vuitton, Fendi, Loewe and Akris whose signature handbag designs have been reimagined with state-of-the-art style.
Dior
In 2016, the French maison launched its Dior Lady Art project, which saw a host of multidisciplinary global artists reimagine its Lady Dior handbag, which was first launched in 1994, by then creative director Gianfranco Ferré. The style was famously beloved by Princess Diana, who was gifted the handbag by France's First Lady, Bernadette Chirac, in 1995.

Since the Dior Lady Art's launch, the Lady Dior's quilted Cannage motif and the lettered charms that hang from its rounded top handles have been reimagined with striking effect, by artists including Namsa Leuba, Isabelle Cornaro, Athi-Patra Ruga and Marguerite Humeau. Now, for the fifth iteration of Dior Lady Art, the brand has bought together ten artists and collectives from around the world, including Judy Chicago – who collaborated with the label on the banner-hung backdrop for its S/S 2020 Haute Couture show, Recycle Group and Gisela Colon.

We're finding real artistic inspiration in Song Dong's take on Dior's signature accessory. His 'Windows Bag' features a graphic mosaic of miniscule colourful windows and dazzling mirrors, and appears to change shape dependent on the angle you view it. Windows are a central motif in the artist's work, which when presented as sculptural forms, are used to convey themes of impermanence, transience and memory.
dior.com (opens in new tab)
Louis Vuitton
Back in 2017, the maison enlisted Jeff Koons to emblazon paintings by Old Masters on its handbags, including Monet, Da Vinci and Rubens, inspired by the American artist's 2015 'Gazing Ball series'. An entire gallery worth of artists have been enlisted by the label to reinterpret its accessories, including Stephen Sprouse, Richard Prince, The Chapman Brothers, Cindy Sherman and Yayoi Kusama. Now Louis Vuitton has teamed up with Swiss artist Urs Fischer – famed for his experimentation with distortion and scale – on a series of bags, accessories and ready-to-wear pieces, tessellated with hand-drawn 'memory sketches' of the signature LV monogram, in a tactile velvet fabrication.

Fischer also collaborated with the label back in 2019, as part of its Arty Capucines project, which saw its Capucines BB handbag reimagined by artists including Alex Israel, Jonas Wood and Sam Falls. Fischer's featured a style constructed in striking white leather, which was transformed into a sculpture, hanging with a series of silicone fruits and vegetables on length of chain, including an apple, a carrot, a strawberry and a mushroom.
louisvuitton.com (opens in new tab)
Fendi
In recent years, a host of artists have been enlisted to reinterpret Fendi's accessories For the brand's A/W 2020 collection, Fendi teamed up LA-based artist Joshua Vides, and bags including the Peekaboo and the Baguette were imagined in black and white, their design details appearing as if scribbled on with chunky permanent marker.

In late 2020, Fendi also worked with visual artist Sarah Coleman, who takes particular influence from logo culture, swathing every day objects with monograms by Fendi and Gucci. Coleman has an affinity for Fendi's Zucca print, which was designed by Karl Lagerfeld in three seconds in the 1960s, and a manipulated take on the logo appears on Fendi's Peekaboo bag.

'I thought it would be really funny to use a photo-editing app different from Photoshop, so I used Facetune. I liked the idea of using this software that's so commonly used by people to edit their face and body,' Coleman told Wallpaper* in November 2020. The handbag design was unveiled the same month at Fendi's boutique in Miami's Design District. 'Sarah had already been repurposing our iconic prints in her work, which invited the opportunity to see how this creativity can evolve by collaborating,' said Silvia Venturini Fendi, the brand's creative director.
RELATED STORY
Left, jacket, £2,200; 'Jackie' bag, £1,590, both by Gucci. Earrings, £195, by Completedworks. Right, jacket, £5,770; skirt, £1,635; '11.12' bag, £5,555, all by Chanel. Bracelet, £32,700, by Sophie Bille Brahe. Fashion: Jason Hughes
Loewe
'I wanted to show this early body of work because it really complemented Loewe in terms of technique,' says the Madrid brand's creative director Jonathan Anderson of his celebration of the landscape focused work of famed ceramicist Ken Price. The LA-based artist is most famous for his blobby abstract forms, resembling flows of molten lava or oozy amoebas, but for Loewe's latest artist-led capsule collection, Price's depictions of warmly hued houses in New Mexico and palm-tree lined LA vistas take focus.

Anderson often looks to artists for inspiration when updating Loewe's renowned accessories roster, like the Puzzle, Gate and Hammock handbag. The brand's pieces have celebrated the work of William Morris, William de Morgan and Charles Rennie Mackintosh. The label's prowess in leather marquetry is well suited to Price's artworks and his domestic ceramics pieces formed between the 70s and 90s, including Town Ware (from Easter Island) (1977) and Bottom LA Bowl, (1991) are formed from slivers of leather which are delicately pieced together like a jigsaw puzzle.

'They're uplifting and optimistic,' Anderson says of the presience of Price's works. 'I feel like fashion is in a moment when it's questioning the purpose of buying. The collection's pieces are a way of investing into both Ken Price and Loewe.'
loewe.com (opens in new tab)
'Colour is everything to me, this season more than ever before,' explained Akris creative director Albert Kriemler of the aesthetic impetus behind collaborating with German abstract artist Imi Knoebel for the Swiss brand's S/S 2021 collection. 'A Knoebel line, colour or form is instantly recognisable as its own,' adds Kriemler of Knoebel's mixed media works, the first of which 'Face 50' (2003), created using layer of aryclic-topped plastic, he saw in Galerie Wilma Lock, a St Gallen art gallery in 2004.

Albert Kriemler often turns curator, collaborating with a host of artists and architects as part of his design process, including in the past, Geta Bratescu, Thomas Ruff and Alexander Girard. For spring, he turned to Knoebel's prismatic and luminest works, that combine paper 'knife-cut' pieces and geometric shapes, referencing pieces including 'Rot Gelb Blau - 54 Messerschnitte' (1979) and 'Blue Angel' (1999). These pieces are translated across ready-to-wear pieces and accessories, from flowing dresses to the brand's signature trapezoid-shape Ai handbag, with designs revelling in colour and geometric form for dramatic effect.

'He shares Matisse's desire to "make colour sing",' Kriemler says of Knoebel's work. 'Or as I would rephrase it: He lets colour shine.'