The playful perspective of Wallpaper* New Generation prize winner Allyssa Heuze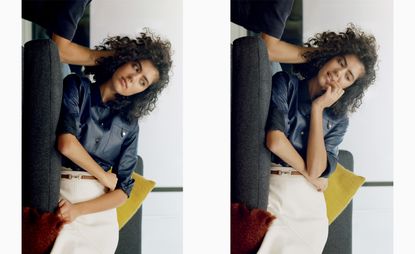 (Image credit: Allyssa Heuze)
Turn to page 139 of Wallpaper's January issue (W*238), and you will find Home Truths: an editorial shot by Wallpaper* New Generation prize winner, Allyssa Heuze, the photograper awarded the inaugural iteration of this award at the latest Hyères International Festival of Fashion and Photography. The editorial emanates a sense of comfort, intimacy and fun; the models captured with tropes that Heuze tends towards, such as familial gatherings, playful moments, pets and food. It's like you're sitting in a friend's kitchen.

'I wanted to shoot something that relates to how it can feel when living with strangers, or friends even, under the same roof. How it can be fun yet annoying – there can be these little unsaid things between people you live with,' the photographer explains of the premise for the shoot.
'Simple yet honest everyday scenes and mundane objects inspire and excite me,' Heuze says. 'When I have a specific idea, I try to make it come to life by inviting that space of coincidence. Whether I'm creating staged scenes with people or still life installations, I like that balance of control and accident.'

Heuze, 24, has been taking pictures since she was 13, growing up in the Philippines, where her family still lives. The atmosphere of her photography today likely derives from her early experiences behind the camera, snapping her family on holidays, 'I loved taking candid smiling, happy moments of my siblings.'

The photographer, who moved to France after High School and is now based in Paris, explains that she prefers the viewing experience to be personal and intimate, too: she hopes to turn a project into a book 'something someone would want to take home with them,' and is currently working on the concept for a visual ode to her home country.

'Photography is what frustrates me the most but it is definitely what I love doing the most,' Heuze reflects. She admits she can be stressed at shoots, 'but I to hide it, and remember to have fun!'

'I guess what motivates me is creating my own little playground,' Heuze notes. Her previous projects, such as Tic Tac Toe, have focused directly on childhood memories and naivety, and the sense of freedom and boundlessness that comes with it. That energy is instilled into her editorial and commercial work, too.

There's a genuine carefree feeling in Heuze's work; perhaps the natural optimism of yet youthful eyes, but also comes from her personality and upbringing. Tic Tac Toe, I laugh very easily, and do always try to be an optimistic person. I guess smiles and laughs remind me most of my childhood and being around my siblings, and I unconsciously want to create these moments in my photos.'
Charlotte Jansen is a journalist and the author of two books on photography, Girl on Girl (2017) and Photography Now (2021). She is commissioning editor at Elephant magazine and has written on contemporary art and culture for The Guardian, the Financial Times, ELLE, the British Journal of Photography, Frieze and Artsy. Jansen is also presenter of Dior Talks podcast series, The Female Gaze.
With contributions from