New York's iconic Russian & Turkish Baths is where the city goes to 'schvitz'
From gangsters to hipsters, artists to politicians, New York's Russian & Turkish Baths continues to attract a colourful crowd with its basement banya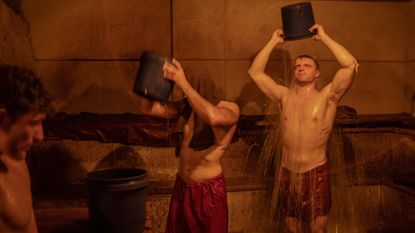 (Image credit: Photographer: Sasha Maslov. Art Director: Michael Reynolds.)
If New York is a metaphorical melting pot,then the Russian & Turkish Baths, a New York institution for 131 years, is where the term becomes literal. There, in the basement of an East Village landmark tenement, a cacophony of citizens gather together, strip naked and sweat. Amongst the steam, you can find a tattooed skater next to an elderly rabbi, a yoga instructor next to a clean-cut finance bro, all there for the same reason, 'the schvitz'.
It is a New York slice of a tradition that spans continents and centuries. From Moroccan hammams, Turkish baths and Korean mogyoktangs to Japanese onsens, Finnish saunas and Hungarian thermal baths, people have long come together to purify themselves in more ways than one. The physical benefits of steaming are immense – detoxification, improved circulation and respiratory health, better skin, increased metabolism – but there is a psychological component as well. There is something freeing about entering a space where your body is pushed to the extreme of what it can handle, and your consciousness is forced to turn its attention to exactly what is happening to you in that moment. Getting together in a place of such physical and psychological exposure inevitably builds a sense of community, which is certainly the case with the Russian & Turkish Baths.
As with so many things in New York, the baths operate under their own code of illogical logic. For years, they have been run on alternate weeks by the two owners, Boris Tuberman (and more recently his grandson, Julius Tuberman-Solon, as well) and David Shapiro (whose sons Dmitry and Jack have taken over his side of operations). All bath regulars talk about 'Boris weeks' and 'David weeks', and most have a preference for the different atmosphere that is offered by each: 'David weeks' have digital swipe passes for admission and tend to attract the younger, Dimes Square set, while 'Boris weeks' are distinctly more old-school with paper or plastic punch cards and a larger proportion of the Russian and Jewish loyalists that have been visiting the baths for decades.
Prior to dividing the business in the 1990s, Boris and David had originally purchased the baths together in 1985. Then known as the 10th Street Baths, it was the last vestige of the Lower East Side's once-vibrant bathhouse culture that began in the 19th century with a civic push to provide clean water and bathing facilities to the city's tenement communities. From the late 19th to early 20th centuries, bathhouses played host to a vast range of citizens, particularly the Russian, Italian, Irish and Jewish gangster population.
The baths operated as neutral spaces, where gang members could strip down (no hidden guns) and privately discuss their business (many of the bath's attendants were deaf and/or mute to prevent leaked information). According to Dmitry Shapiro, by the time his dad and Tuberman purchased the baths, they were 'rundown and open all day, so you would pretty much just get people coming in from the streets and sleeping on the benches.'
But Boris and David, both Russian immigrants, saw promise there, a way to bring a tradition from their native land to their new home. At the beginning, the baths were an 'under-the-radar men's spa', catering primarily to a 'steak and vodka' crowd, but it gradually changed in keeping with the city beyond its steamy walls. By the time the younger Shapiros took over their father's end of the business and started offering Groupon discounts, the crowd had grown to encompass a younger, some might say less colourful, population. Nowadays, there is an aromatherapy room and mud masks as well as the more traditional platza oak leaf treatments, while the in-house café offers juices and salads alongside bagels and borscht.
And while some aspects of the Russian & Turkish Baths have changed, the fundamentals remain the same. 'This is a social spa,' says Dmitry. 'You can meet new people of all ages, creeds, genders and income brackets. You can keep to yourself if you want to, but you can also just hang out. It's healthier than going to the bar.'
As Misha Hyman, a private chef and ardent bath attendee, puts it, 'People who come here for the first time are immediately welcomed into the family.' He continues, 'I travel all over the country, and the first thing I do when I come back from a long trip is to go to the bathhouse, because it will reset you. Whenever I go there, whether I've had an argument with my girlfriend or a bad day at work, I come there and I'm with my family. It's hard to be a New Yorker, but it's very easy to be a New Yorker and add that to your routine.'
This article appears in the August 2023 issue of Wallpaper*, which includes the Wallpaper* USA 300, available in print, on the Wallpaper* app on Apple iOS, and to subscribers of Apple News +. Subscribe to Wallpaper* today
Receive our daily digest of inspiration, escapism and design stories from around the world direct to your inbox
Writer and Wallpaper* Contributing Editor
With contributions from