London Fashion Week S/S 2024: JW Anderson to Burberry
London Fashion Week S/S 2024 was a showcase of the city's eclectic, creative spirit – from a celebration of Newgen to anticipated shows from Burberry and JW Anderson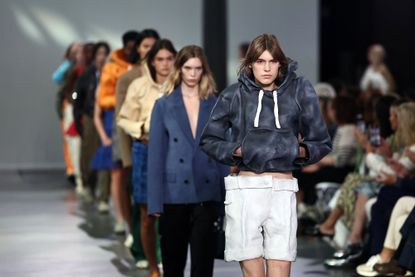 (Image credit: Photo by Henry Nicholls/AFP via Getty Images)
Wallpaper* Newsletter
Receive our daily digest of inspiration, escapism and design stories from around the world direct to your inbox
Thank you for signing up to Wallpaper. You will receive a verification email shortly.
There was a problem. Please refresh the page and try again.
London Fashion Week S/S 2024 began with a celebration of 30 years of Newgen – the British Fashion Council's incubator scheme which supported the careers of many of the designers who now show on the week's schedule – at the Design Museum. Titled 'Rebel: 30 Years of London Fashion' (on until 11 February 2024), it captures the rebellious design codes that have defined British fashion for the past three decades.
The eclectic, creative spirit of London's young designers continued to define the week – among them this season were Aaron Esh (who made his debut), Chopova Lowena (which presented its sophomore runway show) and this year's Fashion East line-up, which included Olly Shinder, Johanna Parv and Standing Ground. Elsewhere, Stefan Cooke, KNWLS, Ahluwalia and Supriya Lele continued the city's energetic mood, while stalwarts Simone Rocha, Molly Goddard, Roksanda and Erdem each evolved their distinct offerings.
Perhaps the two most-anticipated shows of the week were JW Anderson – which took place at the Roundhouse – and Burberry, whereby Daniel Lee presented his sophomore collection in north London's Highbury Fields. Jonathan Anderson, meanwhile, complemented his S/S 2024 womenswear outing with the opening of an exhibition at Offer Waterman gallery; titled 'On Foot', it combined both art and fashion for an imagined wander through London.
Here, find the best of London Fashion Week S/S 2024, which we reported live from the shows.
The best of London Fashion Week S/S 2024
---
Aaron Esh
One of the upper floors of Tate Modern's Blavatnik Building provided the setting for recent Central Saint Martins graduate Aaron Esh's first runway show (previously, he has shown via lookbook). The expansive views of the city's skyline offered by the space were a nod to the designer's inspirations, which circle on his native London, where he grew up and continues to live. As such, he plays with British archetypes: here, Savile Row tailoring was referenced in narrow and nipped suiting, some sliced away at the sleeves or with shrunken lapels, while an opposing sense of street and clubwear was referenced in shredded jeans, caps, and slinky dresses that wrapped elegantly around the body (the 2000s-tinged look was completed with requisite face-shielding sunglasses). Esh said that much of his inspiration comes from his friends – for those who know the designer, certain looks were the spitting image of people in his circle – while another continual touchpoint is his roots in London clothes-making, Esh's Cyprian emigrant paternal grandfather having worked as a tailor in the East End. It made for an impressive debut from the designer, combining a feeling of rigour with the frenetic energy of London's streets he called a musing on 'chaos and control'.
Burberry
Daniel Lee's much-anticipated sophomore collection for Burberry was shown in a tent erected in north London's Highbury Fields, a slice of green space surrounded by Georgian and Victorian terraces (in keeping with Lee's desire to use Burberry to demonstrate London's rich cultural life, the houses' famous inhabitants included the artist Walter Sickert). The show came in the midst of a takeover of London titled 'Burberry Streets', which saw Bond Street station titled 'Burberry Street' and adorned in Lee's now-signature 'Knight Blue', while Archway's Norman's Café became a temporary outpost of the brand, presenting the house's riff on the traditional greasy spoon (at the show, Norman's served cake and tea). Which is to say that Lee's vision for the British house is expanding – one gets the sense that he is attempting to recall the cultural ubiquity Burberry had in the 2010s – a mood that extended to the collection itself, where he took on its most famous export, the trench. Here, Lee's proposition was cut slim, minimally designed and came with a dropped waistband, allowing hands to be tucked into pockets just above. Versions came in leather or looping equestrian-style prints; others were sleeveless. 'Lightness, sensuality, beauty and elegance' were the descriptions that Lee chose to describe the confident collection, which also comprised printed silk dresses – a sense of toughness lent by metal eyelet fastenings – oversized shirts with trench-style epaulettes, and hints of the bourgeois in ladylike leather handbags and pleated skirts. Elsewhere, playful prints – after last season's mallards – saw Lee turn British strawberries Burberry blue.
Supriya Lele
Supriya Lele returned to the fashion week schedule with a collection presented in a multi-storey carpark at London's Barbican Centre. The concrete surrounds provided a juxtaposition to the languid sensuality of her garments, which the designer says begin with the 'realities and fantasies' of being a British woman born to Indian immigrant parents, ideas which then 'dissolve' into wider garments. The result is a melange of references: the twisting drape of a mini dress is recalled from memories of the women in her family wearing saris, a particular shade of lilac from the colour of lipstick worn by friend and artist Jai Chuhan, while a series of ribbed vests – cropped high on the chest – 'beckon toward quotidian Indian life… contorted into sensuality'. Such contortions lent the collection a strange, dreamlike quality: skirts sank low on the waist to reveal the line of underwear beneath, dresses fell away into tasselled fronds, while laddered knits seductively exposed the body. Irridescent fabrications and clear plastic footwear – like those you might wear to clamber on rocks while on holiday – gave the impression of the Supriya Lele woman emerging from the sea.
KNWLS
It felt like a recent collaboration with Jean Paul Gaultier had got the designers Charlotte Knowles and Alexandre Arsenault channelling the perennial showman – and his love of unexpected muses on the runway – with guest appearances from Mia Khalifa, former adult film star and founder of fashion label Sheytan, and Lily McMenamy, who closed the show strutting and twirling down the runway (both elicited loud cheers from the gathered crowd, where there was a palpable buzz). The collection itself was titled 'Petrol', largely honing KNWLS' recognisable – and already much-imitated – signatures, namely strappy second-skin body suits, corseted leather outerwear and a handbag they call the 'Razr'. KNWLS-adorned T-shirts and mini dresses will no doubt prove popular with their devoted following, while a series of oversized leather jackets – with vast 'linebacker' shoulders – hinted at the possibility of an evolving silhouette.
Erdem
Deborah 'Debo' Cavendish, the former Duchess of Devonshire and youngest of the Mitford sisters, provided the starting point of Erdem Moralioglu's latest outing, presented in the fittingly regal portico of the British Museum (sitting under enormous Greek revival columns, the colonnade is arguably London's most dramatic show location). It was a collection which channelled the idiosyncrasies of the eccentric Cavendish, who was known for her biting humour, which she channelled into writing, particularly about the Chatsworth Estate, the Duke of Devonshire's ancestral seat ('Deborah Devonshire is not someone to whom one can say, "joking apart", joking never is apart: with her it's of the essence,' wrote her friend Alan Bennett). She was also an avid fan of Elvis Presley, collecting memorabilia throughout her life; for the show, Presley's Always on My Mind (covered by the Pet Shop Boys), provided the soundtrack. Presley was referenced in coloured leather jackets, dotted with studs, worn alongside narrow-waisted gowns which were printed with motifs that recalled Cavendish's antique furnishings. Indeed, a series of jackets – created in collaboration with Barbour, a favourite brand of the Duchess – utilised real antique fabrics from Chatsworth House for a luxurious exercise in upcycling. Footwear, meanwhile, saw kitten-heeled pumps adorned with enormous bows that flapped next to the foot, purportedly inspired by Cavendish's love of chicken breeding. Much like the vintage textiles that made up the collection, the collection was proof again of Moralioglu's canny knack of giving old stories new life.
Simone Rocha
The bare bones of a white chapel, adorned with angels, had been constructed in the English National Ballet's Canning Town rehearsal centre to provide the backdrop to a Simone Rocha show the designer titled 'Dress Rehearsal'. The cocooning, all-black space – made to recall the proportions of a traditional stage – provided a starker setting than recent seasons, a mood of reduction which extended to the collection itself. Though there were naturally swathes of glimmering embellishment and adornment – as well as gowns which recalled wedding cakes in their layers of tulle and bows – most intriguing this season was a series of minimal sculpted silk and taffeta pieces, which looped elegantly around the body (some into twisting flowers) or gathered gently at the neck with uneven pin tucks. In shades of black, white, red and pale pink, some subtly adorned with delicate red ribbons, they provided an astute counterpart to the typical grandeur of Rocha's work. Indeed, the Irish designer noted that this season was one of greater 'intimacy', a mood reflected in lingerie-inspired detailing and sheer fabrications which revealed a series of roses trapped in the lining of dresses and jackets. The inspiration, she said, was not a wedding but the evening before, and the fraughtness such ceremony entails (in keeping with the theme, each look was designed to evoke the anniversary gifts for each year of marriage, from paper to pearl). It lent the collection the undercurrent of foreboding that so often runs through Rocha's work, reflecting her unique ability to marry the sweet with the subversive, the darkness and the light.
Holzweiler
Holzweiler chose Camley Street Natural Park, an Edenic urban nature reserve close to King's Cross station, to show its latest collection. Amid a flurry of rain which started, as if on cue, as the show began, models wove their way through the sandy pathways in what was the Norwegian brand's first London outing, having shown previously as part of Copenhagen Fashion Week. The move signalled the growing awareness around the label, founded by siblings Susanne and Andreas Holzweiler in 2012, which after investment seeks to mimic the successes of other Scandinavian imports (notably, it seems to have an affinity with Danish brand Ganni, which also shows in Copenhagen and has grown to have over 40 stores worldwide). The show itself was titled 'Rewilding' and was rooted, said the Holzweilers – who brought in Maria Skappel-Holzweiler as creative director in 2014 – in their Norwegian upbringing surrounded by nature. 'We've been thinking about the notion of rewilding, about the beauty of nature springing up to reclaim urban space,' they said, noting that Camley Street itself was a former coal mine that now teems with natural life. As such, the collection had a breezy, bohemian air that melded botanic prints, homespun crochet knits and diaphanous, asymmetric silhouettes with utility elements primed for city living – from cargo pants to technical hoodies and anoraks (the latter proving fitting for the weather). It was a reminder, the Holzweilers said, to 'live mindfully in the present', though one gets the sense that the family behind this quickly growing brand has its eyes squarely set on the future.
Molly Goddard
Molly Goddard said that this season's collection began in the costume hire of London's National Theatre – an extensive archive of garments which have been used in previous productions – where she became fascinated with 'underskirts and underwear: crinolines, 1950s bras, Victorian christening gowns, Georgian underskirts'. It made for a collection Goddard described as 'inside out', the designer taking elements usually hidden – grosgrain zip plackets, hook-and-eye fastenings, the underside of seams – and putting them on show (one tulle dress in particular was left open down the back to reveal its workings beneath). It felt like a consideration of craft and making from Goddard: cotton ruffles emerged from simple pin-tuck gowns, cardigans were gently edged with satin, while padded skirts and matching bustier tops recalled quilts or blankets. Elsewhere, faded floral prints, heart-shaped motifs, and simple ribbon fastenings further evoked the domestic –here elevated to the elegant salons of Christie's auction house, which provided the collection's backdrop.
JW Anderson
The invitation for this season's JW Anderson show was a block of modelling clay, a material that was used to create the collection's opening look: a sculpted hoodie and shorts, warped and exaggerated in proportion as if crudely pressed together by hand. Presented in the sunlit circular hall of Camden's Roundhouse on Saturday morning and accompanied by an energetic soundtrack that included a Soundcloud mash-up of Ethel Cain's Crush and Cher's Believe, it set the tone for a collection that was all about play, seeing Anderson toy with archetypal garments in his typically idiosyncratic style. Much of it was tactile: oversized MA1 bomber jackets were adorned with explosions of feathers that emerged from their interior ('bursting from the seams'), sculptural circular constructions sat under elongated T-shirt dresses, while a melange of woven elements – from footwear to handbags – appeared throughout. Despite the mood of experimentation, it was a collection nonetheless grounded in reality – it had begun by observing young people on the street – seeing Anderson continue his ongoing journey to distill clothing to its essence, a mood expressed in recent seasons at both his eponymous label and Loewe. 'I want truth and simplicity,' he said post-show.
Roksanda
A temple of brutalism – the vast open-air sculpture court on the Barbican Centre's top floor – provided the dramatic setting for Roksanda Ilinčić's latest collection, which looked towards the Orthodox monasteries of her native Serbia for inspiration. As such, there was a feeling of ceremony: models marched the semi-circular runway crowned with towering headwear recalling the kalimavkion worn by Orthodox clergy, while British soprano Isabelle Peters provided a soaring live soundtrack of Puccini arias. Diaphanous silk gowns, some interwoven with circular metal sculptures, flared ladylike dresses inset with panels of clear Perspex, and printed painterly motifs recalling the monastery's faded frescoes, demonstrated Ilinčić's astute balance of grandeur and delicacy, which this season felt even more refined. Footwear, a collaboration with Manolo Blahnik, was decorated with fronds of feathers, while a typically luminous palette spanned shades Ilinčić described as elderflower, amaryllis, tangerine, water-chestnut and wisteria.
Chopova Lowena
Staged in a skatepark under the vast Westway dual carriageway, Emma Chopova and Laura Lowena-Irons returned to a perennial fascination – folklore and traditional ceremonies, and the dress codes which define them. Often, this is derived from Chopova's Bulgarian heritage – she was born in the United States to Bulgarian parents, and previous seasons have referenced various festivals in the country – though this season, the pair drew inspiration from the British coastal county of Cornwall. Specifically, Helston's Flora Day festival, which heralds the arrival of summer and sees locals don colourful dress to tell ancient tales of war 'angels and devils, peace and war, sea and shore, and mermaids and maidens', as the pair described. As ever, this meant an eclectic amalgam of elements – delicate lily of the valley motifs, clattering hanging charms, naive prints of dragons, demons and angels – brought together across versions of their signature garments (in particular, the pleated kilt and expansive bell-sleeved dresses and shirts). The pair also noted a reference to an altogether more modern myth: 'falling for a skater boy' and the dizzy memories of teenage love. As such, nostalgic elements reminiscent of a noughties youth – baggy plaid and cargo pants, graphic tees, bermuda shorts – clashed playfully with the collection's ancient inspirations. The result? 'A lovely mess,' the designers concluded.
Ahluwalia
Priya Ahluwalia chose the atrium of The British Library to present her latest collection, which the designer titled 'Acknowledgements' – a journey, she said, of 'creative rediscovery', which drew her to lesser-known 'makers, doers and thinkers' from history whose work might not have yet been widely acknowledged by the Western establishment. Among them, Algerian artist Baya Mahieddine, who rose to prominence in the 1940s art scene in Paris – she had her first exhibition at age 17 in 1947 – and drew the attention of André Breton and Pablo Picasso, both said to have been influenced by her work (others mentioned in the collection notes included Bollywood actress Madhubala and the American activist Marsha P Johnson). As such, floral motifs featured throughout the collection, in intarsia knits or as a motif across sustainable ISKO-developed denim – a nod, Ahluwalia said, to the expression of 'giving someone their flowers' – while other prints and swirling jacquards had a surreal, illusory air 'challenging the observer to look closer'. Elsewhere, Ahluwalia struck a balance between vintage sportswear – colourful 1970s-style track pants and jackets, patterned sweater vests, football shirts with vivid patchwork patterns – and languid glamour, like a series of fluid cowl-neck dresses in silk viscose, dotted with embellishment and in tones of orange and red which suggested celebration.
Fashion East
Bloomsbury's Yeomanry House provided a historic setting for an altogether modern trio of collections from this season's Fashion East class (or four, if you include the bonus return from A Sai Ta's label Asai, which previously showed as part of the incubator, and here presented a colourful woven collection to close the show).
The highlight was Michael Stewart's Standing Ground, a designer whose elegantly engineered silhouettes draw their inspiration from the origins and forms of neolithic standing stones, particularly in his native Ireland ('They're just beautiful lines, and they, to me evoke a whole a whole world,' he says). Stewart's columnar dresses continued to impress this season, while new techniques – like a series of beads intricately stitched into folds of jersey – were designed to recall the discovery of layers of fossils within rocks. There is something about the clarity of Stewart's design that sets him apart from several of his contemporaries; in just a few seasons he has developed a distinct look, often featuring looping padded elements on otherwise austere jersey gowns. 'There's something really natural that happens when I put my mind to jersey,' he told Wallpaper* prior to the show. 'I think I've developed a handwriting, a language of form.'
Both Olly Shinder – who makes his debut with Fashion East this season – and Johanna Parv presented takes on sports- and workwear, albeit in distinct style. Recent Central Saint Martins Shinder – who says he interprets traditionally masculine clothing through a queer lens – captured an after-dark mood with sporty, nightlife-infused pieces that came with a frisson of subversion and sensuality (one garment left a model entirely exposed along the back). There were sheer T-shirts slashed open with zips; dungarees dotted with buttons like studs; workmen's trousers that appeared dipped in water and dirty from wear, while looping silver body adornments seemed constructed from shower pipes. Completing the mood, Berlin-based photographer Wolfgang Tillmans provided the soundtrack.
Parv, meanwhile, continued to explore the everyday needs of women – whether at work or play – reimagining traditional female silhouettes in technical fabrics. In particular, 1950s and 1960s silhouettes were melded with cycling and performance-wear elements – looping straps, toggle fastenings and fabrications with stretch and lightness – for elegance and pragmatism at once.
Stefan Cooke
Stefan Cooke and Jake Burt used their S/S 2024 show to debut a menswear collection with British leather goods brand Mulberry (read more on the Stefan Cooke and Mulberry collaboration), seeing the pair transform 27 vintage styles with their distinctive motifs – including the slashed-diamond pattern which is their contemporary take on argyle. The multiplicity of bags – each one entirely unique, some complete with playful adornments like jumbo tassels crafted from upcycled rugby shirts – captured the joyful abandon of the collection, which the designers said was about 'high-fashion confidence and hardcore craft'. Cue long chequered skirts covered in hundreds of studs, star-adorned knitwear with elongated in-built sashes, or a series of extraordinary sculpted tops crafted from spongy foam (other models carried colourful foam fingers like those brandished at sporting events, the pieces' inspiration point). Indeed, athletic influences ran throughout the energetic collection: intricately draped tops were cut with wide shoulders for what the designers called 'a quarterback impact' and made from a melange of lycra and vintage rugby jerseys. A series of elongated Harrington jackets, looped around the hem with an in-built belt, added a more down-to-earth counterpoint, while brilliant studded or star-covered footwear further demonstrated the duo's ever-growing accessories prowess.
Receive our daily digest of inspiration, escapism and design stories from around the world direct to your inbox
Jack Moss is the Fashion Features Editor at Wallpaper*. Having previously held roles at 10, 10 Men and AnOther magazines, he joined the team in 2022. His work has a particular focus on the moments where fashion and style intersect with other creative disciplines – among them art and design – as well as championing a new generation of international talent and profiling the industry's leading figures and brands.