Behind the scenes at Aaron Esh's runway debut, a capsule wardrobe for contemporary London
LVMH Prize finalist Aaron Esh presented a standout S/S 2024 collection at the Tate Modern yesterday. Here, he speaks to Wallpaper* about his vision for his burgeoning label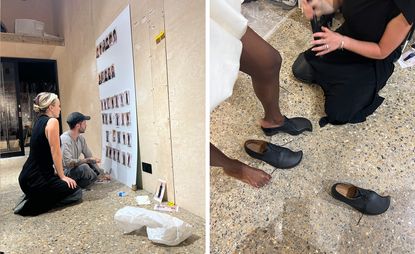 (Image credit: Courtesy of Aaron Esh)
Wallpaper* Newsletter
Receive our daily digest of inspiration, escapism and design stories from around the world direct to your inbox
Thank you for signing up to Wallpaper. You will receive a verification email shortly.
There was a problem. Please refresh the page and try again.
It's been a whirlwind of a year for London-born designer Aaron Esh. Off the back of launching his namesake label in 2022, becoming part of the British Fashion Council's Newgen incubator and getting to the final of the prestigious LVMH Prize in Paris, yesterday evening he presented his first-ever runway show during the final day of London Fashion Week S/S 2024.
Held in the Tate Modern's Blavatnik Building just before dusk, with a view of the mirrored city skyline reflecting the setting sun, the co-ed S/S 2024 collection was a love letter to the creatives who live here.
Behind the scenes at Aaron Esh's debut show
'It is loosely inspired by the point in adulthood I'm at right now – and the people who I'm friends with,' he explains to me a few days ahead of the show. In his twenties, Esh grew up between Hackney and Islington in a family of tailors and dry cleaners, before studying at Central Saint Martins (Wallpaper* first interviewed Esh following the success of his MA show in 2022).
'It's the clothes that I see when I'm at a house party; or the clothes someone would wear to do an off-license run –big shades, ripped jeans, a blouse thrown over her shoulder, a pair of flip flops. There's an authenticity and realness to the clothes, mixed with beautiful tailoring and amazing craftsmanship. That's what we're trying to achieve.'
And achieve it Esh did. Every piece was expertly finished and felt infinitely wearable; a capsule wardrobe for contemporary London. 'We make everything in London, too,' says Esh. 'We work between making it in house and working with the sampling factory we use for production, with master tailors that have been there for a long time, who are incredible with finish. The way we work is quick – and it's not over contrived, it's very "yes" or "no" and move on.'
That decisiveness came through in the clothes. There is a touch of Hedi Slimane's Parisian Celine in Esh's work, but seen through the grittier lens of the British capital's fashion and art scenes. Bootleg, low-slung jeans – reminiscent of mid-noughties cuts made by Alexander McQueen – came in raw and washed denim. Shirts and blouses, made in crisp poplin or slinky jersey, with scarf and cutout detailing met with relaxed yet refined tailoring.
Then, there are the clever draping techniques in dresses and skirts, and covered buttons (a nod to haute couture techniques). The leather pieces in the collection are crafted from buttery soft Ecco leather, and accessories in the form of lace-up derby Comma shoes (an Aaron Esh signature), have been developed into boots and thong sandals for spring/summer. 'Accessories wise, we've also made some very oversized sunglasses; they're just like the kind my partner wears,' says Esh.
The show's soundtrack was courtesy of music director Joh Gosling. 'He's done every McQueen show ever, it's been so amazing to collaborate with him, ' says Esh.
'I feel like the LVMH prize was a great moment for me – it helped me as a young businessperson, and gave me a platform to talk to people in the fashion industry who I've admired since I was young,' he continues. 'I never thought I'd be doing that at this stage of my career. I feel like I'm moving forward with confidence.'
There is a tendency by young designers to overcomplicate and over-explain their work. It takes confidence and skill to assemble an unpretentious and digestible debut runway collection as Esh has done. He no doubt has a promising future ahead of him.
Receive our daily digest of inspiration, escapism and design stories from around the world direct to your inbox