Sweet Sauternes: France's forgotten wine gets a reputational makeover
Saskia de Rothschild is on a mission to revive the popularity of Sauternes white wine, with Rieussec, produced and packaged with a fresh, more sustainable approach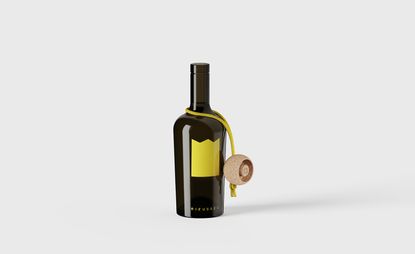 (Image credit: press)
Sauternes, for those who even know what it is, has developed a bit of an unfavourable reputation in recent years. A sweet white wine made in the Bordeaux region of the same name, Sauternes was once a highly prized indulgence, but today it is rarely served outside of end-of-year celebrations or perhaps alongside the occasional foie gras.
Yet there is a revolution brewing in Bordeaux; one aimed at upending the tired reputation of Sauternes and restoring it to its place as a wine du jour. It's a coup led by Saskia de Rothschild, the sixth generation leader of Domaines Barons de Rothschild (Lafite) wine group, which produces some of the most esteemed wine in the world and spans multiple Bordeaux estates, as well as wineries in China, Argentina, and Chile.
De Rothschild has spent her lifetime learning the ins and outs of her family's vineyards, and since assuming the role of Lafite chairwoman she has steered the company towards a more sustainable agriculture. Château Rieussec, the estate on which she is growing her new take on Sauternes, is a continuation of her ecological project.
'The time had come for Rieussec to reinvent itself, so that the vineyard, wine and bottle all share the same commitment to sustainable development, from agriculture that is more respectful of the environment through to the preservation of natural resources provided by our new packaging,' explains de Rothschild. 'Devising an original bottle, one that you want to keep when it's finished, is part of this same philosophy.'
Rieussec's innovation
The bottle is made of 95 per cent recycled glass and emblazoned with a simple, graphic crown that gives the wine a distinctly modern edge. Most impressive is the bottle's replaceable cork closure; created by Swiss design studio Big-Game (which has worked with the likes of Hay, Alessi, and Muuto), it makes it possible for the wine to keep in the fridge for several weeks after it is opened.
When it comes to what is inside the bottle, Rieussec does not disappoint. Because of Sauternes' unique climate, it is one of the few regions in the world where 'noble rot' (a moulding of the grapes that gives it a distinct, honeyed flavour) can happen frequently. It also means that each harvest of the Rieussec grapes has its own distinct flavour.
'Each vintage is totally different depending on what nature, the climate and the action of noble rot want to give us,' says estate director Jean de Roquefeuil. 'And even more so since we are undergoing conversion to a more responsible form of agriculture.'
Rieussec is certainly an interesting experiment in wine-making. Whether this reimagining of Sauternes will catch on remains to be seen, but we'll have our glassware sets at the ready to toast it.
INFORMATION
Mary Cleary is the Beauty & Grooming Editor of Wallpaper*. Having been with the brand since 2017, she became an editor in February 2020 with the launch of the brand's new beauty & grooming channel. Her work seeks to offer a new perspective on beauty, focusing on the pioneering personalities, product designs, and transformative trends within the industry.