Lady Gaga on the happiness and hard work of creation, and her new campaign for Dom Pérignon
As Lady Gaga and Dom Pérignon reveal their campaign for the maison's 2013 vintage, the artist tells Wallpaper* of its inspiration, her creative process and champagne moments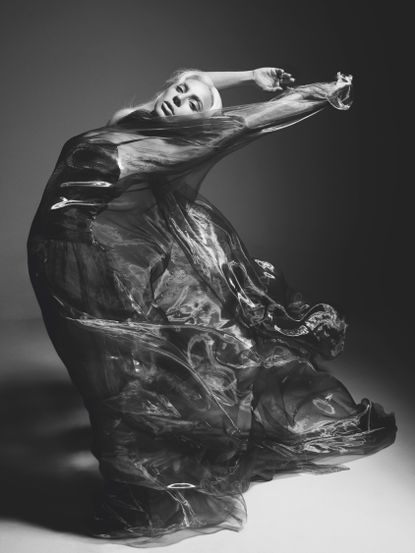 (Image credit: © Mario Sorrenti, courtesy of Dom Pérignon)
The creative partnership between Lady Gaga and Dom Pérignon is entering a new phase. In celebration of the revered champagne house unveiling its 2013 vintage, Gaga is starring in a new campaign that portrays the synergies between a champagne vintage's maturation and an artist moving through her creative process.
Woodkid (whom Gaga describes as 'incredibly soulful, wonderful') directed the film and composed its score, while Sidi Larbi Cherkaoui oversaw choreography and Gaga's long-time collaborator Nicola Formichetti ('a fashion legend', she says) styled the costumes. The film took over a year to complete, and launches today (1 March 2023) alongside a photographic campaign lensed by Mario Sorrenti.
The film was shot partly in the historic Benedictine abbey in Hautvillers that has been pivotal in the development of champagne over the centuries, most notably thanks to the Benedictine monk Dom Pierre Pérignon, an innovative winemaker who was born nearly 400 years ago. 'We started from an idea,' says Vincent Chaperon, the champagne house's chef de cave (cellar master), of the monk's visionary spirit. 'Then it became a place, then it became a wine, then it became a maison.'
Chaperon sees champagne as a philosophy. He speaks with the considered pace of one of the most refined craftspeople in the world and with the magnitude of nearly four centuries of expertise guiding him, explaining a particular thing that takes a decade to produce in relatively small quantities, that is at the mercy of the ever-changing and unpredictable elements.
The 'rich experience' that comes from working with talent such as Gaga, he says, is necessary to reflect the 'complexity, depth, and sensation of the champagne'. After all, it is a clear liquid and thus hard for new audiences to form an emotional bond with, especially when you factor in that the palette is perhaps the most under-stimulated of all the senses today. Nevertheless, Chaperon recalls the rainy, cool harvest of late October 2013 that followed that year's warm, dry summer like yesterday.
In anticipation of the launch of Dom Pérignon Vintage 2013, Wallpaper* met with Lady Gaga and Chaperon in Los Angeles in November 2022. An exclusive dinner and party at a sprawling private John Lautner house up in the Hollywood Hills marked the occasion, with guests including actor and director Billy Porter in attendance, and Gaga DJ-ed as attendees danced into the night.
Here, we share excerpts from the conversation with Gaga in LA, with more to follow in the May issue of Wallpaper*, on newsstands 13 April 2023.
Lady Gaga on the inspiration for the film
'The fashion, the dance, the whole thing, was meant to be evocative of what it means to start at the beginning,' says Gaga, linking the concept of the film to the long maturation of a vintage Dom Pérignon champagne.
Its theme, the labour of creation, 'means that you need to work hard. Without being too crass, it's not just about taking a photo with your iPhone. You have to put in the work. You have to research imagery. You have to watch films, you have to read poetry, you have to read books, you have to also have a chat with yourself about being innovative. Otherwise, anyone can make art nowadays. Truly, everyone does it all day long. I think that this campaign was about those of us who have made it our life mission. That's all we do. I spent all day today making art. All I did was create all day long, and I just stared at it and listened to it and just worked… It is a labour of love. And it's important to do that because it's a real privilege to make art. So you have to work hard because some people don't have the privilege.'
Lady Gaga on the fashion, styled by Nicola Formichetti
'One of my favourite things that I'm wearing [in the film] is a bodice that my sister [Natali Germanotta, of Topo Studio] made for me. I'm wearing it in the Mario Sorrenti campaign as well, but we actually cut it for the film when I'm wearing a shirt over the top. I'm sitting at the piano with a ribbon in my hair, and it's all about what we wear, and what we feel when we're just beginning to make something. It's this really complicated process when we're dealing with ourselves.'
Lady Gaga on her relationship with Dom Pérignon
'I actually used to always drink Dom Pérignon with Tony Bennett,' says Gaga. A mic drop moment – Bennett, one of the 20th century's leading vocal talents, collaborated with Gaga on two albums, in 2014 and 2021. 'Everything with Tony means so much.
'I actually have [a bottle of Dom Pérignon] champagne in my house. It sounds silly, but it has a Post-it note on it and it says "For my next win". So I'm not allowed to drink it unless we have won something.'
Lady Gaga on her creative process
As a multi-hyphenate cultural juggernaut, Lady Gaga's creative involvement spans many fields. 'I don't know that anyone in particular would think that I do them all well, but I like to do them anyway,' she admits. Nevertheless, whether it's songwriting, composing, choreography or something else, there is a consistency in her creative process: 'Sometimes it's an idea that just comes to me in the moment, just from being around people. Sometimes it's when I'm alone, sometimes it's a poem that I might write or read. Sometimes I just want to play piano. Sometimes I hear a melody in my head and I sing it out loud. I record it really fast, I run to the piano. And other times, someone might come to me with an idea and say, "What do you think?" And then I say, "Well, let me just take a moment." And I reflect on it and then we begin the collaborative process.'
Lady Gaga on collaboration
'I love working with different artists. When I work with someone else, when I collaborate with someone, I am reminded that the world will see it, or at least some people will see it.
'It's really nice when you work with people that are not trying to make you into something. I can't tell you how much my whole career was like people trying to dress me like a doll or get me to do something that they wanted me to do. [But with this campaign it] was "We want to capture the artist in that moment of inception, the introspective spirit and then the creative process, and here are the various ways that we think that we can show that", and then we seriously enjoyed each other.'
Lady Gaga on the power of culture today
'Culture is incredibly important – and I do think that art and culture are having a bit of a hard time at the moment. I think that there's a difference between making artistic things and then being in an artistic culture, meaning a culture of artistry, artists that hang out together, artists that talk to each other, spend time together, create together. It's not about status, it's about the work.
'I wish that I could give everyone that is an artist in the world the opportunity to live a week of my life. When I was 18 on the Lower East Side, I had so many artistic friends and nobody knew who we were except for each other. And we used to put on shows for each other at local places and we would show our artwork, paintings, photography, poems, music, performance art and everything. We had no social media and nobody knew who we were. And it was so rich, the culture… I don't mean it in a bad way, culture changes. There is a presentational quality and a pressure that we all feel now. Today, I was working all day, and I thought, "Oh, my! Should I get dressed up and put on a dress, or fix my hair before I see everyone?" And then I said, "No, no, I'm an artist, this is how I dress when I work." [She is wearing a blazer, black jeans, a T-shirt and hair pulled back with menial make-up.] And I felt confident in coming in here today and just being myself with you. This is me offering my cultural self to you. This is how I look when I'm with my friends who are musicians. This is how I look when I'm with filmmakers. This is how I look when I'm with actors, singers.
'Culture is immensely important. It affects politics, it affects humanity, because politics affects humanity. It affects society, and I think that we could put a lot more importance on it being not financially rich, but emotionally rich.'
Lady Gaga on the future
'I'm actually really interested in living more of a life of solitude. It's really nice to just have time to be alone, and be expansive, and know that you're enough. I wish I could tell my younger self that. When I was younger, I spent a lot of time alone writing music. But the more successful I became, the more I felt like I needed other people to tell me I was great.
'When I was about 14 years old, I read a book called Letters to a Young Poet by Rainer Maria Rilke. And I have a [line from the book] tattooed on my arm. I got it in Osaka, when I was 23. "In the deepest hour of the night, ask yourself if you would have to die if you were forbidden to write. Look deep into your heart where the answer spreads its roots and ask yourself, Muss ich schreiben? (Must I write?)"
'If I wasn't successful in the way that I am today – I'm very grateful for my success – I'd still be doing it, I'd be on the Lower East Side. I would do it no matter what. Absolutely, 100 per cent. I know that because I actually don't spend a lot of time in Hollywood. I might look like I do, because sometimes award season happens and you see me on red carpets. But I'm very much at home working… that's the thing that really makes me happy.'
Tilly is a British writer, editor and digital consultant based in New York, covering luxury fashion, jewellery, design, culture, art, travel, wellness and more. An alumna of Central Saint Martins, she is Contributing Editor for Wallpaper* and has interviewed a cross section of design legends including Sir David Adjaye, Samuel Ross, Pamela Shamshiri and Piet Oudolf for the magazine.