Aga whisky by Kandoblanc celebrates a fusion of ideas and cultures
Aga whisky, a new creation by Dhavall Gandhi, is launched under the banner of a new enterprise, Kandoblanc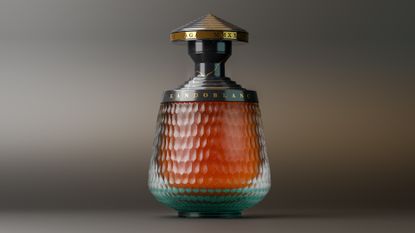 (Image credit: Kandoblanc Aga)
Wallpaper* Newsletter
Receive our daily digest of inspiration, escapism and design stories from around the world direct to your inbox
Thank you for signing up to Wallpaper. You will receive a verification email shortly.
There was a problem. Please refresh the page and try again.
Award-winning whisky maker Dhavall Gandhi will be unveiling his latest creation in October 2023: Aga whisky will be launched under the banner of Gandhi's new enterprise, Kandoblanc, a creative brand that celebrates the fusion of ideas and cultures though exquisitely crafted objects. Aga will be the brand's first whisky and marks the debut of Gandhi's work as a creator who oversees every aspect of an object, from the design of the bespoke decanter to the whisky contained within.
Aga whisky: a new offering by Dhavall Gandhi's Kandoblanc
After beginning his career in corporate finance, Gandhi made a bold decision to change tack, pursue his passion for whisky making and realise his ambition to become a whisky blender. He made a momentous move into the spirits industry; honing his skills under the expert guidance of industry veterans at The Macallan Distillery, where he embarked on a journey to become one of the foremost experts in sherry cask maturation. He is recognised for trailblazing contributions to the world of whisky and has cemented his position as a leading authority in the industry.
Kandoblanc was inspired by the notion of duality in art, aesthetics and creative influences. 'Kando' is the Japanese word for the simultaneous feelings of deep satisfaction and intense excitement that humans experience when encountering something of exceptional beauty. 'Blanc' translates from the French as 'white' –associated with ideas of purity, brilliance and perfection. The exquisite Aga decanter showcases the marriage of understated Japanese aesthetics and opulent Italian craftsmanship. Its design was inspired by the Japanese art of Kintsugi, and Italian Battuto glass – an engraving technique that gives a wonderfully tactile multifaceted surface with the appearance of hammered metal.
Gandhi explains, 'I believe in the art of duality and have a passion for art and whisky. At Kandoblanc our goal is to create individual objects, which are one-off art pieces. Each object is a celebration of cultural diversity and creative influencers. Following the launch of the first one-of-a kind object, we will be creating limited-edition pieces and will be collaborating with artists and designers for rarity and exclusivity.'
Aga presents a blend of rare Scotch whiskies selected by Gandhi to celebrate a harmonious interplay of flavours. The delicate and refined Speyside malt contributes finesse, and the flamboyant Highland malt brings poise and texture. Distilled in 1979 and bottled in 2023, the whiskies are beautifully woven together to create a unique and exceptional spirit.
Kandoblanc will release Aga at the highly anticipated Distillers One of One Auction, a biennial charity auction of rare Scotch Whiskies. This initiative was developed in partnership with Sotheby's, and has two clear aims: firstly to make a meaningful social impact in Scotland, and transform the lives of disadvantaged young people, and also to celebrate excellence in craftsmanship, and to display the rarity value of Scotch Whisky to a global audience.
Receive our daily digest of inspiration, escapism and design stories from around the world direct to your inbox
Melina Keays is the entertaining director of Wallpaper*. She has been part of the brand since the magazine's launch in 1996, and is responsible for entertaining content across the print and digital platforms, and for Wallpaper's creative agency Bespoke. A native Londoner, Melina takes inspiration from the whole spectrum of art and design – including film, literature, and fashion. Her work for the brand involves curating content, writing, and creative direction – conceiving luxury interior landscapes with a focus on food, drinks, and entertaining in all its forms