Celebrate 160 years of Martini, the iconic aperitivo
We mark 160 years of Martini & Rossi, creator of the original Martini Rosso vermouth, a perfect blend of fragrant botanicals and sweet wines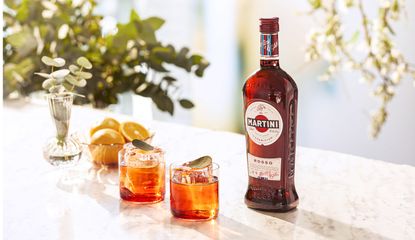 (Image credit: Courtesy of Martini and Rossi)
Dry or dirty, shaken or stirred? Regardless of the choice you make, the iconic Martini promises a decadent time, tingling with possibilities to suit your personal taste. Now, on its 160th anniversary, the classic Martini stays true to its original components, while also welcoming additional flavours, such as a touch of orange or a dash of gin, to produce a unique drinking creation.
Martini was born when herbs and botanicals were married with finely selected wine to create a vermouth, the perfect aperitivo and the foundational base for many beloved cocktails.


160 years of Martini & Rossi
Much like this partnership, entrepreneur Alessandro Martini and master herbalist Luigi Rossi – founders of Martini & Rossi, the brand behind the drink – made an unlikely duo when they took over the National Wine & Spirits Distillery in the village of Pessione near Turin, stirring up creative genius within the beverage industry to create Martini Rosso, the first iteration of Martini, back in 1863.


The village was ideally located, according to Martini & Rossi; 'within reach of the winemakers of Piedmont, the botanical-rich foothills of the Alps, the vermouth trade of Turin and the port of Genoa.'

Although Martini & Rossi has graciously welcomed the glamorous image and celebrity endorsement that its product has garnered over the years, the company has remained firmly rooted within the Italian foothills, becoming a magnet for the world's best mixologists and wine connoisseurs, while also developing a community programme to support local people.


The brand has become so iconic that even fictionalised characters have created their own cocktail preferences that have become classic. James Bond's 'shaken not stirred' quote, from the 1953 novel Casino Royale, applies to what the character dubbed the Vesper Martini. Of course, the Martini wasn't exclusively for made-up spies, but also enjoyed by Sophia Loren, Winston Churchill, and Sean Connery – off Bond duty.


Martini & Rossi's vermouth is created with crisp white wines including Trebbiano of Emilia Romagna and Cataratto of Sicily, blended with a crafted combination of aromatic fruit, spices and herbs picked from local fields. Not limited to vermouth, the company also produces delicately balanced Prosecco, as well as non-alcoholic options.


To celebrate 160 years of Martini, we recommend a Bergamot Americano or a classic Negroni to tantalise the taste buds and warm those winter nights.
Receive our daily digest of inspiration, escapism and design stories from around the world direct to your inbox
Tianna Williams is the Editorial Executive at Wallpaper*. Before joining the team in 2023, Williams taught scuba diving for three years before heading into journalism. Previously she has been involved covering social media and editorial for BBC Wales, Ford UK, SurfGirl Magazine, and Parisian Vibe, while also completing an MA in Magazine Journalism at Cardiff University. Her work covers writing across varying content pillars for Wallpaper*.