Crate escape: a refreshingly different winery salutes wit and whimsy in Italy's Piedmont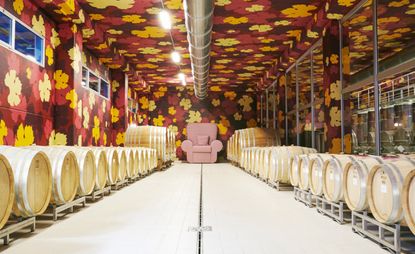 (Image credit: Stefan Gifthaler)
Sandra Vezza is one of Italian commerce's more colourful chieftains. Born and raised in the hills of the Langhe in the Piedmont region, for many years Vezza has managed the family business of food gelatins and pharmaceuticals founded by her husband in 1968. In 2011, the Vezzas bought Gufram, the Italian design brand known for pushing absurdist humour into bourgeois interiors (it is now managed by Sandra's son, Charley).

Vezza's latest project, L'Astemia Pentita, sees her make a sharp but not entirely unexpected pivot into viticulture. In many ways, this is a return to her roots. As a child she spent long days with her grandparents among the vineyards of the Langhe. 'I have always been in love with my Langhe,' she says. 'It has always been a passion of mine, walking through the vineyards alone with my thoughts for hours on end, taking in the spectacular landscape that changes colour with every month of the year. Then one day while I was out walking, I met an elderly couple who had been wanting to sell their land for some time.' They took to Vezza immediately, and struck a deal in 2009.
After a day's deliberation, Vezza decided that the name of her new winery would tell the story of an unusual lifestyle change. L'Astemia Pentita means 'The Repentant Teetotaler', as until her move into wine growing, Vezza had never touched alcohol.

Almost a decade later, L'Astemia Pentita is ready to release its first vintage and on a hilltop outside the village of Barolo sit what appear to be two gigantic cases of wine, one piled on top of the other. Designed by architect Gianni Arnaudo, these stacked architectural volumes are the visible part of the L'Astemia Pentita winery, while the 4,000 sq m production space, including a cellar and storage areas, are buried within the hill.
The above-ground volumes host the wine shop and the tasting room, which offer comfortable spots to relax and take in the view. Vezza designed the interiors, as well as those of the basement spaces. Furniture is a mix of midcentury classics and new pieces: Gio Ponti's 'Leggera' chairs for Cassina sit alongside Lucidi Pevere's 'Chignon' armchairs for Gebrüder Thonet Vienna, interspersed with Drocco/Mello's 'Cactus' for Gufram.

The wine bottles themselves are more akin to tabletop sculptures – one shaped like a man and the other like a woman – and displayed in large bottle-shaped cabinets. Vezza covered the floors of the wine shop and tasting room in raffia, just like the inside of an actual case of wine (although in this case the material is sealed in transparent resin), so that everything recalls the materials used in the winemaking process. The ceilings are decorated with two large murals depicting wine being poured, while the staircase is lined with books, documents and prototypes that chronicle the history of L'Astemia Pentita.

In collaboration with winemaker Donato Lonati, L'Astemia Pentita is ready to bring the Vezza irreverence to the oenological world. 'I'm ironic, I love making fun of myself and I'm always on the go,' declares Vezza, who fittingly chose the motto 'Dynamic even when still' for the winery. §

As originally featured in the September 2018 issue of Wallpaper* (W*234)
INFORMATION
For more information, visit the L'Astemia Pentita website
ADDRESS
L'Astemia Pentita
Via Crosia 40
12060 Barolo