Meet Vaspaar: the Italian design gallery inspiring a new generation of collectors
Maria Cristina Didero talks to Kaisha Davierwalla and Andrea Grecucci of Italian collectible design platform Vaspaar, as they prepare to launch a new series of objects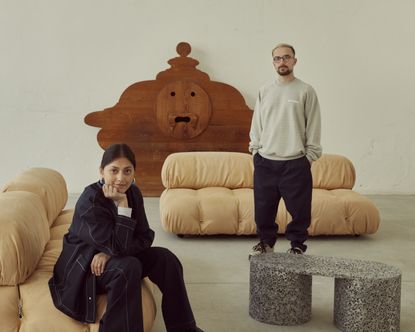 (Image credit: Mattia Balsamini )
Collecting is a curious process: you search for beloved and appealing objects, you find them, you acquire them, and then eventually, you find a space to store and display them. Slowly, you start a collection made of enchanting memorabilia and stimulating conversations. In his book, Ways of Curating, Hans Ulrich Obrist says that to create a collection 'is also, inevitably, a way of thinking about the world – the connections and principles that produce a collection contain assumptions, juxtapositions, findings, experimental possibilities and associations. Collection-making, you could say, is a method of producing knowledge.'
This is the spirit guiding Vaspaar, an online destination founded by two designers and passionate collectors, India-born Kaisha Davierwalla and Italian Andrea Grecucci. Together in life and in business for several years, the couple surf the world of design with lightness and precise professionalism, and a new approach to the world of collecting. 'We actually met more than 12 years ago during university, in Milan,' says Davierwalla. 'I was in a bar close by and remember not feeling too well. Like a real gentleman, Andrea came to my rescue; we had never been formally introduced before. We got talking and we haven't stopped since.'
For the duo, collecting is an art that requires great care and rigorous research. 'Vaspaar' translates from ancient Persian into 'the provider of all things', and the platform takes a nurturing approach to encouraging a new way of collecting, inspired by the past and with an eye to the future. 'We found a way to merge the variety of expertise we had accumulated and decided to put our assets together and embark on this Vaspaar journey; it has always been a joint effort,' says Davierwalla.
While its founders are deeply appreciative of midcentury and contemporary Italian design and masters such as Gaetano Pesce, Ugo La Pietra, Gio Ponti, Franco Albini, Alessandro Mendini and Superstudio, Vaspaar also represents and embodies a contemporary approach to collecting and design-making. Born in 2016 as a digital platform, at a time when galleries in the metaverse and virtual space were not a thing yet, it made the experience of collecting design accessible and fascinating to a younger audience of Millennials and Gen Z-ers.
Vaspaar intends to educate and lead new generations of collectors in purchasing valuable and thought-provoking pieces. 'As a child, I was always enamoured by the antiques my father would bring home and show us, and then we had wonderful discussions,' says Davierwalla. 'Also, we Parsi Zoroastrians in India have always had this reputation of being very careful and respectful with our belongings and we are also quite the antique collectors. I think I had secretly wished to take after my ancestors,' she adds.
United by the passion for historic design and collectibles, Davierwalla and Grecucci wanted, through Vaspaar, to offer all kinds of services, from tailored curatorial advice to research and authentication. They also recently decided to create a collection of limited-edition contemporary objects.
Designed by Grecucci, the pieces focus on increasingly forgotten artisanal skills. Joining forces with the Italian group Materie Prime, he conceived a foamy and porous aluminium coffee table, three carved alabaster vases from Tuscany, and three cold-to-the-touch stainless steel vases. The use of different materials is important: 'What I love most is to delve and question processes and approaches. Alabaster, for instance, which is strong and frail at the same time, has been used in the past by maestros such as Angelo Mangiarotti and Ugo La Pietra,' comments Grecucci.
Accessible and informal, Vaspaar's design collections open possibilities and conversations, letting the platform's visitors discover the duo's world. They have just one suggestion to young wanna-be collectors: 'Do research!'
INFORMATION
vaspaaritaly.com
Maria Cristina Didero is an independent design curator, consultant and author, who has contributed to many publications over the years; she is currently Milan editor of Wallpaper* . Didero has consulted for companies such as Vitra, Fritz Hansen, Lexus, Fendi, Louis Vuitton, Valextra among others. Based in Milan, she works internationally, curating exhibitions for institutions: some of her most recent projects include Nendo: The Space in Between and The Conversation Show at the Holon Design Museum, Israel; FUN HOUSE by Snarkitecture at National Building Museum, Washington D.C.; SuperDesign a project about Italian radical design, NY; Vegan Design, or the Art of Reduction by Erez Nevi and The Fish and The Crowd by Carlo Massoud, Milan. In April 2022 she curated a Mathieu Lehanneur exhibition at the Triennale in Milan called The Inventory of Life, while in July she debuted a project at the MK&G in Hamburg titled Ask Me if I Believe in the Future, alongside a series of ongoing collaborations. She was appointed 2022 Curatorial Director of Design Miami/. She is currently preparing two projects for Milan Design Week 2023.
With contributions from