Top 10 picks at Stockholm Furniture Fair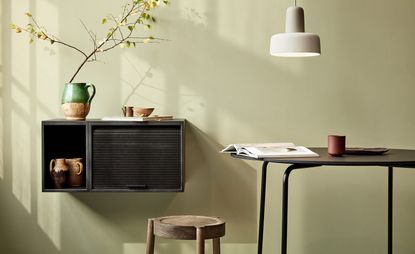 (Image credit: press)
Stockholm Furniture Fair (6-10 February) has long been a fertile launch pad for Nordic brands, but increasingly its sphere of influence is spreading. International brands are unveiling new pieces which they would otherwise hold back for Milan. Portugese brand De La Espada released its entire 2018 collection in an elegant Stockholm apartment accompanied by a theatrical performance, Japanese brand Ariake had its first showing outside of Asia, and even Bar Basso's famous cocktails made it to Stockholm, courtesy of Asplund who called on Maurizio Stocchetto, the bar's proprietor, to cater its 25th anniversary party.
Note Design Studio
The Swedish firm joins forces with flooring company Tarkett on a layered stand design. Using structure, colour and shapes, 'The Lookout' displays homeware in a two-level interactive installation that engages visitors with flooring from a three-dimensional architectural viewpoint.
Ariake
This is Ariaki's first showing outside of Asia following its launch last year. For Stockholm Furniture & Light Fair the Japanese brand collaborates with My Residence and lighting brand Wastberg for a unique installation of its pieces, telling the story of how they united international designers (Staffan Holm and Anderssen & Voll to name a few) with two Japanese manufacturers – Legnatec and Hirata Chair. The latest launch is a furniture series by Norm Architects that combines Danish cabinetmaking with bamboo construction and tatami mats (pictured)
Northern
New brand Northern has attracted the likes of designers Vera & Kyte, Färg & Blanche and Rudi Wulff to design its debut collection which consists of 24 pieces. The brand is the brainchild of Norway-based Ove Rogne, with the help of creative directors Morten Skjærpe Knarrum and Jonas Norheim who consider the aesthetic Norwegian at its core, but with international appeal
Nuura
New lighting brand on the block, Danish company Nuura is inspired by Nordic nature for its four-piece collection. Designer Sofie Refer, alongside co-founders Nadia Lassen and Peter Østerberg have realised the delicate, handblown collections that consists of raindrop-shaped pendants, chandeliers (one pictured), and modern table lamps
De La Espada
De La Espada releases new pieces by a coveted list of talents: Luca Nichetto (sofa pictured), Neri & Hu, Matthew Hilton and Jason Miller this year. The Portuguese furniture brand aimed to entertain with a theatrical launch which involved a mixed media performance inside a house once owned by ABBA's former manager Stig Anderson, where the new furniture appeared inside different apartment set ups
Phloc: Swedish architects Mats Broberg and John Ridderstråle have created not only an elegant stand for Phloc lighting, but also its new 'Apollo' lights. They come in a range of colours and finishes, can be hung individually or grouped and are inspired by a plumb bob, a tool with a pointed weight on its end that architects use to ensure a vertical hang
Asplund: for the Palais series, Swedish designers Anya Sebton and Eva Lilja Löwenhielm were inspired by the 1986 exhibition of columns by French artist Daniel Buren in Paris' Palais Royal. It consists of a cabinet, dining table and the two lounge tables with lacquered oak columns and oak or marble tops
Hi Thanks Bye: Chinese Canadian duo Topher Tong and Stein Wang are among the 37 young designers to show at Greenhouse, the area of the fair dedicated to emerging designers and design schools. Their six-piece collection is inspired by the natural beauty of Canadian islands such as Fogo, and Chinese classical forms
Muuto: Norwegian duo Anderssen & Voll have something of a reputation as sofa experts. Their 'Outline' collection for Danish company Muuto is upholstered in Kvadrat and Arve fabrics or leather. New for 2018 is a chaise longue version of all models. Last year, Knoll purchased 11-year-old Muuto and big plans are afoot
Snøhetta: the Norwegian architects launch their first lighting range with Swedish firm ateljé Lyktan. Titled 'Flik Flak,' the design harks back to school lighting with its flexible configuration of two wooden pieces of birch veneer held together by a piano hinge
INFORMATION
Stockholm Furniture Fair is on view from 6-10 February. For more information, visit the website (opens in new tab)
Emma O'Kelly is a contributing editor at Wallpaper*. She joined the magazine on issue 4 as news editor and since since then has worked in full and part time roles across many editorial departments. She is a freelance journalist based in London and works for a range of titles from Condé Nast Traveller to The Telegraph. She is currently working on a book about Scandinavian sauna culture and is renovating a mid century house in the Italian Lakes.