Right lines: Erika Hock's Bauhaus-inspired sculptures leave the drawing board
Right lines: Erika Hock's Bauhaus-inspired sculptures leave the drawing board
Appearing like simple line drawings that have sprung from the page, the bent steel tube sculptures of German artist Erika Hock possess almost life-like qualities. Arranged across Antwerp's Gallery Sofie Van de Velde, each sculpture strikes a pose; while one stretches out a leg, another leans nonchalantly against a wall, each one interacting with the space in a different way.
The sculptures, which are being showcased at the gallery as part of Hock's new solo exhibition 'The Phantom Table', are the latest works from the German artist's ongoing 'Elbows and Knees' series - a body of work that blurs the line between functional objects and autonomous sculptures.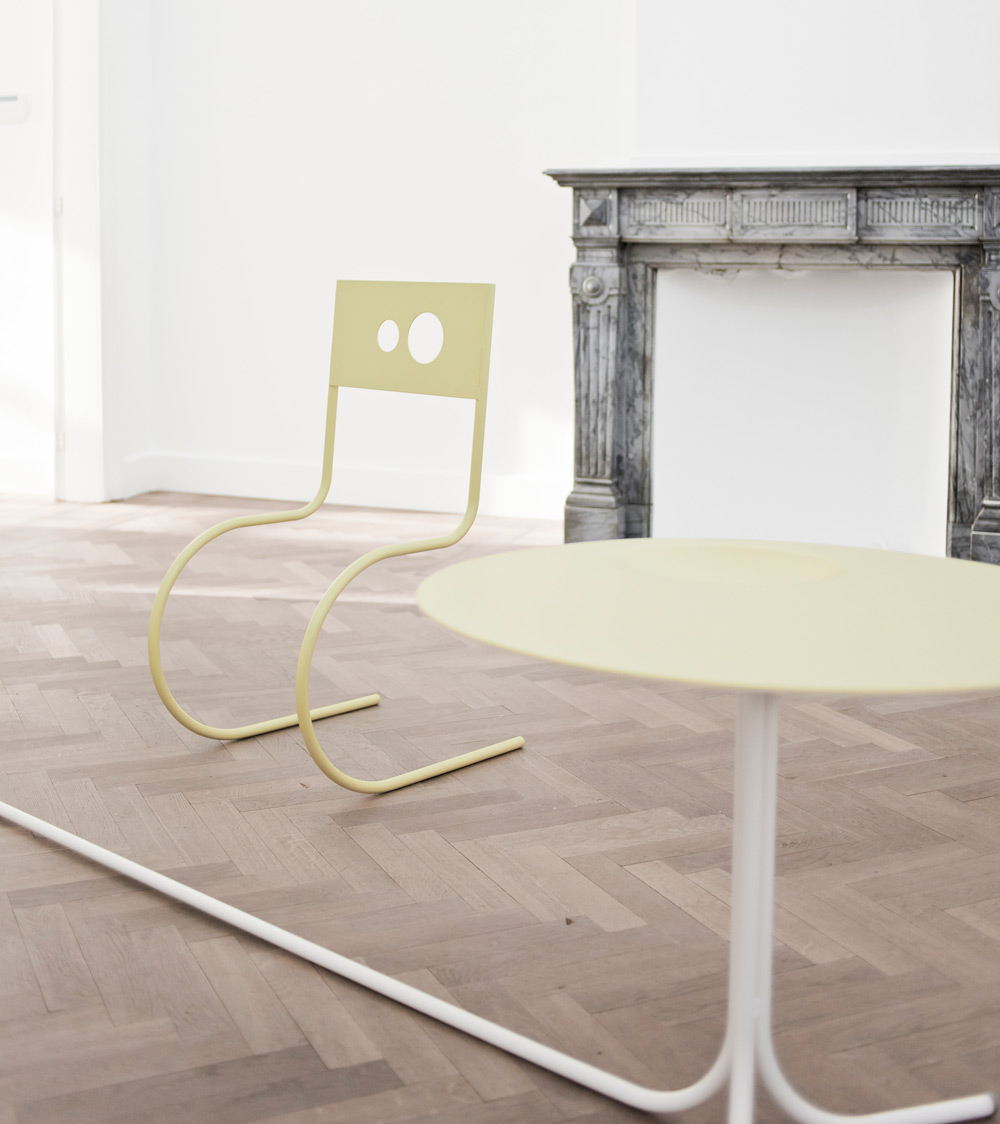 Installation view of 'The Phantom Table' at Gallery Sofie Van De Velde
For inspiration for her 'Elbows and Knees' pieces, Hock looked to the slender frame and suspended seat of the Bauhaus cantilever chair; a concept that was developed in the 1920s. At the time, several architects including Mart Stam, Marcel Breuer and Mies van der Rohe were all working on designs for a chair without back legs and a form that would elegantly trace the line of the seated human body.
'I have been interested in the cantilever chair for a while because of the way that its posture mimics the human body,' explains the artist. 'I think of a chair with four legs as being more of a support structure for the body. The cantilever chair not only supports the body but it becomes a body; so you can easily picture it standing up and stretching out.'
Hock's pieces draw new lines around the gallery
Each piece, powder coated in either a muted pink, canary yellow, black or white, takes the form of deconstructed item of furniture – a lamp, a chair and a coatrack – all placed directly on the gallery floor as if ready to be used. However, their use is ambiguous – the chair has no seat, the coatrack has no obvious rail, the lamp rises awkwardly from the floor – Hock has pushed the forms so far into the realms of sculpture that they cease to be functional.
'These structures can be seen as investigations on functionality and abstractions of the human body and its curiosities,' says Hock. 'The varieties of human bodies and characteristics like noses, legs, eyes, etc are very interesting to me due to their non-translatability. We can only talk about diversities after thinking about conformity.'
Information

'Erika Hock: The Phantom Table' is on view until 18 February. For more information, visit the Gallery Sofie Van de Velde website

Address

Gallery Sofie Van de Velde
Lange Leemstraat
262 2018 Antwerp

View Google Maps

Telephone

32.486 79 19 93