Sabine Marcelis wins Wallpaper* Designer of the Year 2020
Between fountains for Fendi, donut-shaped rugs, and a takeover of Mies van der Rohe's Barcelona Pavilion, Dutch-Kiwi designer Sabine Marcelis has widened the spectrum of what light, glass and resin can do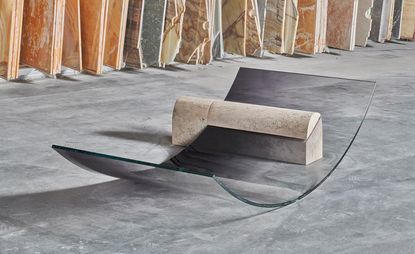 (Image credit: Pim Top)
It is fitting that Sabine Marcelis' experimental focus is the diffusion of light: few other forms of energy translate into such a wide spectrum of colour, shape and unpredictable phenomena. And indeed, in the past year the work of the Netherlands-based New Zealand-born designer has widened the spectrum of what light, glass and resin — alongside more unexpected materials — can do.

Take, for example, the stretch between two projects produced in quick chronological order: there was the serene and flowing elegance of Fendi's 'The Shapes of Water' for 2018's Design Miami and then the childlike abandon of the 'Donuts' rug conceived for Carpet Sign, presented during last year's Milan Design Week. The former pushed the conceptual boundaries of what Marcelis does best: the 10 fountains devised for the Italian fashion house showed an intricate pas de deux between light and water, but used architectural references to transport the installations beyond the context of their glass and resin containers – for instance, one of the fountains referenced the arches of the Palazzo della Civiltà Italiana, Fendi's Roman HQ. The latter was a 12x12 grid made up of ring-shaped confections, but created by robotic tufting machines with wool. It was as comically earnest as it was carefully constructed, and revealed a willingness to present complex manufacturing in straightforward packages. In fact, that approach extended to one of her more recent projects, the 'Xmas Donuts'. The pieces, meant to be used as Christmas tree ornaments, were cast from leftover resin in her Rotterdam studio. As the designer joked on her Instagram account, 'twas indeed 'the year of the donut'.
RELATED STORY
Or, more broadly: it was the year Marcelis expanded her field of material and conceptual experimentation with exciting results. Her 'Dawn' lights and 'Candy Cubes' now sit next to onyx tables and ghost mirrors; pixelated cubic tapestries that reveal stereoscopic layers; award trophies that snap like chocolate bars; and soap-like columns and furniture that trick the hand and the eye. And, of course, there are donuts.

Since opening her studio in 2011, her practice has mainly been based on capturing the wide-ranging effects of light hitting curiously diverse types of mass. Her pieces have thus become an intellectually hearty and chromatically thrilling condensation of large-scale natural happenstances, such as the moment sunlight converses with the mountains and the sea, into functional objects and compact installations brought down to their essence. We understand how challenging that process can be: we've attempted to condense the superb creative streak and the aesthetic impact she's had into a compact gesture: our Designer of the Year award for 2020.
INFORMATION
Explore more of our Wallpaper* Design Awards 2020 here
Receive our daily digest of inspiration, escapism and design stories from around the world direct to your inbox