The Future Perfect opens Casa Perfect townhouse in West Village
Formerly owned by financier Nat Rothschild, the show house and gallery includes a David Chipperfield staircase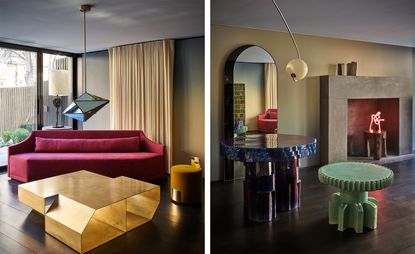 (Image credit: press)
After decades of debate, The Future Perfect is putting the East Coast versus West Coast rivalry to rest. When it comes to design, at least, there's enough style to satisfy both.

Two years ago, the Manhattan design gallery and store embarked on a westward expansion with Casa Perfect, an experiential showhouse set in Los Angeles. Now, The Future Perfect is bringing Casa Perfect home with an iteration in New York City. For The Future Perfect founder David Alhadeff, the two spaces are meant to complement each other, not compete.
'They're like the same thing on two parallel tracks in the universe,' he explains. 'It couldn't be more of the New York version of the Los Angeles space. It's yin and yang.'

While Casa Perfect Los Angeles is located in a Beverly Hills house once owned by Elvis Presley, its East Coast installment resides in financier Nat Rothschild's former West Village townhouse.
'When you visit us, you're coming to our home and we're going to treat you like you're in our home. Welcome to the casa.'
At Casa Perfect, both life and art deftly play off each other. Like the West Coast version, the New York space doubles as Alhadeff's residence when he is in town.
'This is always going to be a home, and that creates such an incredible experience for everyone because you can't hide it,' he says. 'Secondarily, it's an amazing kind of social experience.' Spanning across five storeys, which includes a rooftop overlooking the tree-lined streets below, the 5,000 sq ft townhouse provides an all-encompassing survey of what The Future Perfect has to offer.

The space features pieces from brands available at The Future Perfect, with some works made specifically for Casa Perfect. Highlights include lights from Jason Miller, Reinaldo Sanguino's ceramic stools, and Chris Wolston's 'Body Table'. While nothing is overtly for sale – as Alhadeff explains, you can't put a store inside a residence – Casa Perfect offers the opportunity to see and experience its inventory in a liveable space.
Each room boasts an array of colours, shapes, and textures, while a striking wooden staircase by architect David Chipperfield takes centre stage and anchors the home, creating unison across all five floors.

In addition to experiencing The Future Perfect's well-appointed selection, Alhadeff wants Casa Perfect to feel like a home away from home. He embraces the 'mi casa es su casa' sentiment by filling the kitchen with kombucha and coffee to share with his appointments.

'It really opens the door to socialisation,' he says. 'When you visit us, you're coming to our home and we're going to treat you like you're in our home. Welcome to the casa.'
INFORMATION
Casa Perfect New York, by appointment only. For more information, visit The Future Perfect website (opens in new tab)