Hot house: feeling the heat at Casa Perfect, LA's smouldering new design showcase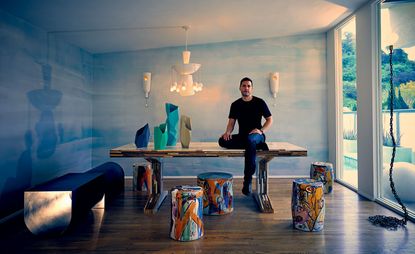 (Image credit: François Dischinger)
New Yorkers find it hard to understand Los Angeles. They extol the beach and weather, but sneer at the traffic and cheesy Hollywood Boulevard. Intrepid visitors might find nirvana on Mulholland Drive or in an order of tacos al pastor, but few get the, to use a very LA word, vibe. Writing in the 1970s, Eve Babitz – artist, author, party girl, Angeleno – once chided a visitor from the East Coast for being so at odds with the city's pace. 'And he wore ties, even on weekends,' she scoffed.

Which is why it's such a surprise to find David Alhadeff – quintessential New Yorker, founder of Manhattan design gallery and store The Future Perfect, and described by The New York Times as the original 'fulcrum' of the Brooklyn design movement — sitting tieless in the kitchen of his midcentury modern Hollywood home. His laptop is open; he's on the phone. Still, he seems relaxed. The breakfast nook of Casa Perfect is his West Coast office. It overlooks the pool, a David Hockney painting waiting to happen.

Perched on a slope above Sunset Boulevard, Casa Perfect is both a home and a 3,000 sq ft showroom for The Future Perfect. The 1957 residence was designed by Korean-American architect David Hyun, an eclectic designer who worked with modernists A Quincy Jones and Richard Neutra but is better known for his Japanese Village Plaza in the Los Angeles district of Little Tokyo. Alhadeff lives in the house whenever he's in town and he has filled the place with works by some of the best artists and designers from LA, New York and around the globe. Everything in the house is for sale, and this tension between domesticity and retail is central to the experience.

From the breakfast table, the view of an inflatable watermelon drifting back and forth on the aquamarine surface of the pool is mesmerising. 'There's an energy here,' says Alhadeff. 'In New York, everyone is obsessed with hard work. And hard work means all these things: stress, intensity, anxiety. In LA, people are hard workers but there's no obsession surrounding hard work.'

Born in Seattle, he could stake a West Coast claim. 'I'm really too stressed out for West Coast cred,' he jokes. He's the first to admit that the Pacific Northwest bears little resemblance to Southern California. Still, his mother is from the area and his family would visit frequently when he was a child. 'I always loved LA,' he recalls, and adds a bit sheepishly. 'My mom actually reminded me, "You wanted to go to UCLA." I didn't remember that.' Leaving the glam of 1980s LA – cut to Spago and Melrose Avenue – he chose the East Coast.
Flying in and out of LAX over the past decade, Alhadeff has watched the design scene here grow from a vintage-oriented outpost, dominated by the icons of the last century, to a metropolis with a sophisticated taste for the contemporary. He sensed a creative zeitgeist percolating around art, fashion and design that reminded him of the dynamic he saw in Williamsburg, Brooklyn, in 2003.

Sipping from a mug from BDDW's ceramics line, Alhadeff plays host and insists on offering coffee, juice and mineral water. 'You don't just come over and find us doing laundry,' he laughs. 'You come over and you're here to be served and to be ingratiated into our home.' Guests arriving later in the day might be served Moon Juice snacks or Yola Mezcal.

The Casa Perfect staff are serious about hospitality, fostering an intimacy that could never be found in a conventional store on a busy boulevard or a white-walled gallery space downtown. 'This is totally real,' he stresses. 'This is an actual residence – a live/work situation. There's an honesty to that that you can't put on a commercial strip. It would make no sense at all.'

Design and lifestyle get blurred here: people, food, furniture and art are all part of the atmosphere. 'It's literally the sunshine, the smell of flowers, and the food – the things you put in your body as much as what you put on your body,' explains LA-based artist and designer Kelly Lamb. 'He's trying to curate that.'
True to The Future Perfect's mission, the curation is impeccable yet unexpected. A stoneware mask by local artist Eric Roinestad is hung over a console by Georgian design duo Rooms, while a stainless steel 'Zigzag' bench by Indiana-based artist and designer Christopher Stuart takes the traditional place of the dining room table. Nearby sits a package of Zig-Zag rolling papers, suggesting that hosting takes on a particular SoCal haze later in the evening.

'People are so used to seeing Eames and George Nelson in all the midcentury homes,' says Roinestad, who's lived in Los Angeles since 1990 and first met Alhadeff via Instagram. 'Casa Perfect is more unique – it's kind of a mash-up, more worldly than Brooklyn. David is bringing a higher end of design that we don't have a lot of here.' Designer Kristin Victoria Barron echoes the sentiment. Her studio is in Idyllwild, a mountain town outside the city, but her dream-inspired brass and bronze pieces are produced in Los Angeles. She spends her time shuttling between the two. 'There is a certain irreverence about the Casa, because it is an outsider's take on design in LA,' she says. 'How others see us can be so different from the way we see ourselves sometimes, and this can be a very fertile place to begin a meaningful conversation.'

Alhadeff embraces this idea of insider versus outsider and adds a little dark intrigue to his sunny, non-traditional retail environment. 'I love peering in. It's at the root of what we're doing here,' he explains. 'We've broken the rules sociologically.' Casa Perfect is an exercise in voyeurism, an extension of the cinematic experience of looking into windows at night, where whole lives play out behind glass. The house provokes desires for domesticity and intimacy that Angelenos may not have known they had. Here, you can peep, you can shop, you can soak up the vibe.

As originally featured in the June 2017 issue of Wallpaper* (W*219)
'Tube' chandelier, $4,550, by Michael Anastassiades; 'Laurel' side table, from $1,385, by Luca Nichetto, for De La Espada; planters, price on request, by Jonathan Cross; 'Lavinia' chair, from $6,680; 'Elisabeth' sofa, from $11,410, both by Lazzarini & Pickering, for Marta Sala Éditions; 'Mitch' cabinet, from $8,070, by Luca Nichetto, for De La Espada; 'Lampada 036', price on request, by Dimore Studio; 'Chamfer' table, price on request, by Christopher Stuart; sculptures, from $825, by Phillip Low; 'Wanda' armchair, from $2,645, by Lazzarini & Pickering, for Marta Sala Éditions; 'XL' ceramic vessels, price on request, by Eric Roinestad; 'Nugget' knobs, from $140, by Lisa Eisner for Commune, all from The Future Perfect
'Hepburn' sofa, from $8,720, by Matthew Hilton, for De La Espada; 'Nim' coffee table, $10,080, by Pinch; glass sculptures, price on request, by John Hogan; 'Sidekicks' table, $3,395, by Studioilse, for De La Espada; lamp, price on request, by Eric Roinestad; 'Elysia' chair, from $4,940, by Luca Nichetto, for De La Espada; 'Hagga Bloom' rug, $4,027, by Kasthall; 'Masculo' chair, from $1,845, by GamFratesi, for Gubi; 'KiloBL' lamp, $1,465, by Kalmar Werkstätten; 'Gubi 2.0' table, from $6,120, by Gubi; 'XL'vessel, as before; 'Trio' table, from $1,425, by Neri & Hu, for De La Espada; Matisse, 2016, price on request, by Lauren Coleman; 'Tip of the Tongue' light, from $1,050, by Michael Anastassiades; 'Aurora Ray' wallpaper, $32 per sq ft, by Calico Wallpaper, all from The Future Perfect
'Stay' chair, from $3,715, by Space Copenhagen, for Gubi; 'Marlon' table, as before; 'Beetle' chairs, from $1,150, by GamFratesi, for Gubi; 'Aloe' sculpture, price on request, by Eric Roinestad; 'Double Loop' lamp, price on request, by Michael Anastassiades; 'Clamp' pendant, price on request, by Lindsey Adelman; 'Kent' sofa, from $11,800, by Jason Miller; 'Magic Stone' coffee table, $7,500, by Rooms; bowl, $1,250, by Katherine Gray; 'Glitch' bookends, price on request, by Christopher Stuart; 'Fragments' tables, price on request, by Lex Pott; 'Ambrosia' vessel, price on request, by Lindsey Adelman; 'Fragments' wallpaper, as before, all from The Future Perfect
INFORMATION
Visits to Casa Perfect, in the West Hollywood Hills, are by appointment only. For more information, visit The Future Perfect website (opens in new tab)