Tactile treasures: Picky Nicky's favourite wooden buys
Picky Nicky selects his products of the week – a selection of wooden wonders – from WallpaperSTORE*, our very own creative market place for design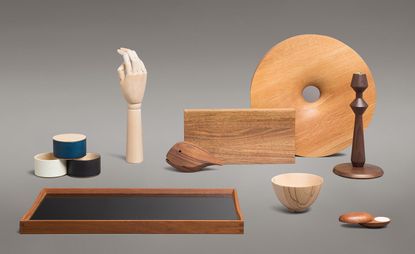 (Image credit: press)
It's officially autumn so I am falling for these tactile treasures for the table or desk, all formed in warm, wondrous wood.

The WallpaperSTORE* edit, selected from all over the globe, has been carved and crafted from solid walnut, oak and mahogany plus the rather more exotic sounding samak and Japanese kalopanax, before being hand-waxed or oiled for your pleasure.
Find out more about Michael Verheyden's Lighthouse candlesticks here (opens in new tab)
This weeks picks to please the eyes, caress the hands and transform your spaces include Finn Juhl's 1956 Turning Tray by Architectmade; Philipp Mainzer's Pen tray and paperweight plus Mark Braun's Turn fruit bowl by E15; Giulio Iacchetti's Itri candleholder and Emmanuel Zonta's Parè toy fish, both by Internoitaliano; Kihachi Kobo's turned bowls by Japanese design company Metrocs; and if the scent of wood was not already good enough, Serra & Fonseca's solid perfume comes wrapped in a mahogany case.
Find out more about Produzione Privata's 'Bisonte' stool here (opens in new tab)
Our very own creative market place for design, stocks, wraps and dispatches our pick of the finely formed and forward thinking from around the world
Nick Vinson, also known as Picky Nicky, has been an editor at Wallpaper* since 2012, curates the selection for WallpaperSTORE*, where he is general merchandising manager and also pens the monthly 'Vinson View' column in Wallpaper*
INFORMATION
Shop Picky Nicky's edit now at Wallpaper*STORE (opens in new tab)