Meet the designers giving traditional European craft an unexpected contemporary edge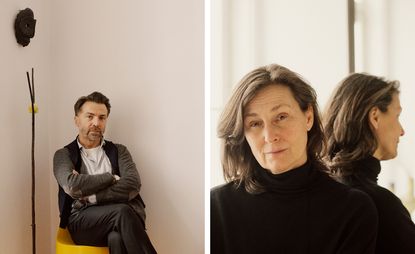 (Image credit: Lisa Edi)
The work of Vienna-based designers Nadja Zerunian and Peter Weisz is akin to alchemy. Using materials such as copper, marble and glass, the pair create unusual, sophisticated pieces, often combining them with quirky vintage objects found at flea markets and antique shops around the world.

The resulting limited-edition collections are as unexpected as they are seductive. Each piece is covetable in its own right, but it's the ingenious way they are put together that really draws the eye. 'We believe we can push the conversation about craft a lot further by realising small collections that tell stories, and by drawing people into our world of little wonders,' explains Zerunian. 'By combining works made by artisans with new and vintage design, you elevate the craft items and show how they can hold their own among a range of exquisite objects.' It's all about 'taking the sentimentality out of craft', adds Weisz, 'and making it relevant for today.'

Zerunian and Weisz have different but complementary backgrounds. Zerunian studied painting, and later product design with Ron Arad and Carl Auböck, and has been a designer at Calvin Klein and creative director for Georg Jensen and Swatch, while Weisz is a master tailor who had his own atelier and eponymous label for 25 years, and has also worked as a fashion director for magazines and brands such as Swarovski. They both 'collect, hoard and hunt' objects, which often become the starting points for a new collection.

'Nadja and I engage in our designs in a very playful way,' says Weisz. 'When we work, it's almost like entering a fantasy realm.' Humour is a constant, as is a conversational game of ping-pong that ends up pushing each project further. In their four years of collaboration, this eclectic approach has led to five collections that highlight different craft skills and embody different narratives. These include Nos Trucs en Plumes, inspired by French ballet dancer Zizi Jeanmaire, and Ways to Disappear, a range of objects that seem to vanish when combined with trays finished in the same colours.
The latest collection, launched this spring, is called Perfect Stills. A series of tableware made out of glass, ceramic, metal, wood and stone by craftspeople in Austria, the Czech Republic, Romania and Italy, it draws its inspiration from archetypal elements; the pair refer to the pieces as meditative totems. Functional yet enigmatic, they appear almost to dance or float thanks to curved bases. As with many of the duo's works, the individual elements can be fitted together to compose a single object or separated out into different pieces to create a 'product landscape'.

'Each piece is a generic or archaic shape, but once you put them together, it becomes a Zerunianandweisz piece,' says Zerunian. 'The idea was to show how utilitarian objects can become highly decorative,' adds Weisz.

Zerunian and Weisz kicked off their design partnership in 2014 with a collaboration with Roma craftspeople in Romania. Initially, Zerunian was taken on as a pro bono advisor by the Austria-based Erste Foundation to help marginalised Roma craft communities reinterpret their products for a global, design-savvy audience. She soon asked Weisz, a friend of a friend, to come on board to help create a fashion collection with Roma seamstresses. Their collaborators in Romania were the dynamic Bucharest-based social enterprise Meşteshukar ButiQ (MBQ).

MBQ runs a boutique in Bucharest (and is due to open another in Vienna late this year) that sells pieces made by 18 Roma artisans, whose skills range from basket weaving to woodturning. The artisans make traditional objects with a design edge, as well as more complicated items in collaboration with the likes of Zerunianandweisz and up-and-coming Romanian designer Radu Abraham, with whom they have worked on a collection of vases and trays, due to be launched during Romanian Design Week in late May.
Thanks to the support of the foundation and the team at MBQ, Zerunian and Weisz have been able to offer the artisans a level of commitment that many others haven't. 'The Roma are wary of people arriving with a great idea and then never coming back again,' says Zerunian. So the fact that the pair did come back, almost every month, for close to four years, meant they were able to build up trust. They made minor but key suggestions, such as making the legs of traditional stools less chunky, and exploring new basket shapes. The fact that MBQ paid the craftspeople better than other wholesalers had positive effects too – the artisans had more time to interact with the pieces and were slowly able to invest in new workshops and tools. 'More respect towards them led to more respect towards the product,' says Zerunian.

The artisan who has had the most impact on Zerunian and Weisz is Victor Clopotar, a talented coppersmith from the Caldarari community in Brateiu, Transylvania. It was their admiration for his abilities with copper, silver and brass that led to their first range as a duo, a series of sculptural tabletop items called '7,000 blows' in reference to the amount of times a sheet of metal has to be hammered to achieve the shapes they were after. 'To do something elliptical or asymmetrical is a real craft challenge,' says Zerunian. 'Victor is one of the few people in the world able to do this.'

For the designers, working with the Roma or other marginalised communities in Algeria and Lebanon is not about a worthier-than-thou mission (they are 'accidental activists', says Zerunian). The pair, above all, want to shed new light on fast disappearing traditional crafts. These objects, and the vintage pieces they find, can be functional, frivolous or purely symbolic, but they all share something in common. 'They invite you to take your time with them, and not only use them but also view them in a different way,' says Weisz. The pieces might not be large in size but they are, nevertheless, unexpectedly powerful. §

As originally featured in the June 2018 issue of Wallpaper* (W*231)
INFORMATION
For more information, visit the Zerunianandweisz website (opens in new tab)