Svenskt Tenn interiors store reopens in Stockholm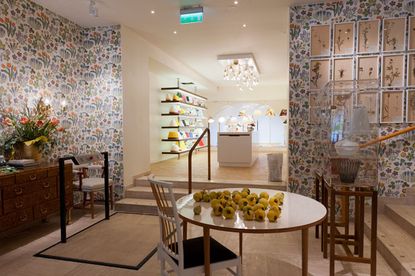 (Image credit: press)
Stockholm has been waiting with bated breath for the reopening of Svenskt Tenn (opens in new tab), the city's leading interiors store, established in 1927. But it's no longer simply a shop. Almost double in size, the new Svenskt Tenn is more like a small department store, with an equally expansive collection of design items lining its elegant shelves.
Responsible for the transformation are London based retail mavericks HMKM (opens in new tab), whose previous clients include Tsvetnoy in Moscow and Selfridges (opens in new tab) in the UK. The thinking behind the store's search abroad for a design studio was a belief that any Swedish firm, however capable, would always have a preconceived idea of what Svenskt Tenn 'should be'. The creative team felt the new showroom should get an entirely fresh treatment.
The result is impressive. The new store is worldlier, yet preserves the little nooks and crannies that gave the old store its charm. Atriums have been opened up to let light pour in from a hidden courtyard. Carpentry, ceilings and surfaces are all much more refined, incorporating leather, green Kolmårds-marble, precious woods and brass. And the space is topped by a magnificent brass and pewter latticework ceiling that recreates that of the original store when it first opened.
Two unexpected additions include the opening up of founder Estrid Ericson's office -preserved just as she left it - and the creation of a delightful little tearoom offering seven traditional brews and views over Nybroviken Bay (opens in new tab). Teas have been specially customised for the store and can be sipped from teacups by Florentine porcelain maker Ginori (opens in new tab).
ADDRESS
Strandvägen 5, box 5478 11484 Stockholm Sweden