Brazilian furniture pop-up Studio 55 makes waves in West Hollywood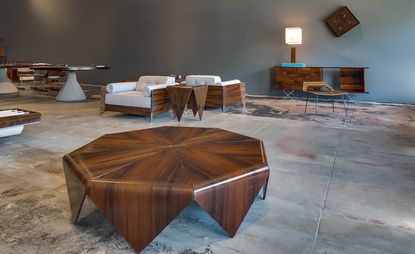 (Image credit: Darren Asay)
For years, Ulysses De Santi was best known as an award-winning television producer and small-part actor in São Paulo. But from the time he was a child, De Santi always had a passion for Brazilian furniture. His gateway drugs were Sergio Rodrigues' 'Mole' chair, which his uncle owned, and the Jorge Zalszupin 'JZ' tea trolley he came across at a friend's house as a teenager.

'I remember the lines and curves were so striking – there's a sexiness to it that's just very Brazilian. To me, that's a sculpture,' says De Santi, who decided to explore his first love after moving to Los Angeles with his husband. 'This is pretty much an extension of our house.'

De Santi is referring to Studio 55, the Brazilian design pop-up he launched last month in West Hollywood with former Mendes Wood gallery director Cecilia Tanure, after buying a vintage Studio 54 drink ticket at the LA Art Book Fair. 'I said, "Whenever you do something with furniture you should call it Studio 55, because that's our country code",' recalls Tanure. If she did it, De Santi said, then he was in.
'Once she came up with the name it made it real,' he continues, recalling they spent the spring sourcing pieces from six firms – Jorge Zalszupin, Joaquim Tenreiro, Geraldo de Barros, and Carlo Hauner and Martin Eisler's FORMA among them – from homes and offices throughout Brazil, most of which were reupholstered by top Brazilian artisans.

Highlights include Zalszupin 'Guarujá' tables sourced from offices in Brasilia, a glass top FORMA dining table and chairs from the 1950s and 20ft-long jacaranda benches by de Barros, Tenreiro and Zalszupin. 'Some I've never seen in a publication,' says De Santi, pointing to an expandable hardwood FORMA coffee table. 'When I saw this I died.'

There's also a playful suite of unique gemstone- and metal-infused canvases and hanging sculptures by Brazilian jeweller Francisca Botelho on offer. Though 70 per cent of the pieces are sold, and the Hollywood pop-up closing tomorrow, the duo will be hanging a new version of their Tropicália-inspired, Manuel Raeder-designed sign at Hong Kong's Art Basel next year, followed by a return to LA.

First, they're returning to Brazil. Says De Santi, 'What I want to start doing more is gathering anonymous pieces and playing around with upholstery, using this artist who does amazing tile works that would look amazing on a table, and just establishing something that's ours.'

To prove the point, De Santi runs to a back office and pulls out a mid-century steel and jacaranda telephone chair that they covered in Brazilian sheepskin. Tanure laughs, adding, 'It's about finding all these possibilities between art and design.'
INFORMATION
For more information, visit the Studio 55 website (opens in new tab)
Photography: Darren Asay