Paulo Mendes da Rocha and Inês Lobo remodel a Lisbon family home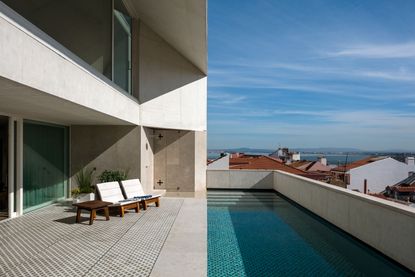 (Image credit: Leonardo Finotti)
Wallpaper* Newsletter
Receive our daily digest of inspiration, escapism and design stories from around the world direct to your inbox
Thank you for signing up to Wallpaper. You will receive a verification email shortly.
There was a problem. Please refresh the page and try again.
Azulejos, or patterned tiles, have adorned Lisbon's churches, palaces and houses since the 16th century. They are as central to the Portuguese capital as salted cod and custard tarts, and provide a visual guide to its history, each decorative style indicative of a particular decade. Businesses small and large, from side-street ateliers and stall holders at the Feira da Ladra flea market to established dealers such as Cortiço & Netos (which has more than 900 vintage styles in its collection), trade in the celebrated ceramics.

On the crest of a hill in the salubrious district of Lapa, one particular tiled façade shines brighter than the rest. It's covered in striped tiles that, when their corners are put together, form multicoloured squares and stars. They are from the 1930s, and the same designs appear on the Elevador da Bica, the funicular station in downtown Lisbon. These, though, look as good as new thanks to a renovation last year that transformed what was a shabby apartment block into a family home.

In many districts of Lisbon, word of mouth or a plain white sheet of paper in the window indicate when a property is up for grabs. Local architect Inês Lobo heard the block was for sale and she took her clients, a Portuguese couple with three children, to view it. They fell in love with its splendid views and with Lapa's sleepy feel and bought it straight away.
The renovation was set to begin when a chance meeting changed everything. The owner, on a work trip to São Paulo, stopped by Galeria Leme to see some art. There he was introduced to the gallery's owner Eduardo Leme and its architect, Paulo Mendes da Rocha. When he heard Lobo was involved in remodeling a house in Lisbon, Mendes da Rocha agreed to collaborate. The pair have been friends for 20 years; he was familiar with the schools and civic buildings that Lobo has won prizes for, and was keen to work on a Lisbon project together. (His last there, in 2015, was the National Coach Museum in Belém, which houses a vast collection of historical carriages, a stone's throw from Amanda Levete's Museum of Art, Architecture and Technology.)

'The owners asked me if I would mind working with Paulo,' says Lobo. 'I said, "What? Mind? Of course I don't mind! It will be incredible. I know all his projects and he's a real gentleman".'

They stuck to the classical Portuguese apartment block blueprint, where quality and height are interlinked. 'The best, most expensive apartments are always on the top and have higher ceilings,' says Lobo. They used local materials: concrete, tiles and limestone with a pinkish hue, which is found all over Lisbon. The only wrangle they had was over the position of the pool. 'Paulo wanted it on the top floor, but I said no because there are lots of buildings with pools on the roof. It's the third floor, not the fourth, that feels most connected to the Tagus River.'

As such, the house is upside down: the living room and its sweeping east-facing terrace are on the top floor; the kitchen and pool terrace are on the floor below; the second floor houses the parents' study and bedroom; and the first floor belongs to the children. On the top floor is an origami-style corner window, created specifically to offer views over Mar da Palha, the Sea of Hay. With its shallow waters and shimmering yellow sands, this particular spot in the Tagus estuary holds a special place in the hearts of Lisboetas.
At a recent lecture in São Paulo, Lobo compared the house to a Brazilian SESC. The non-profit Serviço Social do Comércio, or community centre, is a wholly Brazilian concept, created in the 1940s by a guild of businessmen to provide their workers with health services, sporting and cultural activities. 'SESCs are very important in Brazil,' says Lobo, 'and like this house, each level offers a different programme.' (Last year, Mendes da Rocha and Brazilian architects MMBB completed the 14-storey SESC 24 de Maio in a disused department store in the centre of São Paulo.)

To complement the work of the 89-year-old master architect, the owners sourced much of their furniture from Brazil. There are stools by the late Joaquim Tenreiro, a 'Multidão' chair by the Campana brothers, a 'Petalas' coffee table by Jorge Zalszupin, Carlos Motta's 'Astúrias' armchairs and a 'Paulistano' armchair by Mendes da Rocha himself, as well as a work by local artist Miguel Ângelo Rocha, and a chandelier by Italian designer Mario Nanni.

With its architectural pedigree, the house could feel like a show home, but each space is created on a deliberately domestic scale. 'The family live together in a very informal way,' says Lobo. 'It's a functioning home, not a site of architectural pilgrimage.'

Taking in the views from the terrace, it's impossible not to notice the hundreds of cranes punctuating the rooftops of Lisbon's pastel townhouses. Thanks to an injection of EU money and a property boom fuelled by a preferential tax regime, huge areas of Lisbon are under construction or renovation. But not all projects will be as striking or successful as this house, a future-facing space in an old-fashioned shell. 'We preserved the patrimony of the building and its façade, while modernising the interiors,' says Mendes da Rocha. 'Finding new uses for buildings in ancient, historical cities around the world is something architecture students should be taking a great interest in today.§

As originally featured in the July 2018 issue of Wallpaper* (W*232)
INFORMATION
For more information, visit the Lobo Architects website
Receive our daily digest of inspiration, escapism and design stories from around the world direct to your inbox
Emma O'Kelly is a contributing editor at Wallpaper*. She joined the magazine on issue 4 as news editor and since since then has worked in full and part time roles across many editorial departments. She is a freelance journalist based in London and works for a range of titles from Condé Nast Traveller to The Telegraph. She is currently working on a book about Scandinavian sauna culture and is renovating a mid century house in the Italian Lakes.