Stephen Webster's kitchen knives are a modern reinterpretation of the sgian-dubh dagger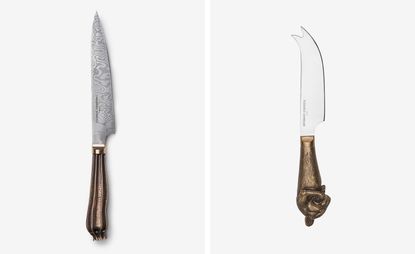 (Image credit: press)
As they say in London, 'What a carve up.' Mayfair-based jewellery designer and creative director Stephen Webster has collaborated with a 'loud and fiery', South London blacksmith to forge a collection of fearsomely luxurious kitchen knives.

Inspired by a commission of a modern, gothic interpretation of the classic sgian-dubh dagger (traditionally worn in the sock) by a Scottish client, Webster's Beasts knives are made from Damascus steel, a process that requires enormous skill, patience and searing temperatures. During the Damascus method, steel has to be heated, hammered, folded, then re-heated, re-hammered and re folded up to 50 times. The result of the process is an elegantly primitive, metallurgical marbling on the blade faces which makes each one unique. The finest Japanese sword makers employ the same long and laborious blacksmithing techniques.

To ensure bonafide kitchen credibility, Webster consulted his friend Mark Hix, a London chef and restaurateur. 'I worked with Mark and several of his chefs in order to better understand the variety of blades a professional chef might use. Armed with Mark's input, we made six blades for our five beasts – including a meat cleaver – and for the vegetarians a bronze, courgette-handled paring knife.' Each knife in the block of six has a handle, sculpted in bronze depicting the beast it is intended to carve.
RELATED STORY
Unveiled at this year's Design Miami, the knives can also be made to order with custom blades forged for sushi chefs or home butchers, and the beasts can be replicated in sterling silver instead of bronze. Webster, also the creative director and of London jeweller Garrard & Co, warrant holder to the Prince of Wales, calls the knives 'tools for the home' and regards the collection as a logical extension to his portfolio of rings and bracelets. 'Jewellery houses like Cartier and Fabergé always did things for the table,' he says. 'And these days, everybody is a chef, right?'
INFORMATION
For more information visit the Stephen Webster website (opens in new tab)