Heavy metal: Crane launches perfectly formed range of cast iron cookware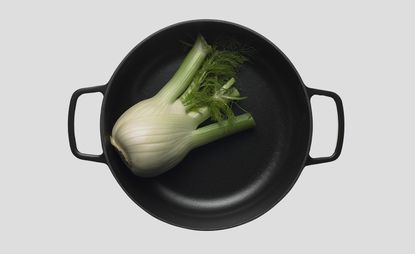 (Image credit: TBC)
Studio Tuke founder Barnaby Tuke has established a reputation for functional yet design-led homeware pieces. For his latest project, the British product designer teamed up with fellow food lover and writer Charmain Ponnuthurai, to launch new cookware brand Crane.

For Crane's first range, a collection of cast iron pans, Tuke has stuck to his fail-safe design formula. As a passionate cook himself, he recognised that the range needed to have functionality at its core. 'These are serious tools for professional and home cooking, and we want to bring back the love that people have for cooking with cast iron,' adds Charmain.

Comprising four kitchen essentials – a sauté pan, casserole, griddle and frying pan – the collection is made in a foundry in northern France from vitreous enameled, sand-cast iron, meaning it can be used in the oven as well as on the hob. In another clever design innovation, Tuke has made the all the pans the same diameter – meaning a single-size lid fits the whole range.

Not only does the collection's textured black enamel surface make for better braising, roasting and caramelising, its minimal design aesthetic also means that it looks great on the kitchen table – just what we'd expect from Tuke.