Serif: the Bouroullec brothers team up with Samsung to reinvent TV
Be the first to see the unveiling of the Bouroullec brothers' top-secret project with Samsung: Serif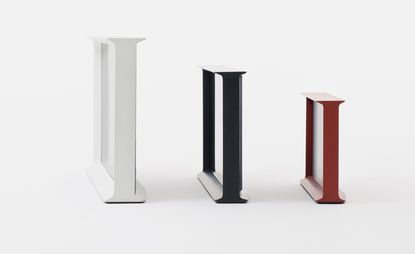 (Image credit: TBC)
After hearing that the Bouroullec brothers had been working with global electronics behemoth Samsung on a top-secret new project, Wallpaper* was keen to visit their studio to see it unveiled for the first time. Though the talented twosome have collaborated with plenty of well-known names in their time, we were intrigued to see how they had adapted to working with such a giant brand.

Their studio, one of several in a hidden courtyard complex on the heights of northeast Paris, is housed in a former shoe factory. It's reassuringly messy, like the platonic ideal of a creative laboratory, though there are signs of order among the chaos, with racks of work folders and, in the basement, carefully archived boxes for every project, large and small.

After being greeted by Ronan (green work jacket, jeans, dark blue shirt, tousled hair) and Erwan (slightly smarter in a slouch-shouldered blue jacket and jeans) and introduced to Samsung's senior VP and design chief, Yun-Je Kang, the brothers conduct their presentation as a double act, following (and sometimes interrupting) each other, with occasional interjections, in Korean, from Mr Kang.

It's an engagingly low-key performance, completely (and presumably intentionally) the opposite of the slick, all-singing, all-dancing presentation one might have expected from a household electronics brand. It even has the odd moment of comedy, especially at the moment when Erwan whisks off the torn length of cotton that covers the first of their prototypes – at which point all the other covers fall off too, revealing the entire new range of products at one fell swoop. But over to the Bouroullecs for the rest of the story...

Ronan: Samsung approached us three years ago. We refuse about 90–95 per cent of requests because we're too busy, and we generally prefer working with small and medium-sized companies, so the thought of working with such a huge company as Samsung didn't immediately appeal to us. We thought they'd be grey men, but when we met their team they were normal people, with a sense of humour – we realised we could work with them. We had almost three years to work on the project, which is much longer than they're usually used to.

Erwan: It's been exciting to work on something that will end up everywhere; as designers we've always wanted to have our work used by as wide a number of people as possible.

Yun-Je Kang: Working with the Bouroullecs is a good way for Samsung to expand the brand into the design world. The television market is very competitive, not only in design but also when it comes to technology and features. After IFA [the main global electronics trade fair in Berlin] three years ago we started thinking about how we could move outside the general arena where most TVs compete against each other.

Erwan: Initially we weren't really sure what Samsung were after – we thought they just wanted some concepts from us.

Ronan: We were surprised when Samsung asked us to work on a TV, because we knew that big electronics companies normally use in-house design teams.

Erwan: We asked them why they didn't want us to work on flat or curved screens, but they feel that flat screens have come towards the end of their evolution.

Ronan: So instead of trying to make a TV ever thinner, trying to make it disappear, we decided to make it into a piece of furniture, like a chair – something that you can look at in the round.

Erwan: We also worked on the interface and what happens inside the TV. To start with we asked Samsung to send us a couple of TVs, which we dismantled and rebuilt.

Ronan: In the end we worked our way through a lot of televisions and broke them, but Samsung were very patient with us. We had so many electric shocks during that period – poor Erwan is no longer the designer he was.

Erwan: We cut away the profile, framing the screen rather than trying to lose the edges, and it was interesting to see that people immediately began putting things on top of it.

Ronan: As we were working I had this rather nostalgic memory of thick old TVs with lots of things on top of them.

Erwan: We started with wooden models, but right from the start we made sure we had a screen with moving images inside them. TVs aren't static objects.

Yun-Je Kang: On our first visit the brothers offered us around ten different ideas, but I could see immediately that this version differentiated it from anything else on the market, and it also had a timeless element.

Erwan: The flat surfaces at the top and bottom make it easy to carry, and we wanted the back to be as appealing as the front. Samsung have to include lots of sockets on the back for different countries, and hiding them and making the back as simple as possible was a big challenge. In the end we developed a special fabric attached by small magnets. We were looking for a mono-solution that would work in all contexts, in three different sizes. We tried doing versions to hang on a wall but they didn't work, so instead the medium and large versions come with very plain screw-in legs. It's an old solution, but they work better than anything else, they're cheap to produce, and they hardly take up any room in the box so they also save on packaging.

Ronan: I really don't like wall-mounted TVs. They're often hung quite high so they feel very intrusive.

Erwan: One of my favourite features is what we call curtain mode. I pull the curtain across to hide the adverts – the TV automatically pixillates the picture in vertical lines to create an abstract, gently moving image…

Ronan: … though we've had to connect a computer to show the screen effect because we don't, er, have a TV in the studio.

Erwan: We redesigned a lot of the existing functionality, reordering the menu to start with the TV, then apps, then the speaker, then photos, then the time settings. I feel that apps are going to be really important, so we felt that they should be prominent in the controls.

Yun-Je Kang: From our point of view we're aiming at a new sector of consumers. Ultimately this is a furniture TV, so we'll be targeting concept stores and high-end department stores rather than electrical stores – we don't want Serif to compete with other TVs. The general TV market is hugely price-driven, and most TVs only have a shelf-life of a year or so. We wanted something that would be around for a longer time.

Ronan: We're constantly confronted by this as designers, where other brands are destroying people's expectations by being completely price-driven. It spoils a lot of things when people start believing that a chair should cost €20. The supermarket approach to life is just not right; everything is fake there, even the sausages.

Erwan: I think that a lot of people, like me, stopped watching TV and started watching movies instead on laptops and tablets.

Ronan: I don't have a TV, for example. We didn't like the content on TV, or the designs. But now I think that way of watching TV on a laptop is finished.

Erwan: It's been a long project, and I'm sure that Samsung must have hated us sometimes, but we're all very happy with what we've achieved. So the long pregnancy is over and we've given birth to triplets, in three different colours.
INFORMATION
The Samsung Serif (opens in new tab) will be officially launched at the London Design Festival, and will then be on sale from 2 November in France, the UK, Sweden and Denmark; from £600

Photography courtesy of Samsung