Model citizens: the Bouroullecs on urban fiction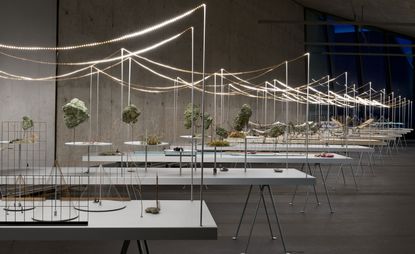 (Image credit: press)
Creative duo Ronan and Erwan Bouroullec are on a roll, dazzling the domestic design world with their recent projects. Launched in 2015, the Samsung Serif TV showed the brothers' knack for innovation as they merged furniture and electronics – the latter a field that they'd previously left rather untouched. Most recently they explored a new area of play, delving into environmental development with their project 'Rêveries Urbaines (Urban Daydreaming)', currently on view at Zaha Hadid's Fire Station at the Vitra Design Museum in Germany.

A project that began in Brittany earlier this year, the pair were invited to create an exposé of their works, and as usual, they initially refused. After some persuasion, they decided to approach the exhibition in a different manner. 'We wanted to do something important with a new subject,' explains Ronan Bouroullec to Wallpaper*. 'I thought it would be intelligent instead of doing one project, to do a sort of sketch book of ideas, about what we think about cities. Not necessarily about this one [Paris], but different ones too.'

And so began an exploration of urban fantasy, taking shape in the form of 18 architectural maquettes with their futurist ideas for nature-focused cities. The various mock-ups for public spaces include elevated greenery, artistic waterfalls, kinetic relaxation areas and hanging pergolas, all produced as research into recreating the harmony between a city, its architecture and the organic world.

'I like being out of the comfort zone,' says Ronan of their first foray into the subject. '[The artist] Paul Klee said he would have loved to have painted without knowing so much about the history of painting. We are the same; we grew up in the countryside, we are lucky to travel to different cities but we aren't knowledgeable about the subject [of urban city development].'

Yet venturing into the unaware works like a charm for the French duo. The models – which draw from natural motifs, mimicking clouds, waterfalls, hanging trees – are not only forward-thinking but nod to the allure of 19th century gardens and parks, all imbued with their characteristic flair.

When asking Ronan if they envision these concepts as the future for city architecture, he replies, 'I think this is the question of "the new city" – the question of elegance. The question of beauty in the city is not so much something we speak about, people are concerned more with efficiency. Of course it is important, but here we are talking about the beauty.'

And will any of the beautiful visions of 'urban fiction' be bought to life? The designer was keen to keep it all under wraps, but he did reveal that two of the structures are set to be produced in Miami and Aarhus very soon. Until then, we can continue to gawk at the miniature versions at the Vitra Museum until 22 January 2017.
INFORMATION
'Rêveries Urbaines (Urban Daydreaming)' is on view until 22 January 2017. For more information, visit the Vitra Design Museum website
ADDRESS
Vitra Design Museum
Charles-Eames-Straße 2
79576 Weil am Rhein
Receive our daily digest of inspiration, escapism and design stories from around the world direct to your inbox