Feminism, fantasy and furniture at Stockholm Design Week 2020
We traversed the Swedish capital to unlock the unmissable events at Stockholm Design Week 2020 (3-9 February) that included responsible design at Stockholm Furniture Fair, pop-ups in restaurants and ex-military bases, plus a recreated artist's atelier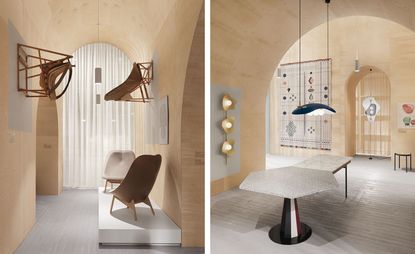 (Image credit: Jonas Lindstrom)
Stockholm Design Week has long pioneered innovation and experimentation. This year's edition was no different. Understanding the ongoing global problems with waste, Stockholm Furniture Fair's guests of honour, design studio Doshi Levien, framed its processes with an installation that will live beyond the five days of the show. Elsewhere biomaterials from caffeine to mushrooms were aplenty in the Greenhouse section for rising talents.
On the local scene, Form Us With Love launches a sustainable personal care brand, while a new all-female creative crew shakes up Swedish design energy, and the Scandinavian creative essence gets injected with Portugese craft culture.
Delve into our edit of the Swedish showcase...
Powder Vase by Jenny Nordberg Hem
'[This is] where our experiments materialise,' Petrus Palmér, CEO and founder of the Swedish brand describes of its Stockholm HQ that has been freshly redesigned by local practice Atelier Paul Vaugoyeau and the in-house design team. This new workspace has been busy concocting the third collaboration with Modern Design Review, sheet steel vases by Jenny Nordberg, that adopt an abstract powder coated finish. The decorative pieces are limited edition of 15, 'I focus my attention on projects that are long lasting – those that reclaim materials and are engaged locally,' Nordberg explains.

3-9 February; Hem Studio, Eastmansvägen 12A, 113 61 Stockholm
Southern Lights by Origin
When Gabriel Tan first visited Portugal back in 2014 as a tourist, he was fascinated by the craft of the country, and in turn wanted to bring this to the fore with new initiative Origin. This is the second collection for the brand, and this time he explores the connections between Scandinavia and Portugal. Nine projects from nine designers (six of which are Scandinavian) and seven Portuguese craftsmen come to fruition for this, in a range of fragrance sculptures, hair brushes, vases, carafe and more.
4-8 February; Asplund, Sibyllegatan 31, 114 42 Stockholm
Bouroullec Brothers & Iittala at Wetterling Gallery
The roll call of creatives trekking to IIttala's glass blowing factory in remote Finland reads like a who's who of the design world. In 2014, Ronan and Erwan Bouroullec made the pilgrimage and produced Ruutu – a collection of large handblown vases. This year, they add hollow cast, ceramic editions and 500mm glass editions to the family – all of which are on show at the Wetterling Gallery. The brothers also created hand blown glass flowers to put in them.
4-7 February; Kungsträdgården 3, 111 47 Stockholm.
Forgo, by Form Us With Love
Already a 2020 Wallpaper* Design Award winner, Form Us With Love's new personal care brand Forgo focuses on using less water and less packaging with its new formula hand wash. Two years in the making, Forgo provides sachets of powder ingredients to then mix with tap water at home in a reusable bottle. During design week, the sustainable brand will launch its palm cleaning revolution inside military base turned museum, Bergrummet.
4-6 February; Svensksundsvägen 5, 111 49 Stockholm
Gubi at Hotel At Six
The pop-up space on the ground floor of the Hotel At Six has always seen a space in which to showcase the best names in design, and for the second year running, Danish maestro Gubi has taken up residence. Alongside pieces from the existing collection (reupholstered in sheepskin), are a series of new travertine Epic Tables by long-standing Gubi collaborators Gamfratesi and new lighting and furniture by Danish duo Space Copenhagen, whose Wonder sofa is a contemporary take on 1970s lounge furniture.
4-6 February; Brunkebergstorg 6, 111 51 Stockholm
Doshi Levien at Stockholm Furniture Fair
Described by the design duo as 'an abstract version of our studio', this year's guest of honour will delve into the processes behind their design language. An added layer to their installation: the materials used for the 200 sq m space will have an afterlife following its five day stretch and have been sourced responsibly for the showcase.
4-8 February; 125 30 Stockholm
Misschiefs feminist exhibition
The punk cry of all-female collective Misschiefs sets out to 'shake up the traditional, strict, contained and male-dominated style of what defines Swedishness in design.' Limited edition works by ten designers range from quilts to ironing boards to mirrors and are on show in Stureplan central square before heading to Milan, Paris and Marseille. In each city, a female curator or gallerist selects an artist to create a work. In Stockholm, Andrehn-Schiptjenko gallery called on Norwegian artist Yngvild Saeter and her new Spirit Realm chandelier is the star act.
4-22 February; STUREPLAN 6, 114 35 Stockholm, Sweden
Fantasy by Magniberg
Bedlinen and textile brand Magniberg's 2020 Stockholm contribution is twofold. In its studio, an exhibition of Polaroid photographs by Casper Sejersen will be hosted, plus limited edition pillow cases and duvet covers with images by Hanna Moon, and lamps and vases by Nina Nørgaard. Meanwhile at 1945 restaurant Teatergrillen, the team will be creating a collaborative environment with fellow artists and friends from the industry, extending the namesake of its new collection, 'fantasy'.
Magniberg, Grev Magnigatan 6, Stockholm; Teatergrillen, Nybrogatan 3; Teatergrillen Nybrogatan 3, 114 34 Stockholm, Sweden
Explore more highlights below