Use less: Forgo champions a personal care revolution with subscription handwash
The team behind Swedish design studio Form Us With Love launch new brand Forgo, a sustainable subscription-based personal care service that uses less material for a palm cleaning revolution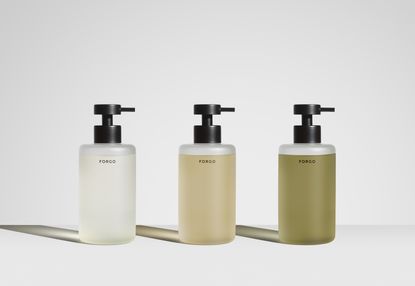 (Image credit: press)
'We realised the rabbit hole was pretty deep,' says Jonas Pettersson, CEO and co-founder of design collective Form Us With Love. Pettersson is talking about the team's discovery of wastefulness in the toiletries industry, which was the main motivation behind the Swedish studio's new sustainable personal care brand, Forgo.
Forgo had a big reveal during Stockholm Design Week, hosted inside a former WWII shelter and operations centre for the Swedish navy, that turned into a toy museum in 2017, about the same time that Forgo was being cooked up. Wallpaper* caught drift of the plan a year ago, from its initiator Allon Libermann, design manager at Form Us With Love. We were on board with the palm cleaning revolution from the onset, which is why it has already won a Wallpaper* Design Award 2020 (opens in new tab).
'When we don't have a partner to work on a great idea with, we just start it ourselves,' says Libermann. 'We knew nothing about the personal care industry, we just knew it was very wasteful.' So what is the Forgo formula? It's all in the name – Forgo means 'to do without,' and they thought about what to get rid of. This method of subtraction started with the ingredients, and then the 80-90% water that exists in most products in the toiletries industry, and then the most evil, the plastic, throwaway bottle.
Collaborating with a lab in Canada, they produced three different concentrated powders with just six ingredients that, when mixed with water at home, turns into the foaming hand wash we all love. The Forgo starter pack includes a reusable frosted glass bottle made in Portugal, and the sachets for powder are made from paper, but without the usual plastic coating that prevents recycling. The team have swapped this with a water-soluble alternative, that means it definitely can be recycled. The final touch? It is a subscription-based service that can slip through your letterbox when you run out, shunning the shipping of tons of water for no reason.
Simple and effective, the Forgo handwash comes in three scents – neutral, citrus and wood, and in true Form Us With Love (and Forgo) style, the visual identity carries a minimal aesthetic too.

'Sustainability can be an everyday thing' is message Form Us With Love want to drum with this new venture – and by the sounds of it, this is just the start for Forgo. The brand see space for this transformation in other areas of the cosmetic world, that is yearning for this type of reductive change.
INFORMATION