Francisco Costa on using fermentation to synthetically produce natural ingredients
The founder of pioneering brand Costa Brazil talks to Wallpaper* about how he's complementing fair-trade practices with cutting-edge biotechnology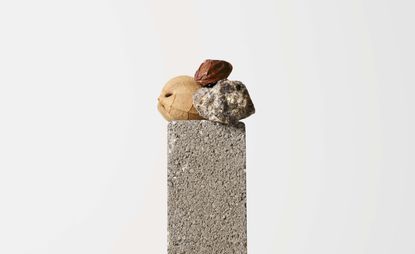 (Image credit: Marius W Hansen)
Wallpaper* Newsletter
Receive our daily digest of inspiration, escapism and design stories from around the world direct to your inbox
Thank you for signing up to Wallpaper. You will receive a verification email shortly.
There was a problem. Please refresh the page and try again.
Imagine if you could recreate almost any substance using fermented yeast and sugar cane. Sounds impossible, right? According to Francisco Costa, the former creative director of womenswear at Calvin Klein and now founder of the beauty brand Costa Brazil, not only is it possible, he's already doing it.

When Costa tells me this over tea in London, I'm inclined to think I must be misunderstanding. After all, Costa Brazil's unique selling point is its use of natural Amazonian ingredients such as kaya, a skin-moisturising superfood extracted from the pods of the sapucaia tree; cacay, a vitamin-E packed nut that contains retinol; and, most significantly, breu, a resin extracted from the almaciga tree that's used to relieve anxiety and improve the appearance of skin.
The future of sustainable beauty with Costa Brazil
Costa was born in the Brazilian state of Minas Gerais and lived there until his mother's untimely death in the mid-1980s, which spurred him to move to New York and study fashion. There, he took language courses at Hunter College during the day and classes at the Fashion Institute of Technology at night. After graduation, he quickly landed a position at Oscar de la Renta before becoming chief womenswear designer at Tom Ford-era Gucci, and then creative director of womenswear at Calvin Klein, where he released collections that honoured the brand's signature 'Calvin clean' minimalism in a manner that was distinctly his own.
When Costa left Calvin Klein in 2016, he knew he wanted his next project to be 'less superficial, more intimate, right on the skin'. Beauty felt like the natural fit, but he did not have a sense of what the identity of that brand could be. That changed when he took a trip to the Amazon, hoping that chance would throw something his way. Eventually it did, in the form of rock-like hunks of breu resin, which Costa saw Indigenous peoples throwing into ritual fires. Intrigued by its heady, treacly smell, Costa soon learned breu was an astoundingly versatile remedy for everything from anxiety and headaches to colic, respiratory issues, and aggravated skin.

Breu would become a defining element of Costa Brazil's identity, and the brand would launch in 2019 with skincare oils derived from the ingredient, as well as packaged pieces of unprocessed breu to be burned at home. At first, Costa sourced his breu from a Brazilian manufacturer who specialised in working with Amazonian ingredients, since he didn't have the access or means to source and distribute the ingredient on his own. But in January this year, Costa went back to the Amazon to visit the villages that supplied breu to his manufacturer. 'When I talk about a village, I mean ten houses in the middle of the jungle. It's more like a family,' says Costa.

The size of these villages came as a surprise, as did the circumstances under which the villagers were sourcing the ingredient. 'I didn't realise that, for every 500kg that I have committed to, they have to go deep into the forest for three months,' Costa recalls. He adds that, although the villagers see themselves as the guardians of the forest, and have dedicated their lives to its preservation, they do not legally own the land: 'It's very tough on them psychologically.'
With this in mind, Costa started buying raw resin directly from farmers for his burnable breu, since it goes directly to the consumer as is. But the breu that goes into his skincare oils and lotions still needs to be processed through a manufacturer. Mindful of fair-trade practices, Costa negotiated with his manufacturer to offer these villagers an increased fee. Still, he is quick to note that he doesn't see himself as a paragon of sustainable business practices. Running a major, sustainable beauty brand requires an appetite to keep learning, a humility to recognise that you could always be doing more, and an occasional willingness to make fiscal sacrifices for an ethical good.
Costa has seemed to largely abide by these principles over the three years of Costa Brazil's existence. The brand has worked with the NGO Conservation International to identify farmlands that harvest with as little impact to the environment as possible, often providing new opportunities to communities previously obliged to grow conflict crops that, because of their value, can encourage tensions between competing stakeholders and government bodies. Around the same time as his Amazon trip, Costa was looking for a collaborator to help him grow the brand.

That was how he came to work with Amyris. The San Francisco-based synthetic biology company engineers yeast strains and ferments them in sugar cane syrup so that the plant sugars are converted into new forms that mimic the genetic make-up of other natural substances. Costa is now working with Amyris to recreate breu through this process. In Costa's eyes, the work he and brands such as L'Oréal, Shiseido and Estée Lauder are currently doing with Amyris is 'the catalyst of what sustainable beauty is going to be'.
Costa Brazil will still be sourcing breu from the Amazon, supporting the local industry there, but, by synthetically creating breu in conjunction, it will be able to produce at a greater scale than ever before without an increased environmental impact. 'When we produce sustainable ingredients using alternative methods of manufacturing, we don't have to rely on petrochemicals or vulnerable plants and animals,' an Amyris spokesperson tells Wallpaper*. 'For our work examining replacements for breu and other forest extracts, it's about striking that balance between science and nature; we want to continue to smartly source our ingredients in a way that helps the forest thrive.'

Costa may call himself 'the most organic, nature-driven person in the world', but he realises that 'we have to acknowledge people too, and you have to create a 360-degree system of cooperation both in the lab and in the forest. We're going to continue sourcing from farmers. But at the same time, having that clean slate that makes these ingredients available on a larger scale is really exciting.'
INFORMATION
A version of this article appears in the August 2022 Design for a Better World issue of Wallpaper*, available in print, on the Wallpaper* app on Apple iOS, and to subscribers of Apple News +. Subscribe to Wallpaper* today!
Receive our daily digest of inspiration, escapism and design stories from around the world direct to your inbox
Mary Cleary is the Beauty & Grooming Editor of Wallpaper*. Having been with the brand since 2017, she became an editor in February 2020 with the launch of the brand's new beauty & grooming channel. Her work seeks to offer a new perspective on beauty, focusing on the pioneering personalities, product designs, and transformative trends within the industry.