Henri Matisse's legacy lives on with new brand launching at FIAC
Jaime Hayon, the late Alessandro Mendini and Ronan and Erwan Bouroullec create vases under the Maison Matisse brand, founded by the artist's great-grandchildren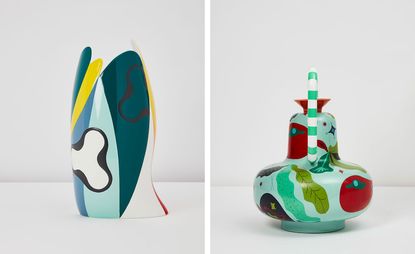 (Image credit: © Maison Matisse)
Henri Matisse is born again. To celebrate the artist's exceptional legacy and the 150th anniversary of his birth, Matisse's great-grandchildren had a luminous, and colourful idea: fund Maison Matisse with the aim to create unique collections that reflect the master painter's vision. Henri Matisse spoke of 'an art with balance and purity that doesn't disquiet or disturb, so that the tired man can enjoy peace and quiet in front of his painting'. Such is the intent of Maison Matisse, which will unveil the first pieces during FIAC, Paris this week.

'We wanted to avoid creating any by-products and revive the spirit of Henri Matisse. For us, it meant collaborating with expert designers and artisans to imagine bold shapes and showcase unparalleled savoir-faire,' explains Jean Matthieu Matisse, who has been working on the project for a decade.
The selected designers he thought had a real talent with volumes, shapes and colours: the late Alessandro Mendini, Jaime Hayon and Ronan and Erwan Bouroullec. 'We wanted the collection to reflect different cultures, styles and techniques: each designer represents a singular approach and praises a unique know-how. Heritage and legacy were, of course, the starting point but we were also looking for a contemporary edge, talents that would instigate bold emotions.' Each was given a carte blanche to imagine a limited-edition object, and granted access to documents and archives.
Without further guidance, all three designers chose to design a vase. For the late Alessandro Mendini, he cited that 'first purity and then light' came to mind. 'For me, the elements Matisse works with and that inspire his imagination are plant leaves in their vases, the furniture and objects occupying domestic spaces, women nude or dressed, all intertwined within a decorative space festooned with arabesques. I reflected on a complex, sinuous and organic form, as if it involved conceptual leaves, with silhouettes drawn from the structure and the geometry of some of his paintings.' The vase's delicate fabrication was entrusted to Florentine master craftsman Alessio Sarri.

Valencia-based Jaime Hayon based his designs on 'fantastical elements: forms, silhouettes and natural references that conflate and float in a sea of colours. Tradition and audacity come together.' The three distinct vases were made – using ancient techniques – by Bosa, an artisanal factory located in the Venetian mountains.
Meanwhile, the Bouroullec brothers' series of vases 'translates the concept of a window open to the outside.' Terracotta, anodized aluminium and glazed ceramics were associated in three combinations to picture a window as if one gazed onto a landscape. A resolutely bright window into the past.

Following this first chapter, Maison Matisse's permanent collection will be launched early 2020.
INFORMATION