In memoriam: Alessandro Mendini (1931-2019)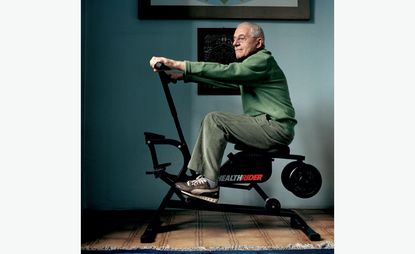 (Image credit: © Peter Marlow / Magnum Photos)
The exuberant and influential Italian architect and designer Alessandro Mendini has died aged 87. The definition of a renaissance man, he not only produced architecture, graphics, furniture, interiors and paintings, but was editor-in-chief of Domus magazine from 1980 to 1985, and in 1976, co-founded Studio Alchimia with Ettore Sottsass.

Although he was known best for his playful and witty postmodern creations, such as the flamboyant 1978 Proust armchair for Cappellini, Alessi Anna G corkscrew, and the 1994 Groninger Museum in the Netherlands with its bright yellow tower, he was still working up until his death at Atelier Mendini in Milan, alongside his younger brother Francesco.

Born in 1931, Mendini graduated from the Politecnico di Milano in 1959 with a degree in architecture and worked from 1956 until 1970 as a partner with architect Marcello Nizzoli at his industrial design studio Nizzoli Associati.
It was during his 40s, as one of the key protagonists of the Radical Design movement, that he first found his groove, challenging design conventions, arguing for active and critical engagement and creating fun, colourful pieces. One of his notorious stunts during this period was to set two identical chairs on fire just outside the Casabella office. By burning the chairs, each of which bore the name 'Lassù' (up there), his avowed intention was to blur the line between art and design.

It was during this time, too, that Mendini carved out a reputation as one of the world's leading design critics and architectural theorists, contributing extensively to the critical analysis of postmodern design. He began his 15-year career in publishing as managing editor of Casabella magazine from 1970 until 1976, then served as a founder and managing editor of his own magazine, Mode, from 1977 until 1981, and then, as mentioned, as editor of Domus magazine from 1980 until 1985.
RELATED STORY
In 1976, Mendini co-founded Studio Alchimia with Ettore Sottsass and Michele De Lucchi, rejecting modernist values and aesthetics in favour of decoration, humour and irony – and paving the way for the Memphis group, which Sottsass left Studio Alchimia to co-found.

The intertwining of art and design would prove to be a recurring theme in Mendini's work. His 1978 Proust armchair, for example, combined a Baroque form with a pattern of multi-coloured fabric inspired by pointillist artist Paul Signac.

In 1983, Mendini began a long partnership with Alessi. His best-known, and arguably most divisive, design is the whimsical, anthropomorphic Anna G corkscrew, which he created for the Italian brand in 1994. Evoking the form of a smiling woman wearing a dress, it remains one of Alessi's most recognisable products.

As an architect, Mendini's buildings include the Alessi residence in Omegna, Italy; the Teatrino della Bicchieraia in Arezzo; a memorial tower in Hiroshima, Japan; and the Groninger Museum in The Netherlands. Of these, the latter, constructed between 1988 and 1994, is perhaps his masterpiece.

After founding Atelier Mendini in 1989, he remained very much in demand, collaborating with leading Italian product design companies and international brands. In 2010, Wallpaper* saluted his work with a design award for Best Cabinet, while in July 2016 he memorably transformed Le Corbusier's historical Appartement N°50, within Marseille's Unité d'Habitation.

Mendini was honoured during his lifetime with two Compasso d'Oro awards (in 1979 and 1981) as well as being named Chevalier des Arts et des Lettres in France and receiving a European Prize for Architecture Award in 2014. His humour, critical viewpoint and disruptive influence cannot be underestimated on several younger generations of architects and designers – Fabio Novembre expressed it perfectly, posting on Instagram: 'A master, a father, a friend! I'll miss you!'