Alessandro Mendini vibrantly transforms the Le Corbusier Appartement No.50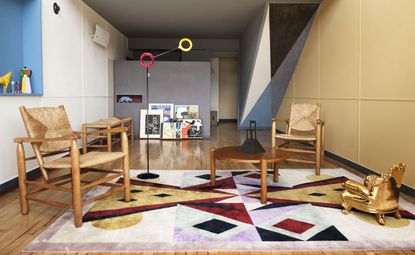 (Image credit: Philippe Savoir,foundation Le Corbusier,ADAGP)
Jasper Morrison, the Bouroullecs, Konstantin Grcic and Pierre Charpin. This is the star-studded list of names who have had the pleasure of refitting Le Corbusier's historical Appartement N°50, within Marseille's Unité d'Habitation. The landmark living space, owned by Jean-Marc Drut, has played host to an annual summer exhibition for the last six years.

Last year saw the first time the apartment has been taken over by a group of student designers, with the coveted school ÉCAL dispersing products that catered to the occupant's everyday needs. For 2016, Drut has placed the keys in the trusty hands of Italian designer Alessandro Mendini.

For his project, the master of radical design was inspired by the primary colours that characterise Le Corbusier's building. Taking centre stage of the makeover is a strong line-up of eight custom-made, Memphis-style ceramic totems on the mezzanine floor, rigidly protecting the area and staring straight out of the window. 'I selected eight colours similar to the ones he chose,' Mendini explains, 'with the aim of creating a diaphragm that acts on the modulation of sunlight.'

The vibrant palette is mirrored across the room, in the Nepalese rug that covers the floor, the striped caffettiera 'Oggetto Banale' on the mantlepiece and the playful 'Amuleto' floor lighting – all of which naturally enhance the wooden space. 'All the normal furniture of the apartment has been left in place,' Mendini explains, 'including the paintings and documents belonging to Le Corbusier that are always present here.'

It is the space's sense of life and presence that makes this such a unique exhibition. The installation is indelibly imbued with a sense of the resident, the builder and the designer who placed their mark on it. 'Finally I have the wonderful occasion to render homage to Le Corbusier with my delicate "performance",' Mendini muses.
INFORMATION
Alessandro Mendini at Appartement N° 50 is on view from 15 July – 13 August. For more information, visit the Appartement N° 50 website (opens in new tab)
Photography: © Philippe Savoir / foundation Le Corbusier / ADAGP