Tajimi Custom Tiles makes Milan Design Week debut with Bouroullec vases
At Milan Design Week 2022, Tajimi Custom Tiles presents new designs by Ronan and Erwan Bouroullec and pieces by Max Lamb and Kwangho Lee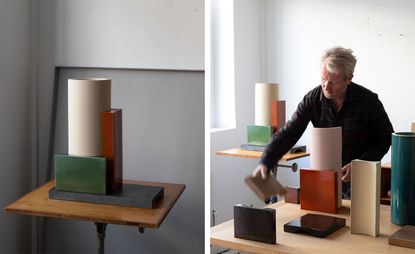 (Image credit: press)
The vase is abstract, geometric, minimalist, with angular ceramic slabs and floating blocks in forest green and rusty red glazes positioned around a white cylinder. Perhaps more surprising than its visual composition? Each component was created by a special clay extrusion method used for tile production in Tajimi, a small pottery city in central Japan famed for a ceramics heritage dating back 1,300 years.

This is one of a series of a dozen-plus vase-like objects created by Ronan & Erwan Bouroullec for a new exhibition by Tajimi Custom Tiles, taking place in the industrial confines of Gallery Assan One, a former printing factory in Milan, during Fuorisalone 2022.
'Tajimi is like a candy store full of different flavours, in yellow, brown, pink,' say the Bouroullecs. 'Like a firework, it explodes with delights. It gives us indescribable pleasure to play around with them.'
The exhibition is the first outside Japan for Tajimi Custom Tiles, which taps into its long heritage of ceramic craftmanship to produce quality customised tiles for international architects and designers. The company first launched in Tokyo in 2020 with a sleekly curated exhibition featuring contemporary tile installations by Max Lamb and Kwangho Lee, whose work will once again be showcased in the Milan exhibition.
Describing the concept behind these creative collaborations, the brand's creative director and curator David Glättli tells Wallpaper*: 'Tajimi Custom Tiles is basically offering a service to architects providing custom, tailored tiles for individual architectural projects. So the goal is not to produce and exhibit an actual product through these collaborations, but to show the vast potential and beauty of Japanese tiles, with their natural irregularities and vivid glazes.'
The new exhibition showcases the specialist tile production methods for which Tajimi's craftsmen have long been famed – from clay extrusion to pressure moulding – filtered through a creative contemporary prism. There are the knitting-like white looped lines of Lee's serenely minimalist installations, created from modules using clay extrusion, which can be stacked horizontally or vertically to create functional objects such as walls or seating.
Meanwhile, Lamb explores the boundaries of highly precise pressure-moulding techniques, by creating modular three-dimensional tiles that have been crafted into a series of soft-edged objects, from vases to benches, in earthy Japanese shades.

The Bouroullec creations, which are debuting in Milan, offer a different spin yet again on the versatility of the shapes, colours and textures of Tajimi's tile production capabilities. Their vase-like objects consist of geometric elements, created using clay extrusion techniques, attached to a large cylindrical body, with each component in a different shade, reflecting the vivid visual range of Japanese glazes.
Describing the genesis of the collaboration, Glättli, a creative director based in Zurich and Tokyo, explains: 'While until a few years back, the two might have been categories as "furniture designers", I felt that their work has become more and more personal, surpassing boundaries and is no longer directly associated with particular industries or brands or genres.
'This made me interested in their perspective on artisanal tile making and Tajimi Custom Tiles. Plus, I might not have thought of it, or dared to ask, if Ronan hadn't sent me a note after he saw pictures of the Tajimi Custom Tiles launch exhibition in Tokyo in 2020. His words were very positive and encouraged me to approach them with this project.'
INFORMATION
Tajimi Custom Tiles is on view during Milan Design Week 2022, 7-12 June 2022
ADDRESS
Gallery Assab One
Via Privata Assab 1
Milano
View Google Maps (opens in new tab)