Paola Lenti and Estudio Campana turn unwanted waste into playful seating
Italian brand Paola Lenti and Brazil's Estudio Campana stay in the pink with an eco-friendly and socially responsible debut collaboration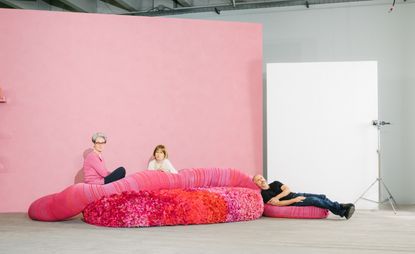 (Image credit: Federico Ciamei)
'Working on this project has been a gift for us,' say designers Humberto and Fernando Campana of their new collaboration with the Italian company Paola Lenti. Entitled 'Metamorphosis', to suggest the transformation of materials in the hands of the designers, this collection will be unveiled during Milan Design Week 2022, at the brand's HQ on Via Po, Meda, and aims to raise awareness of the future of sustainable productions, and the beauty of materials with past lives. In fact, the seating series, developed by the Brazilians in close collaboration with the company, are made of waste pieces of carpet or textile, now ready for a new life.
At the start, the brand's eponymous founder, Paola Lenti – a designer who works in tandem with her sister Anna, a nuclear engineer – sent a huge box full of small fragments of colourful fabrics to Brazil. The Campanas called it a 'treasure', able to generate endless outcomes. There were further reasons for their enthusiasm: 'We were intrigued by the possibility of working with a global company that holds high standards at every step of the process. We were touched by their acknowledgement of our creative process, reflected by a genuine openness to integrating the Campana gaze into this collection,' they say.
'What could a simple piece of rope be turned into? A flower? A seaweed? What could a fragment of fabric become? How could we play with colours?' wondered Paola. Inspired by nature and named after various types of insects, the resulting collection transforms unwanted materials into one-off pieces that take on organic forms; each handmade piece is slightly different, depending on 'the catch of the day'.
Importantly, Coulture Migrante, an atelier in Como that focuses on providing opportunities for women and men at risk of social exclusion, was put in charge of part of the production: 'Beauty cannot and should not be separated from ethics. If I want to be truly sustainable, I cannot ignore ethics. So why not commit to reducing inequality, as well as consumption?' reflects Paola.
It's an ethos that resonates with the Campanas. 'Thirteen years ago, we founded Instituto Campana to offer work to different communities, from independent artisans to vulnerable people,' say the brothers. 'Currently, we are working on an old dream of ours: building a park in our hometown of Brotas that merges art with nature, with pavilions made with local materials, plants, and natural fibres, surrounded by native forest. We planted 20,000 native trees in the past 20 years. The project, which includes a learning centre, aims to restore the Atlantic Forest that once covered this region. It will be a space for healing and contemplation.'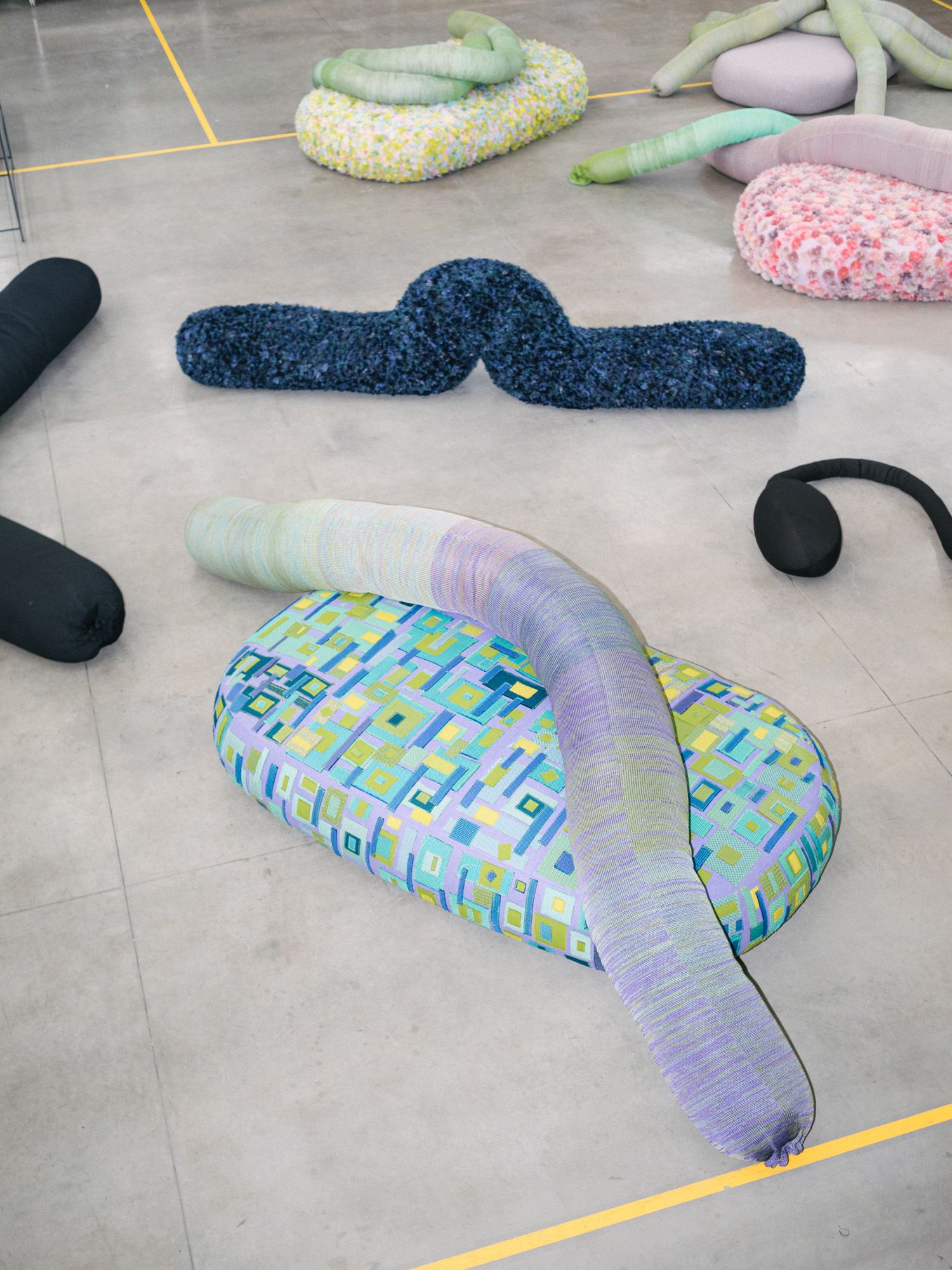 The two pairs of siblings also found a common enthusiasm for colour. 'For me, colour is a feeling. It has a thousand different facets, a thousand possibilities,' Paola says of her practice. Colour seems to take over her pieces, transforming playful shapes into poetic and vibrant furnishings. A flamboyant colour palette and forward-looking design are the foundation of the brand, which was founded in 1994. It has since expanded internationally and become an industry leader thanks to its research into natural materials.
The Lenti sisters have always been devoted to their quest for high-quality recycled materials. From the development of the Twiggy yarn, which is 100 per cent recyclable and eco-compatible, to the use of Aerelle Blue, a German fibre made entirely from plastic waste that serves as furniture fillings, the brand continues to innovate and exemplify a conscious design. Equally, the Campana brothers have been pioneers in sustainable design for over 35 years, creating objects that reflect their heritage and local traditions. The pair combine forms and materials, creating something otherworldly, at times odd, but profoundly and poignantly beautiful. Since their 'Favela' chair in 1991, they have created furniture that mixes rural features with colourful Brazilian urban views, merges the smooth with the rough, and juxtaposes the processed with the found. Inspired by everything natural and organic, by popular culture and backyard gardens, by forests and passers-by, they bridge Brazilian heritage, craftsmanship and artistry with sustainable, high-quality design.
'Metamorphosis' marks the first collaboration between the designers and Paola Lenti, partners who, although geographically and culturally distant, have found mutual ground in their work and lives – at times by chance, at others because of conscious and shared professional choices. Paola admits that she, her sister and the Campanas are 'linked by a series of coincidences'. 'The Campanas are two brothers, Anna Lenti and I are two sisters. Humberto and I are both Pisces, while his brother Fernando and my sister Anna are Taurus. Finally, we share a childlike curiosity, an astonishment for the aspects of life that empower us to always seek out beauty.'
The Campanas add: 'Paola is a joy to work with. She brings humanity and a certain lightness to the table that allows things to flow in harmony.' Beyond the seating designs, their partnership has also resulted in a film titled Che Spreco Rinunciare (What a waste to give up), directed by Maurizio Natta. With Humberto as its star, the film presents a fairy tale that explains how beautiful recycling can be.
INFORMATION
The 'Metamorphosis' collection by Estudio Campana is on view at the Paola Lenti HQ in Meda from 7 – 12 June 2022
paolalenti.it
estudiocampana.com.br
A version of this article appears in the July 2022 issue of Wallpaper*, on sale 9 June. Subscribe today! (opens in new tab)
ADDRESS
Paola Lenti
Via Po, 100 A
20821 Meda (MB)
Maria Cristina Didero is an independent design curator, consultant and author, who has contributed to many publications over the years; she is currently Milan editor of Wallpaper* . Didero has consulted for companies such as Vitra, Fritz Hansen, Lexus, Fendi, Louis Vuitton, Valextra among others. Based in Milan, she works internationally, curating exhibitions for institutions: some of her most recent projects include Nendo: The Space in Between and The Conversation Show at the Holon Design Museum, Israel; FUN HOUSE by Snarkitecture at National Building Museum, Washington D.C.; SuperDesign a project about Italian radical design, NY; Vegan Design, or the Art of Reduction by Erez Nevi and The Fish and The Crowd by Carlo Massoud, Milan. In April 2022 she curated a Mathieu Lehanneur exhibition at the Triennale in Milan called The Inventory of Life, while in July she debuted a project at the MK&G in Hamburg titled Ask Me if I Believe in the Future, alongside a series of ongoing collaborations. She was appointed 2022 Curatorial Director of Design Miami/. She is currently preparing two projects for Milan Design Week 2023.
With contributions from