Home comforts: secrecy and private sanctuaries ruled NYCxDesign 2017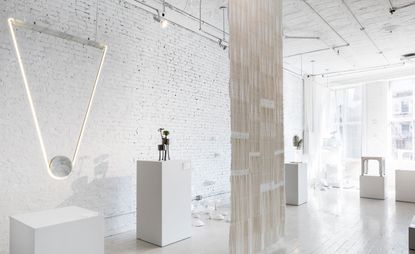 (Image credit: Alan Tansey)
New York City homes tend to be private affairs. We live our lives in public spaces – but as this NYCxDesign spree (originally a week and now near one month) suggests, home is where we want to be. Whether in showroom unveilings, site-specific installations or imaginative booths at ICFF, Sight Unseen Offsite or Wanted Design, there's an overall mood shift in what designers are offering, and the creative demands for residences and hospitality projects in New York and across the globe.

That's not to say that there's been a cultural shift in our domestic spaces to revolving doors – no, no, secrecy and sanctuary still rule private space. But particularly for what many designers uncharmingly call 'end users' or us, their clients, if there's a message underlying many a home design collection is that Netflix has won: we want to stay home.

Design Within Reach, for starters, revived Shaker furniture with new interpretations of wood swivel chairs by Studio Gorm and wood baskets by Gabriel Tan; and its latest summer collection offered oversized seating by Studio Tolvanen and Matthew Hilton, a nod to the binge-watch phenomenon, perhaps? That same impulse for comfort was seen in Marc Thorpe's 'Husk' sofa for Moroso, with its soft felt, and body-conforming cushions. At the Carl Hansen & Søn showroom, warmth and ease came in the form of Poul Kjaerholm 'Smile' and 'PK1' chairs.
Designers reinterpreted Shaker design for the 'Furnishing Utopia' collection

'Take a seat! It's so comfortable,' Eric Hansen bellowed, pointing to the 'Beak' chair, a smoothly sanded Danish oak lounger with muted peach leather seating pads, a reissue of Ole Wanscher's 1951 design. Beside it stood Anker Bak's foldable 'Rocking Nest' chair, shaped like a baby's bassinet but for adults. De La Espada, at the Future Perfect's secret space, had sprawling 'Armstrong' three-seater sofa by Matthew Hilton; while humorous text-painter Marc Hundley (who recently created a home environment for Frieze), launched a collection that included a sofa and modular tables and benches.

The world hasn't turned hermetic – designers of all stripe seem inundated with hospitality commissions, and the dictated demands for public spaces are in stark contrast: razor-sharp geometric forms, lavish natural materials of marble and onyx, and muted palettes that fit any filter. The latter especially being true at the very edited Sight Unseen Offsite. Newcomer from Montreal, Claste debuted at ICFF a seriously sexy line of 'pure material' chairs in glass and pink onyx that gave a 'slight sense of unease', tells studio co-founder Philip Hazan.

Anna Karlin amped up the mystique at ICFF with her 'Moon' cabinets, in which a marble gazing ball, perched within a glass cabinet, illuminated from within. Bernhardt, perhaps the week's farthest reaching studio, offered a lobby-friendly chair by NFL legend turned actor Terry Crews. Within these spare-but-strong rooms, each piece is a considered gesture, but also pieces often pull double punch. Elsewhere, Rich Brilliant Willing's lighting collaboration with Mayer Davis had a flexible pendant that can be installed however you wish, while Roll & Hill, too, introduced the 'Krane' ceiling mount, all of which spoke the same language as Robert Stadler's 'Anywhere' lamp.

Just as the idea of a moveable light source expands the options for ways to use a space, it was also quite playful – a gesture seen often this week. Elyse Graham's spellbinding 'Black Magic' collection debuted at Sight Unseen Offsite. From Graham's smoked glass nesting side tables to resin vessels, her ode to colour interplay had us feeling nostalgic for our childhoods; over at Patrick Parrish, Chris Wolston unveiled an outdoor collection of pre-Colombian vessel chairs that feel like being hugged by the gods. Home is, after all, where the heart is.
Over in Brooklyn, Wanted continued its transnational outreach with a partnership with Oui Design, an outpost of the French Embassy's cultural affair programme, where a seasoned design house is paired with an unlikely collaborator. The prime examples included glassmaker DH McNabb's reflective prisms and orbs with Fondation d'entreprise Hermès, as well as David Week's rugs with legacy loomers Ateliers Pinton
INFORMATION
For more information, visit the NYCxDesign website (opens in new tab)