Benjamin Hubert's lighting for Muuto mimics the silkworm's act of 'self-wrapping'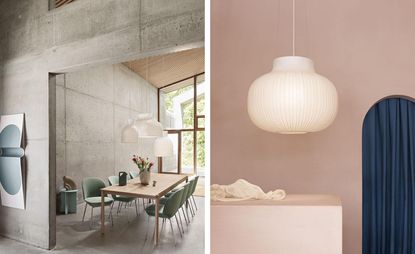 (Image credit: TBC)
Since its beginnings over ten years ago, Muuto has become a major player in the Danish design arena, taking a much-coveted spot among the great minimalists populating the Scandinavian scene. For its latest collection, the brand has broadened its horizons, opting to work with a British designer for the first time – London-based Benjamin Hubert and his studio, Layer.

Back in 2006, Muuto founders Peter Bonnen and Kristian Byrge, who had previously been involved in the beginnings of renowned restaurant Noma, wanted to create a brand that was keeping with the Scandinavian reputation for quality and craftsmanship, but that was also modern and forward-thinking – hence the name Muuto, based on the Finnish word, Muutos, which translates to 'new perspectives'.

For its latest direction, it has created the Strand lighting collection – a series of simplistic yet statement lamps that have a technical formation. 'The Strand pendant lamp is made in a cocoon polymer material that covers its steel structure, imitating the silkworm's act of "self-wrapping",' Hubert said, ahead of the lamp's launch in Copenhagen last week. 'The material is applied to the steel frame as it spins, tightly clinging to the ribs, and gives it an almost cloud-like character'.
When the lamp is switched on, it emits a soft glow through its translucent shell. 'Something I really like about the material is how the graphic lines of the steel structure lie subtly under the cocoon material, like a pencil line on paper,' Hubert says.

Hubert felt as though the partnership was born out of mutual respect for the fundamentals of Scandinavian design. 'As a studio, we believe in creating products that exude a sense of simplicity whilst being super sensitive to the user's surroundings and emotions,' he says.

'The universal connection between these facets is being highly lifestyle-driven to reflect the atmosphere of place and person'. Hubert continues. 'This approach falls in line with the tactile and reductive approach of the Scandinavian culture design of which Muuto exemplifies.'
INFORMATION