Michael Anastassiades and Piero Gandini announce partnership
During 3 Days of Design 2022, the London-based designer presents two new lighting collections and a partnership with the Italian entrepreneur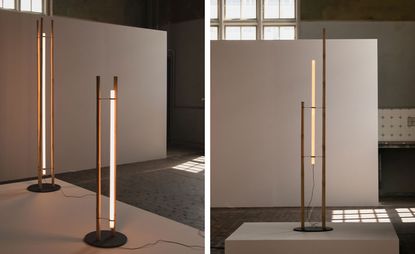 (Image credit: press)
Three years ago when Piero Gandini walked away abruptly from Flos, the inventive Italian lighting company founded by his father Sergio in 1962 that he had built into a commercial powerhouse, the shock was quickly followed by speculation. What would one of the design world's most creative and astute CEOs do next? Gandini kept a low profile and joked about two dreams to make a movie and open a nightclub.

But he is hard-wired for lighting. And this week, during 3 Days of Design in Copenhagen, Gandini revealed that he had indeed returned to the lighting business backing Michael Anastassiades, in the latter's personal brand. Gandini had signed the London-based designer, who is renowned for sculptural lights reduced to their poetic essence to Flos in 2011, agreeing at the time that Anastassiades would also run his eponymous brand where he is able to express his ideas in their purest form.
'It is a perfect match,' Anastassiades declared of his partnership with Gandini after launching two families of lights, hosted by Danish lighting company Anker & Co during 3 Days of Design. 'I started this brand as a passion 15 years ago and I want to put all my energy into things that I can control in the best possible way,' he said. Having a supporter with the knowledge and expertise of Gandini meant he could focus on what motivates him. 'It is important to create things out of passion and love and without having to think too much about all the complexities.'

Gandini was equally effusive saying he was 'very very excited' when Anastassiades asked him to join his private company as a backer. 'Coming from a long history of lighting in my life, I rarely found somebody as passionate and talented as Michael,' he said. 'That we will now work together makes me so happy and so proud, this is the beginning of a new common adventure.'
During his time running Flos, Gandini gave some of the most exciting design talents their first commercial break, starting with Philippe Starck in the 1980s through to Formafantasma in 2018. He discovered Anastassiades after seeing a self-made light in Murray Moss's design gallery in New York, famously striking a deal for what became a fruitful partnership in the back of a London cab. Working with Flos allowed Anastassiades to engage with more technological products such as his String Lights and Arrangements but also retain his autonomy through his personal brand.
Gandini quit Flos in 2019, after disagreements over strategy and management with the private equity investors who own the lighting group, now part of the Design Holding conglomerate. In an interview last year he said of life after Flos that it was 'time to find another pool, a different shape, different water.'
On site for the Anastassiades launch, Gandini said what was important to him was to 'work with true innovation and true talent. Piece by piece, year by year, Michael devoted his life to this with an incredible discipline and rigour and his company is testament to this.'

The lights Anastassiades unveiled in the atmospheric Smedjen, a former turbine workshop, exemplify his approach. Both series use a new custom LED bulb, which he developed himself because he could not find a linear diffuser with the right sort of light. The hand-built bulb produces 'the perfect illumination, uniform in a very slim tube with a warm light' and is self-powered so it can be used in spontaneous configurations.
The Ta-ke series, which originated as exhibition pieces in Milan in 2021, uses bamboo poles placed on a metal base, to create a simple structure to hold the bulb. Anastassiades says he has always been intrigued by bamboo and the way it grows almost straight. Working with it involved no processing, the bamboo is simply cut at the right diameter and length and finished by hand. 'It was an incredible exercise of working with a natural element that is quite unpredictable – what is nice about it is these surprise elements that you can't control that make the lamp so beautiful and real,' says Anastassiades.

The Relay family is even more simplified, using a block of marble as a base with an invisible magnetic connection for the tube. 'The result is a distilled composition of basic elements. An attempt to stretch the delicate nature of the light, in contrast with the grounded marble base,' says Anastassiades.
INFORMATION
michaelanastassiades.com (opens in new tab)