Loom large: 'The Veil', by Ronan and Erwan Bouroullec, and Lesage Intérieurs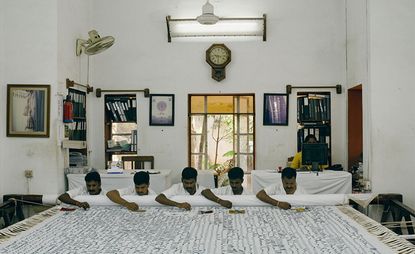 (Image credit: Mark Hartman)
This piece currently holds the Handmade record for taking the most time to create, and is unlikely to see it broken any time soon. When we originally approached designers Ronan and Erwan Bouroullec with an invitation to collaborate with legendary embroiderer Lesage Intérieurs for Handmade 2016, they gracefully declined. They argued that the standard four month timescale that we usually work to for Handmade projects was just not enough, bearing in mind not only their existing design commitments, but also the amount of time required to get to grips with the potential pitfalls of an unfamiliar craft.

But we're not ones to take no for an answer, especially when we knew it would be such an exciting collaboration. So at last year's Salone del Mobile, we persuaded them to meet with Lesage that June with the intention of working on a project for Handmade 2017. This would give them a clear ten months to complete the commission, a fortuitous move as the Bouroullecs' piece would eventually take around 1,000 hours to embroider entirely by hand.

Lesage Intérieurs was set up in 1993 by Jean-François Lesage, a fourth-generation embroiderer and son of the celebrated haute couture embroiderer François Lesage. The company is dedicated to producing exquisite bespoke handiwork for interiors projects, and we had been looking for a way to bring a thoroughly contemporary point of view to a very traditional skill set. The Bouroullecs made the perfect partners.

We took the brothers to Lesage's couture workshops in Paris, where some of the world's most skilled artisans spend countless hours creating opulent embroidery for the likes of Christian Dior and Chanel. The visit was something of an eye opener for the Bouroullecs, who work mainly with industrial manufacturers such as Vitra, Kvadrat, Magis and Samsung. They now began to see embroidery more as a language and technique they could apply and adapt rather than as just a mere stylistic flourish or archaic symbol of luxury.

Still, the brothers had concerns, 'a fear of being able to make something with a certain honesty and relevance to the contemporary world', admits Erwan. And perhaps of misusing the skills made available to them – 'like being with the world's best piano player and asking him to play something too lightweight'.

They were determined, though, to bring a new energy and punch to the art. 'We did not want to approach it just as a picture, something decorative.' They had already been researching digital software coding for a client and wanted to see how they could make that work for this project. 'Embroidery is a way to make pictures or something graphic, something that people recognise, like uniforms for the army, embedded with very clear codes or signs.' Yet in an era of Smartphone photography, 'people can't read the embroidery – or they have lost the ability to read it', so they found a solution where 'software would act as a translator for an ancient technique, to speak the words of a contemporary picture'.

Taking inspiration from our holy theme, the project was named 'The Veil', and its execution took place in Lesage's Vastrakala workshop in Chennai, India. To create their veil, the designers chose to use a fabric by Kvadrat, a company with whom they have a longstanding connection. Designed by Erik Ole Jørgensen in 1987, 'Time 300' is a yarn-dyed Trivera fabric, which uses a weaving process that employs two different shades – one in the weft and the other in the warp – to create a subtle two-tone effect. The fabric was stretched over a giant wooden loom, held in place with straps. This allowed more than ten men to work simultaneously on the cloth, which measured 6m x 3m. Oversized pixels, in the form of 7,200 custom-made frosted blue PVC paillettes in three sizes, were then hand-stitched in blue cotton mouliné, a task that involved 180,000 individual stitches from a team of 20, who clocked in more than 1,000 hours.
Traditionally, fabric is embroidered on one side only and lined at the back, but the Bouroullecs requested that the thread be beautifully finished on both sides, so that the piece could be viewed from all angles. Jean-François Lesage says this approach is extremely rare, comparing it to 'having a back stage as clear as the main stage'. For Lesage, the challenge was 'mostly to ensure a perfect positioning of each element to respect the architectural aspect of the décor'. He had expected a 'culture shock' between 'the past and the present', but he and his team found the experience to be positive, constructive and fruitful or, as he put it, 'a nice encounter between poets'.

Erwan adds, 'Embroidery is an amazing language, full of diverse expression and manner. In a way, it is like the origin of pixels, with each point making a part of the picture while also conveying its own weight and magic.' As for the finished piece, the pair were very impressed that it was constructed using so few tools – just a piece of wood to stretch the fabric, a needle, thread, scissors, and hands. Amazingly simple!

As originally featured in the August 2017 issue of Wallpaper* (W*221)
Watch the making of 'The Veil' in Lesage Intérieurs' workshops in Chennai
INFORMATION
For more information, visit Ronan and Erwan Bouroullec's website (opens in new tab), and the Lesage Intérieurs website (opens in new tab)