Maison et Objet 2015: all the highlights from this year's multinational design event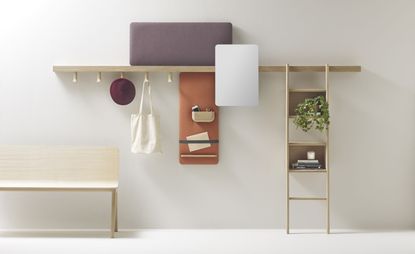 (Image credit: press)
If Maison et Objet is anything to go by, this year is the year of the planter. Mirrors too were in plentiful supply and we won't be short of a coat hook or two. Maison et Objet, the French capital's biannual showcase of new furniture, fabrics, kitchenware and all manner of household trimmings, took place over last weekend in the eight cavernous halls of the Parc d'Exposition to the north of Paris.

We honed our focus on the contemporary, on the (modern) craft and on the high-end furnishings, and found it to be exceptionally multinational. It always is to a certain extent, but a few more flags were flying this year. As is often the case the Scandinavians, and in particular the Danes, were dominating. Evermore established brands Muuto, &Tradition, Ferm Living, Normann Copenhagen and Menu are now strong staples, and always oblige with unmissable additions to their effortlessly stylish home décor collections.

But home turf was well-represented too with great new collaborations at Hartô (Tomas Kral), Coedition (Patrick Jouin and Patricia Urquiola), Specimen Editions (Thinkk Studio and Studio 248), LCDA (Matali Crasset), Bernardaud (Marina Abramović) and - one of our favourites this year - the Basque marble brand, Retegui who engaged the talents of the Belgian designer Sylvain Willenz.

Considered collaborations were also in evidence at Brit brands Ercol, who have teamed with Paola Navone for their latest sofa and chair, at CTO Lighting who have paired with Stéphane Parmentier, and at London-based De La Espada who launched new pieces with collaborators Luca Nichetto, Autoban, Neri & Hu and Matthew Hilton.

Other nations making their presence felt were Japan, with a growing number of craftsmen and small companies represented, particularly in the table top arena (as ever Sfera charmed, and the work of Nodate and Hasami Porcelain impressed) - and Mexico. Heritage silverware brand Tane (opens in new tab) made its first appearance with new work from London-based Bodo Sperlein (opens in new tab), while the Talents a la Carte feature (a regular Hall 7 installation of fresh talent) shone the light on young Mexican designers FOAM & Perla Valtierra, Christian Vivanco, Paul Roco, Liliana Ovalle, Cooperativa Panorámica and Studio David Pompa.

The showrooms and galleries in the city were slightly quieter on the design front. Tried and trusted destinations triumphed - with fresh new works from young designers such as Brit van Nerven and Sabine Marcelis, Giopato & Coombes at Galerie Bensimon, pieces by Charles Kalpakian at BSL, and a great show from Austrian designer Robert Stadler at the Carpenters Workshop.

Quiet it may have been, but if it leaves time for retail relief in our shopping meccas, Merci and Monoprix, we leave smiling.