Neri & Hu designs Camper's flagship showroom in Shanghai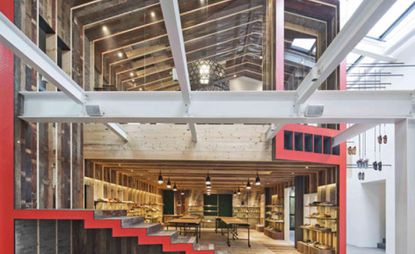 (Image credit: Shen Zhonghai)
Architectural duo Lyndon Neri and Rossana Hu's innovative designs have put them at the forefront of contemporary design in China, making them Camper's first port of call when it came to creating the Spanish shoe brand's new flagship showroom and office in Shanghai. Erected within an industrial warehouse in the French Concession, the store's 'building-within-a-building' concept draws inspiration from the city's 'nong-tangs', or traditional urban alleys.
'We wanted to create a strong identity with a contextual reference that makes a statement about Camper in China,' explains Neri. 'This is Camper's first "home" in Shanghai, so we took the idea of a traditional two-storey house and cut it in half conceptually to create the sense of the opening of the company to the lanes of the city.' To that end, the designers used reclaimed timber and grey bricks from demolished lane houses, adapting them to fit their modern reinterpretation of a typical Shanghai home.
The intriguing design includes a large horizontal mirror that helps create the sense of two halves of a house 'opened like a book', with red rubber edging along the stairs mimicking Camper's shoe soles. Neri says the layering of spaces within a home-like volume allowed a unique view of shoes ranging from new designs presented on custom-made perforated bronze shelving (which Neri describes as 'ultra light and floating in space') and a large table complete with experimental shoe designs displayed on a lazy Susan, evoking Chinese-style communal dining.
An internal 'exterior lane' extends into the showroom area, reinforcing the dramatic sectional cut of the house, while above a unique hanging display of classic Camper styles - attached by steel hooks in a chandelier-like arrangement - was inspired by a local system used to hang clothes for drying. 'We've taken the essence of a lane house and recreated it with snippets of Shanghai's streets,' explains Neri.
Neri & Hu also created several bespoke furnishings for the space, the most notable of which is a special edition of the studio's eponymous 'Solo Chair' with legs in Camper's trademark bright red colour.
ADDRESS
Camper Shanghai
Block C, No. 101 Gaoan Road
200031 Shanghai
China
Receive our daily digest of inspiration, escapism and design stories from around the world direct to your inbox