Carpenters Workshop Gallery opens in Paris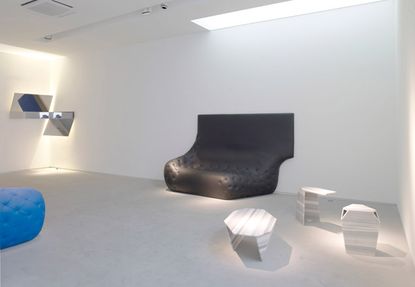 (Image credit: Photography: Fabrice Gousset Courtesy: Carpenters Workshop Gallery)
It's a sign of how far the design-art world has progressed that the new Parisian outpost of Carpenters Workshop Gallery - situated in the 4th arrondissement - can be found in a space that formerly housed the influential Galerie de France, the spiritual home of the country's greatest postwar artists.
Co-founder Loïc Le Gaillard says he was simply in the right place at the right time when he and Julien Lombrail launched the first Carpenters Workshop Gallery in London's Chelsea in 2004 - back in the days when spending big on design was a relatively novel concept. This may be so, but the gallery's skill at moving from strength (Maarten Baas) to strength (Robert Stadler), as well as moving to a second, more prestigious space in Albemarle Street, Mayfair, has kept it at the vanguard of the burgeoning design-art scene.
Le Gaillard and Lombrail, who both hail from Paris, feel the time is now right for a homecoming. The French city may be brimming with art and design but it has little that blends the two, according to the duo. 'Paris has fine furniture and design, but what of design that meets sculpture and vice versa?' asks Le Gaillard, swiftly answering his own question with a firm 'non'. 'Yet the French market is more educated when it comes to fine furniture and modernist design. A market exists in France that doesn't really exist in England.'
The new Carpenters Workshop Gallery in Paris - inaugurated with a show of new works by its existing stable of artists - is situated in an impressive Haussmann building, between the Marais and the Beaubourg plateau. The 600sq m, three-storey venue, updated for Carpenters Workshop Gallery by French architect Jean de Piepape, is nothing short of monumental.
ADDRESS
Carpenters Workshop Gallery Paris
54, rue de la Verrerie
75004 Paris