'Radical Disco': scrutinising the design and architecture of Italian nightlife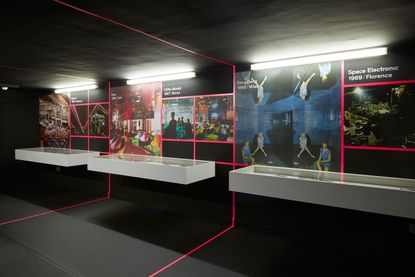 (Image credit: Ben Westoby)
New York's Studio 54 may be the iconic discothèque but the Italians took to nightclubbing with equal fervor, lustily embracing it as a liberating force, especially on the design front.

'Radical Disco', a new show at London's ICA, looks at remarkable series of discothèques designed by architects such as Gruppo 9999, Superstudio and UFO who rallied under the Radical Design banner.

These architects saw discothéque design as a means of personal and professional liberation and experimentation (beware though disco fans, the show only covers the decade up to 1975 and these clubs are more hippy hangouts and place for 'happenings' than glitter-balled boogie zones). Indeed, for these architects, the nightclub had a political purpose as a new kind of multi-disciplinary space, socially and architecturally radical.

Using film, photographs, music and architectural drawings, the story starts with a club called the Pipers which opened in Rome in 1965 (Pipers became a generic terms for similar clubs that opened in its wake). The club included reconfigurable furniture, advanced (for the time) audio-visual technology and art from Piero Manzoni and Andy Warhol and stages for visiting pyschedelicians such as Pink Floyd. Soon Florence University was running a course on nightclub architecture and groovy hangouts where opening across Italy, from Turin to Rimini. All were pretty much defunct by the mid-70s though.

On December 16, to tie-in with the exhibition, Manchester-based designer Ben Kelly, the exhibition's co-curator Catharine Rossi and others will discuss the relationship between architecture, design and nightlife.
INFORMATION
'Radical Disco: Architecture and Nightlife in Italy, 1965-1975' is on show at the ICA's Fox Reading Room until 10 January 2016. For more information visit the ICA website