Laus Awards calls on international creatives for poster campaign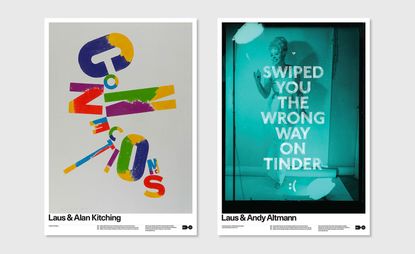 (Image credit: Press)
The Spanish Art Directors & Graphic Designers Association (ADG) has kicked off a star-studded campaign to promote its annual honour roll, the Laus Awards.

Titled 'Laus &', the campaign has called upon a dazzling roster of international designers and creative directors to each devise a poster that interprets the word 'Connections'.

There are 46 contributors in total, in numeric harmony with the 46th anniversary of the awards. Among them are legends from an older generation (including Milton Glaser, Ivan Chermayeff), of-the-moment design outfits (Bibliothèque, APFEL) and celebrated editorial talents (Simon Esterson and our own Editor-in-Chief, Tony Chambers).

'Some are personal friends and acquaintances, others were contacted "out of the blue",' explains curator Astrid Stavro. 'The responses have been heartfelt and enthusiastic throughout.'

They have also been incredibly varied, comprising typographic treatments, symbolic designs involving light switches and the international on/off symbol, cartographic references, allusions to reproduction, and satirical, occasionally explicit takes on the banality of internet communication.

Stavro explains that the aim of the campaign is to encourage and challenge Spanish designers to aspire to the talent of these contributors. At the same time, she also welcomes the attention at the campaign has garnered around the world – especially as this iteration of the Laus Awards is the first to be open to international entry.

The full collection of one-off posters will be exhibited during the Laus Awards ceremony in Barcelona's Design Museum, and remain part of the museum's permanent collection thereafter.
INFORMATION
The Laus Awards are now open for entries. For more information visit the Laus Awards website (opens in new tab)
TF has been editor of Wallpaper* since December 2020. He is responsible for our monthly print magazine, planning, commissioning, editing and writing long-lead content across all our content pillars. He also plays a leading role in multi-channel editorial franchises, such as our annual Design Awards, Guest Editor takeovers and Next Generation series. He aims to create world-class, visually-driven content while championing diversity, international representation and social impact. TF joined Wallpaper* as an intern in January 2013, and served as its commissioning editor from 2017-20, winning a 30 under 30 New Talent Award from the Professional Publishers' Association. Born and raised in Hong Kong, he holds an undergraduate degree in history from Princeton University.