Nendo's first graphic picture book depicts how design ideas are born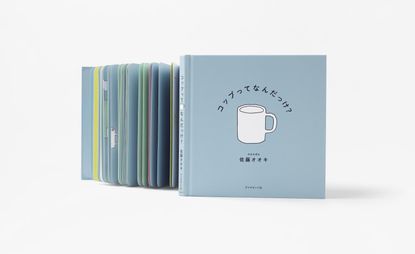 (Image credit: Photography: Akihiro Yoshida)
Nendo, prolific Japanese design studio, has added another product to its expansive repertoire: a picture book. Created by Oki Sato, Nendo founder and chief designer, the book features an ordinary cup as the story's unlikely hero. However, as readers are quickly warned by the book's title, this character (whose central purpose is typically to house hot tea) is 'not just a cup'.
In fact, this picture book functions as a kind of design allegory (smartly personifying cups and spoons instead of tortoises and hares). The story follows a cup with no spoon, who tries to solve the problem of stirring coffee. In doing so, the cup transforms – changing itself into different forms as it searches for a solution. This little cup's journey captures Nendo's spirit of design. Indeed, 'Nendo' in Japanese translates to 'a modelling clay like Play-Doh' – changeable, malleable, inventive.
In not just a cup, Sato showcases the multi-purposeful nature of design; it's not just about creating beauty, but devising imaginative solutions to problems, even if they're just small inconveniences. Sato believes it is worth giving attention to 'small and seemingly boring things', and that the power of design can transform them into objects of excitement and enrichment.
Always looking for playful and surprising possibilities, Nendo's design-morphing cup truly runneth over, with the firm presenting more than 20 physical objects from the book in its launch exhibition (forget party) in Tokyo. Taking the ethos of 'not just a cup' further and further, the company showcased cups with drawers, cups that unwrap, cups that are partial spoons or partial telescopes, clocks, lamps, and flowerpots (the list truly continues). One thing's for sure, when it comes to Nendo, a cup (physical or figurative) is never just a cup.
INFORMATION
For more information, visit the Nendo website
Receive our daily digest of inspiration, escapism and design stories from around the world direct to your inbox