Simple statement: Kvadrat proves a blank canvas is often the best inspiration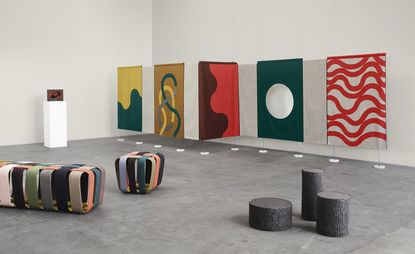 (Image credit: TBC)
Giulio Ridolfo's relationship with Danish textile brand Kvadrat dates back to 2004. During which time the Italian designer – who has worked as a textile and colour advisor to some of the world's leading fashion and design brands – has conjured some of the company's most successful textiles. 'His feeling and approach to colour is unique,' commends Kvadrat CEO Anders Byriel. 'Surprising colour combinations of yarns give every textile by his hand a three-dimensional and surprising depth.'

So, in honour of this fruitful 13-year collaboration, Kvadrat has invited 19 designers from around the world to create unique works using Ridolfo's distinctive 'Canvas' upholstery textile. The brief was left open to interpretation and the results will be unveiled at an exhibition that will open next week at Somerset House, coinciding with the London Design Festival.

The exhibition marks the third instalment of the brand's acclaimed Design Projects series – previous editions have seen creatives reinterpret Nanna Ditzel's 1965 'Hallingdal' fabric, and Finn Sködt's 1984 'Divina' fabric for exhibitions in 2012 and 2014 respectively.
'"Canvas" stands out for its shimmering colour nuances, delicate contrasts and elegant structure,' explains Kvadrat. 'The new colour palette inspired by the painterly landscapes of Skagen, Denmark, comprises a variety of dark, light, cool and warm tones, reflecting the soft, Nordic pastel panoramas and dramatic, dark coastlines.' One standout piece comes courtesy of Japanese designer Teruhiro Yanagihara, who has translated the fabric into a series of wall-mounted shelves. Wrapped around a semi-circular steel frame, the 'Canvas' material forms a solid shelf and a handy sling for storing books.

Strong seating propositions include Max Lipsey's multicoloured 'Woven Bench', Tokyo-based YOY's tactile trunk stools, and BCXSY's timber frame bench, which is distinguished by its revolving rainbow-coloured seat made up of different variants of the 'Canvas' fabric. Maria Jeglinska, meanwhile, is presenting a series of large and small panels featuring the London-based designer's distinctive graphic patterns. Hung from the ceiling, the panels connect together to form a contemporary room divider.
Other room dividers in the collection include Berlin-based Martha Schwindling's 'Tension at Work', where lengths of Ridolfo's fabric are stretched around frames like sails; and Kate Chung's 'Blossom in Between' origami-like folding screens. A set of shaggy-haired dance costumes by New York designers Chen Chen & Kai Williams is one of the series' more playful interpretations, as are Felipe Ribon's piñata-inspired clay containers, and Butternutten AG's cocooning den structures.

'The "My Canvas" project, as a whole, displays kaleidoscopic creativity, reflecting the diversity of the group based on cultural vision,' says designer Jeffrey Bernett, one of the project's five curators. 'It is a testament to what happens when you present talent with a provocative opportunity, a blank canvas.'
INFORMATION
'My Canvas' is on view from 18 – 24 September. For more information, visit the Somerset House website
ADDRESS
Somerset House
Strand
London WC2R 1LA