Step change: architect Jean Nouvel on reinvigorating his design studio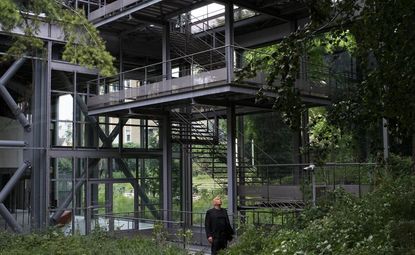 (Image credit: Hannah Starkey )
Back in 1987, the same year architect Jean Nouvel gained international acclaim for his Institut du Monde Arabe in Paris, he also presented six aluminium objects at an exhibition held by the French non-profit VIA (Valorisation de l'Innovation dans l'Ameublement), to a much smaller audience. They included an adjustable table on X-shaped legs, an aluminium-and-rubber folding screen, and a very slick toolbox.

These were Nouvel's first efforts at design – none of which was ever manufactured. But since then the French Pritzker Prize-winner has produced more than 100 pieces of furniture and design, from lamps to doorknobs, while turning out major architectural projects such as Barcelona's Torre Agbar, the DR Koncerthuset in Copenhagen, One Central Park in Sydney, the upcoming Louvre Abu Dhabi and New York's 53W53 tower. In 1995, he founded Jean Nouvel Design (JND) as a sister company to his architecture firm, Ateliers Jean Nouvel.

And yet it is no simple feat to go out and buy a Jean Nouvel dining room set. 'Most of my objects remain confidential,' he says. 'Nobody really knows my jewellery, for example. And we've worked on chairs few people have seen.' That's about to change, as Nouvel sets out to make his furniture more accessible to the general public – and, at the same time, is unveiling the first museum exhibition ever devoted to his design.
Last year, at a celebration for his 70th birthday, the architect confided to his friend Franck Argentin that he wanted to give his design studio a boost. Argentin is the founder of RBC, a network of contemporary furniture showrooms in the south of France. The two first met about 25 years ago at a bullfight; twice a year, Nouvel stays at Argentin's house in Nîmes during the corridas.

Argentin shared some ideas about how JND might move into higher gear. Then Nouvel asked him to head up the design studio, knowing he could bring his keen eye for what sells, as well as his high-level contacts with furniture manufacturers such as Vitra, Poliform and Cassina. 'I'm looking to work with producers that are serious and significant,' Nouvel says, 'and Franck is in a position to talk with them frequently.'

Argentin accepted, taking up the new position in January of this year (he continues to run RBC). 'It wasn't my plan, but the challenge excited me,' he says, sipping espresso from a polished stainless steel cup Nouvel designed for Alessi.

The first part of Argentin's strategy was to create greater synergy between the design and architecture firms. As he explains, 'Neither side really knew what the other was doing anymore, even though they all work for the same person.' He moved the JND studio, located in a building next to the architecture studio in Paris' 11th arrondissement, from the third floor to the ground floor – a simple but effective change. 'Jean used to drop in to our offices maybe three times a month. Now, when he's in France, he stops by four times a week.'

Closer collaboration means that JND can piggyback more easily on Nouvel's architectural commissions. For each new building project, Argentin meets the project leader, to explore how JND can contribute to the interiors and furnishings. 'That in turn seduces furniture manufacturers,' he explains. 'If we know we can already sell 2,000 chairs, it's more appealing than saying, "We'd like you to produce this, but we don't know if it will sell."'

For example, JND suggested designing the kitchen, bathroom and closets for the sales centre of Monad Terrace, a luxury condominium complex that Nouvel is working on in Key Biscayne, Florida. 'The client is extremely flattered,' says Argentin, 'because he has a kitchen designed by Jean expressly for his project, not necessarily more expensive than the one he planned to buy, and afterwards it will be produced around the world.' The studio completed the designs in time for Nouvel and Argentin to present them at the Salone del Mobile last April, including cabinet panels made of a patented aluminium honeycomb under glass. Nouvel was particularly enthusiastic about his first bathtub. 'I designed it in marble and wood to be luxurious and rare, but not flashy,' he says.

Describing himself as an architect who does design, rather than a designer, Nouvel approaches both fields the same way, using context and function as the starting point and avoiding any recognisable style. His designs are clean and precise – they canlook deceptively simple. He strives for what he calls 'elementarity', or a solution that seems obvious once it has been found.

'When I talk about elementarity – or the essence of a table, a storage system, an office – it's about how furniture can transform the way we work,' he says. 'My "Cases" system is a game of construction that defines the geometry of an office, whether you work facing someone, or with separations between people, or at big common tables. Furniture can provoke evolutions in our attitudes about life.'

Working at common tables in an office furnished with 'Cases', the JND team tackles everything from furniture to industrial design to interiors. It has designed braided vinyl flooring for the Swedish company Bolon, as well as a rug made of a single, exceptional sheet of marble for the Italian producer Citco. Its interior design work ranges from a private house in the vineyards of Bordeaux to a chain of new Cacharel clothing boutiques throughout France. And it does scenography, too, such as 62 black shipping containers of different heights for exhibiting replicas of the Lascaux cave drawings in Gwangmyeong, South Korea.

Often, Nouvel will revisit a piece of furniture and improve it over the years – his team refers to these as his 'obsessions'. It is currently reworking his perforated leather 'Skin' sofa from 2008, as well as his 1991 cube-shaped 'Elémentaires' armchair, both for Molteni & C. If you visit the JND agency, you'll come upon more of these obsessions, such as the 'Oxymore' chair that he has been tinkering with for more than a decade (now produced by Figueras), with rigid lines but a soft back that reclines. A sleek, cherry-red 'LessLess' table is a descendant of one that he designed in 1994 for the Fondation Cartier in Paris.

Against a back wall sits a striking 5m-long wooden 'Table au Km', which Nouvel designed as part of a series of limited-edition pieces for the Gagosian gallery and Galerie Patrick Seguin in 2011. 'I'm a specialist in tables,' the architect says. 'I find them inspiring. I don't know if there's a psychological reason – maybe because of their stability. And there's an idea of mass and transformability. I like tables you can unfold, extend, stack on top of each other. I see geometric games and combinations.'

Geometric combinations are also the basis for a brand new prefabricated house Nouvel designed for Revolution Precrafted, a venture by the Filipino developer Robbie Antonio. In a nod to Jean Prouvé's demountable houses, Nouvel designed 6m x 6m modules, each divided by sliding doors into quadrants, so the space can be structured in different ways. The units can exist on their own or linked together, and small blocks containing a kitchen, a bathroom or a closet can be attached to the exterior. The walls are insulated sandwich panels, aluminium outside and wood on the interior. Each house is transportable and easy to install in a matter of days.

The prefab house is being displayed in the Jardin des Tuileries in October, as part of the FIAC contemporary art fair outdoor exhibitions programme in collaboration with the Louvre. Just steps away, the first museum exhibition dedicated to Nouvel's design will take place at the Musée des Arts Décoratifs, from 27 October to 12 February. Titled 'Jean Nouvel, mes meubles d'architecte', the show is an overview of Nouvel's most important pieces going back 30 years, including those original objects for VIA. Certain items will be shown to the public for the very first time, such as seating for the public areas in the soon-to-open Louvre Abu Dhabi.
'It was high time' for such an exhibition, says the museum's director, Olivier Gabet, who got to know Nouvel while overseeing the Louvre Abu Dhabi project. 'He's one of the great architects of our time.' Gabet recalls walking through the Musée des Arts Décoratifs with Nouvel and being struck by the architect's passion for the Middle Ages and Renaissance collections. They decided to go beyond the temporary spaces and install the Nouvel exhibition throughout the entire museum, all 2,000 sq m, including the permanent collections and the Advertising and Graphic Design museum that Nouvel himself designed in 1998.

The show is divided into two general themes. An overview of Nouvel's various design philosophies, from elementarity to transformable furniture, occupies the temporary spaces. The second part, in the permanent galleries, is a dialogue between the museum's historic collection and Nouvel's work, such as the limited-edition 'Triptyques' mirrors he created for the Gagosian gallery and Galerie Patrick Seguin.

The mirrors, of various sizes, measure up to 2.3m in height and extend as wide as 3.7m when unfolded. Their glass is slightly blurry and softly coloured, giving a new perspective to age-old sculptures and furniture from the collection. 'They exist to reveal the space around them, reflecting objects in another geometry, another light,' the architect says.

Hearing him talk, it's clear that Nouvel is eager to finally put his body of design on public display, and in such a prestigious setting. 'To show one's own objects alongside masterpieces from earlier centuries, you need courage, some pretentiousness,' – he pauses for a moment – 'and a bit of humility, too.'

As originally featured in the November 2016 issue of Wallpaper* (W*212)
INFORMATION
'Jean Nouvel, mes meubles d'architecte. Sens et essence' is on view until 12 February 2017. For more information, visit Jean Nouvel's website and Les Arts Décoratifs website
ADDRESS
Musée des Arts décoratifs
107, rue de Rivoli
75001 Paris
Receive our daily digest of inspiration, escapism and design stories from around the world direct to your inbox