ISH fair report, Frankfurt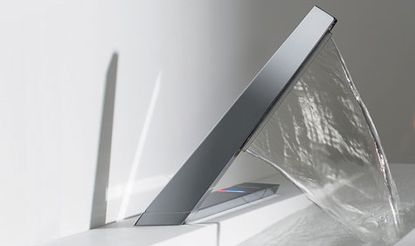 (Image credit: press)
Blue Responsibility was the theme of the International Sanitary and Heating Exhibition, in Frankfurt this week, and a refreshing tinge it was too, even if the responsibility in question was the sort of planet-saving consciousness we usually daub green. Loos, taps and tubs were awash with eco-features.
See Emma's highlights from the fair (opens in new tab)
Flush litrage was challenged and reduced in many cases, and in some, namely the new urinal offerings from Istanbul-based Vitra extinguished completely to be replaced with renewable filters. Bath designs were tweaked to appear no smaller but cleverly crafted to be less voluminous, reducing water consumption - Duravit appear to be among the most cunning at this – and at Roca, one of our favourite blue-ing devices of all was the W + W concept (opens in new tab) - a basin and loo combo, hewn as one single unit which recycles the sink water as flush water for the lavatory.
No expense – and little energy was spared, however, on the stand for Toto bathrooms, where the famous wash and airdry loos (the Washlet) from Japan were launched to Europe for the first time. Why the warm-seated, bottom showering wcs have not been made available to western posteriors before now is unclear, but with a slick stand and publicity material crafted by Winkreative, they certainly arrived with a splash.
Taps, the area of the bathroom that designers like to use as their mouthpiece, abounded and organic forms seemed the order of the day. At Vitra Ross Lovegrove's (opens in new tab) appeared to flow out from walls while at Hansgrohe (opens in new tab), they were partially coated in white to appear as though they were one with the ceramic basin, a concept also deployed at Hansa (opens in new tab) where the sinks ceramic rose up to join the base of the taps. Dornbracht's new faucet, Supernova (opens in new tab) had more angles but was nevertheless a break from the more minimal models of the past.
Water flowed as a slanting wall from Hansa's Hansalatrava (opens in new tab), in different directions from Hansgrohe's Puravida taps and span round in five intersecting jets in its new shower head, a function honed by a focus group of women, who suggested to the innovative company the best possible means of imitating a back massage in the shower without the need for a man on tap.
Colour was interjected intermittently – Matteo Thun's circular basins at Vitra were turned gold for more flamboyant markets, as were the water jets in the Ultimate fitness bath at Villeroy & Boch (opens in new tab). Roca cheered things up with vibrant red in their Khroma range (opens in new tab) and Villeroy & Boch went bachelor black on their Memento (opens in new tab) range of loos and basins while Steinberg's provided the perfect complementing taps and showers in their 161 series (opens in new tab) of taps in matte black.
Wellbeing extensions to bathroom lines were impressive noteably at Duravit (opens in new tab), where a series hot tubs and saunas were given the artful treatment, making the idea of integrating such features into a design conscious space seem achievable at last.
When it comes to pure outstanding design, Patricia Urquiola produced the show-stopper (opens in new tab) for Axor. Bringing the bathroom into close quarters with the bedroom the Urquiola bathroom has a charmingly retro line with practical touches such as hand/towel rail bath ends and sink sides, his 'n her tweaks on the sinks and mirror set ups, and radiator screens with integrated mirrors that divide the space and disguise perfectly their primary function of heating.
At Laufen Roberto Palomba, one half of the husband and wife bathroom design supremos, Ludovica and Roberto Palomba took us through their latest project, a series of three ranges that evolve gently from one to the next, to be mixed or combined if desired, accommodating tastes from the more traditional to the more minimal. 'It had to be for everyone and exlusive, cheap but elegant, large but compact – it had to reach a large, real audience," he explains. The 'real' accounts for the stylish freestanding bath step and handrail (opens in new tab) designed to meet the needs of the less agile and the existence of six versions of each sink to match specific needs. But in their reach for accessibility and practicality, they didn't allow the fun to fade from the process – the cabinet housing for the sinks has a retro feel 'it is a little vintage,' says Palomba. 'I see it as a bit of a Mickey Mouse house (opens in new tab) too – there's something about the big round silver handles that look like his buttons."
Perhaps the award for the most impactful stand goes to Roca, who included a room-sized Led installation portraying a water drop breaking the surface of a body of water, and an art gallery (opens in new tab) of sinks. It helped to highlight that there is far more art to these tools of washing and wellbeing than most of us give credit for.