Mixed outcome: Studio E.O's 'Indefinite Vases' stunningly combine blown glass and stone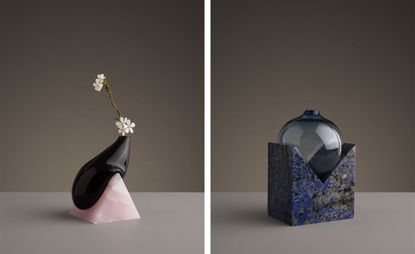 (Image credit: Studio E.O)
Studio E.O founder Erik Olovsson is a gifted storyteller. From turning a daily inspiration exercise into a bright sequence of seating, to reimagining flea market clogs as candleholders with history, his projects have a narrative.

Which isn't to say his work is linear. 'It's always a story but not in the classic way,' Olovsson says. His series Indefinite Vases (2016) is driven by the interaction between two distinctly different materials. Fluid, blown glass meets sturdy marble slabs and the results are stunning.

For Indefinite Vases, the Stockholm-based designer worked with local glass artisans to achieve the spheroids seen slithering, perching, and slumping on their marble counterparts. Olovsson used five different types of carefully chosen marble, granite and onyx. (The industry's ubiquitous white Carrera is nowhere in sight.)

'You don't really know what the outcome is going to be,' the Swedish designer says, reveling in the unpredictable nature of the materials. He is especially drawn to the origins of stone, and the contrast between the aged minerals and newly blown glass.

To Olovsson, the visual effect is calming, and the pieces have similarly captivated viewers, who will have a hard time going back to the definite vase. Fortunately, the works will be sold through Galerie Kreo.

Indefinite Vases is an ongoing project, with seemingly infinite possibilities.

'I don't really see any end,' Olovsson says.
INFORMATION
For more information visit the Studio E.O website
Photography: courtesy of Studio E.O