3 Days of Design: Wallpaper* brings you the highlights from Copenhagen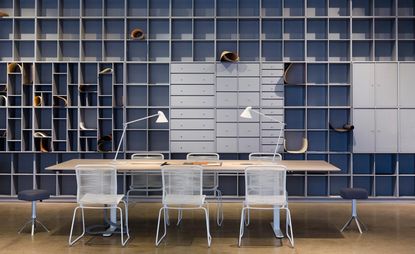 (Image credit: press)
From its inception as a small event held by a handful of local companies at Pakhus 48 – a vast warehouse in Copenhagen's industrial free port – 3 Days of Design has rapidly grown into a focal point for the region's designers, buyers and enthusiasts to congregate and participate in the event's exhibitions, all while lapping up the city's famously livable environs on the cusp of Nordic summertime.

Now in its third incarnation, the event has rapidly developed and emerged as a noteworthy player on the global design calendar, in part thanks to Denmark's own design heritage and the efforts of the myriad furniture and design companies that call the city home. 'At the moment, Danish design receives a lot of international interest', explains event director Signe Byrdal Terenziani. '3 Days of Design helps to reinforce the position by bringing the international design world to Copenhagen.'

Held over three days, as the name suggests, the event is also open to the public and, in true Scandi fashion, is completely free of charge. While the majority of the action occurs in the city's centre and waterfront, participants and enthusiasts alike are transported across the city via boat and car.

Aside from the city's infrastructure – which makes hopping from venue to venue a palpable pleasure – 3 Day's greatest forte is arguably its blending of established names with new and emerging designers. A case in point is the city's Onecollection showroom on Frederiksgade, where owners Erik Boisen, Ivan Hansen and Hans Henrik Sørensen prepared to relaunch designer Finn Juhl's iconic 'France' chair, complete with svelte Raf Simons fabric.

The upstairs showroom was a short hop, skip and jump away, where Thomas Ibsen of Please Wait to be Seated was proudly displaying his young company's new collection, including the new 'Nouveau Pin' lamp and esoteric 'Keystone' chair. Likewise, year-old brand File Under Pop's Josephine Akvama Hoffmeyer presented her striking iterations of hand painted wallpaper and magnetic tiles, beaming after scoring a high-profile contract to adorn Claus Meyer's new Agern restaurant in New York's Grand Central Station.

Frama provided a particular highlight, with its studio store (courtesy of brothers Mathias and Nikolaj Mentze of Studio 0405) providing a moment of peace amid the pulsing activity outside. Housed in a former apothecary in the protected Nyboder district, the space's original woodwork and unique layout worked as a perfect foil for the studio's minimal designs and collection of curated objects.

While not yet able to boast the megawatt attraction of a Salone del Mobile, the event proved to be the perfect showcase for new openings and announcements. Eyes were drawn to Carl Hansen & Søn's impressive new flagship store, complete with an adjoining workshop for craft enthusiasts to indulge their passion, while Rud. Rasmussen announced that their production facility would be joining to Carl Hansen's premises on the Danish island of Funen. Meanwhile, the opulent five-storey residence of the Italian ambassador was opened to the public for the first time, in tandem with a program to bring new Italian design talent to the city in a cross-cultural exchange.

In the time that Danish furniture brand Fredericia had completely refurbished their Nørreport store to resemble a polytechnic boutique hotel lobby (as new creative director Uffe Buchard declared, to 'kick it lovingly in the arse'), &Tradition had been busy teaming with Milanese designers StudioPepe to create a new space within their showroom on Paper Island. Located in a cavernous warehouse, the huge space had been re-sectioned to resemble a Provençal village from above, with each installation curated to best show off the brand's collection. In particular, they revealed their '21 Grams' modular candleholder, fashioned from pure brass and envisioned by designer Isabell Gatzen.

All roads led, inevitably, to the docks, where the vast central space held new offerings by heavy hitters like Erik Jørgensen, Luceplan and Kvadrat. Admiring the modular furniture system in Montana's house-within-a-house, it was obvious that the organisers had taken a step closer to realising their plans of consolidating the nation and city's status within the design world. With over 50 participants this year, each worthy of consideration, they may want to mull a rebrand – three days may just not be enough.
Information
3 Days of Design ran from 26–28 May. For more information, visit the 3 Days of Design website (opens in new tab)