In remembrance: Zaha Hadid's plans to recreate Kurt Schwitters' 'Merzbau'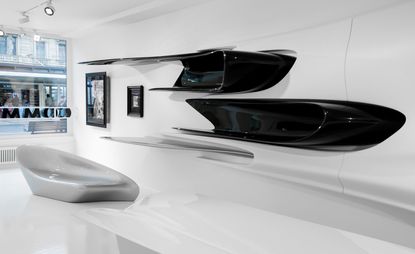 (Image credit: press)
Standing by the grave of Zaha Hadid at her funeral in April, Patrik Schumacher and Mathias Rastorfer of Galerie Gmurzynska turned to each other and resolved to finish one of the late architect's projects.
The idea, born between Hadid and Rastorfer of Zurich-based Galerie Gmurzynska, was to recreate Kurt Schwitters' (1887–1948) immersive 'Merzbau', which spread over eight rooms of the Dadaist's Hanover home. Christened by Schwitters in 1933, it was the original installation piece, pulling together built, found and appropriated architectural elements and his own art in one holistic piece. The original 'Merzbau' was destroyed by a bomb in 1943 but Schwitters created 'Merz' wherever he lived, through his curious ability to find symbiosis between random, recycled elements, as in his collages.
Hadid was drawn to this idea of symbiosis and, with Schumacher, a partner at her firm, she had started sketching out the project before her death. In the past two months Schumacher and Galerie Gmurzynska have brought it to fruition, creating, says Schumacher, a 'soft Merz,' a 'living collage.'
Now, in the resultant show on until 30 September, some 70 paintings, sculptures, collages and ephemera by Schwitters are set among a remodelled interior designed to 'receive them.' Also here are designs from the Hadid archive; a 'Vortexx Chandelier' hangs inside the entrance, 'Dune Formation' shelving cuts along the walls, 'Nekton' stools are scattered around and a 'Genesy Lamp' mirrors the curve of a wall. It's a triple tribute; to Schwitters, to Hadid and to Dada in its 100th year.
Seven years ago, Hadid transformed Galerie Gmurzynska into a suprematist fantasy in an ode to Kazimir Malevich, all hard, edgy lines. At the time, Hadid's buildings were more angular too, a reflection of Malevich's influence, but then she moved on to Schwitters and organic curves.
Norman Rosenthal writes in his catalogue essay that 'ultimately for Schwitters, Merz is form' and here a box-like gallery has been given form, drawing you through from the bright open front to the almost womb-like space in the back, cosseting Schwitters' smaller collages and sketches.
Adrian Notz, director of Cabaret Voltaire where the Dada movement was born in 1916, has contextualised the show by curating areas drawing on Galerie Gmurzynska's collection of archival material, illustrating Schwitters' forays into poetry, stage design and sound.
Such diversity is testament to Schwitters' desire to simply create, paying little heed to the opinions of others, an independence of spirit that, says Rastorfer, was shared by Hadid: 'Zaha was a person who didn't care about what people thought. She just cared about what she did, like Schwitters.'
INFORMATION
'Kurt Schwitters: Merz' is on view until 30 September at Galerie Gmurzynska in Zurich. For more information visit the Gallery's website
ADDRESS
Galerie Gmurzynska, Paradeplatz 2, 8001 Zurich