'Beyond Limits': Sotheby's' modern sculpture show returns to Chatsworth House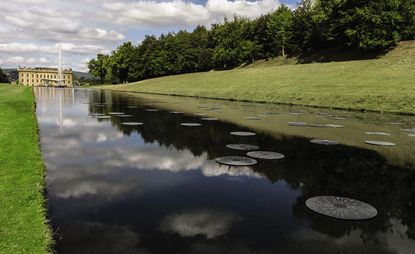 (Image credit: press)
The display of contemporary art in historical settings seems very much in vogue. Versailles has seen blockbuster exhibitions by Takashi Murakami, Anish Kapoor and Olafur Eliasson, Houghton Hall witnessed an illuminating intervention by James Turrell, and Blenheim Palace just welcomed a monumental show by Michelangelo Pistoletto. It's hard to imagine now, but responses were less enthusiastic when Chatsworth House pioneered the genre ten years ago, with the inaugural 'Beyond Limits' show curated by Sotheby's. As the Duke of Devonshire recalls, 'more people were horrified than pleased'.

A decade in, public opinion has shifted, and Chatsworth's annual sculpture sale continues to lead the pack. Its 11th iteration is headlined by a pavilion by the late Zaha Hadid. Titled Lilas, it comprises three 5.5m-high parasols, constructed from tensile fabric stretched over steel frames. Initially improvised for the Serpentine summer party in 2007 when the Summer Pavilion architect failed to meet construction deadlines, Lilas remains a fine example of architectural ingenuity. It is now erected on the main lawn, its sweeping curves standing in happy contrast to Chatsworth's elaborate baroque façade.
A few 20th century works dot the gardens, among them Aristide Maillol's magnificent La Montagne and Lynn Chadwick's primal Black Beast. But it is the newer pieces that awe and amuse. Standing at 4m tall, Erwin Wurm's radically enlarged gherkin satirises the modern maxim that bigger is better. Similarly, Joana Vasconcelos, who exhibited at Versailles in 2012, is represented by the towering Fruitcake, a wonderfully kitschy collage of plastic moulds shaped like fruits and pretzels. Brightly coloured and hollow on the inside, it offers a critique of consumerist culture while earning a few laughs.

The Sotheby's curatorial team, led by senior international specialist Simon Stock, deserve applause for their brilliant contextualisation of art works. Take for example Fernando Botero's Donna Sdraiata (Reclining Woman), a bronze nude with characteristically generous proportions. Placed at the foot of the 24-step Cascade, her voluptuous figure and languid pose are set in striking tension with the energetic splashing of water.

Chatsworth's Serpentine Hedge has been adorned with Alexander Macdonald-Buchanan's Energy 2, a twisted ceramic column that rises above the wavy hedgerows. Its intense blue glaze was achieved by mixing highly reactive coloured oxides directly into the clay, and appears slightly iridescent in the sun's glow – as though it had been painted over by Yves Klein. At the other end of the hedge sits a bust of the sixth Duke of Devonshire atop an antique fluted column, which makes Macdonald-Buchanan's piece appear especially raw and powerful.
And around the Ring Pond there are three pieces of sculptural seating by Wendell Castle, the likes of which had been placed outside New York's Museum of Arts and Design, where the designer-craftsman had a retrospective last year. At MAD, the hustle and bustle of Columbus Circle sadly drowned out Castle's organic forms. But here they look right at home, their leaning cones flanked by gently curved topiaries.

A duo of reflective works, by Cristina Iglesias and Richard Hudson, are also made more compelling by the verdant landscape. Nested among trees, Iglesias's Habitación Vegetal XV (Doble Pasaje) has a mirrored exterior, which belies the ornate vines carved into its passageways. The boundaries of art and nature fall apart as the viewer peers in. Hudson's Tear, a giant teardrop that appears to have freshly fallen on the ground, overlooks and reflects the meandering River Derwent and a 400-year-old bridge. Both works leave a sharp impression while seeming almost transparent.

The only specially-commissioned work in the exhibition, called Time and Again, is also the most mesmerising. The artist is Bruce Munro, who recently set up 50,000 lightbulbs in a stretch of red desert next to Uluru for his Field of Light installation. With 108 giant stainless steel waterlilies, he has now taken over the Canal Pond, a historic stretch of water hasn't been used since the inaugural 'Beyond Limits' exhibition.

The depiction of lilies is fitting, as Chatsworth was the first in Britain to cultivate the Victoria amazonica waterlily, the leaves of which can reach up to 3m in diameter. In 1849, the then-head gardener (and later designer of the Crystal Palace) Joseph Paxton beat out the botanists of Kew to successfully use seeds that had been brought over from British Guiana. The flower also has personal significance to Munro – his solo show at Longwood Gardens, Pennsylvania in 2012 was anchored by an installation of waterlilies assembled from discarded CDs. Munro had been inspired by CS Lewis' novel The Voyage of the Dawn Treader, in which a 'silver sea' stands at the edge of the world, separating mankind from heaven.

As the title suggests, Time And Again is a meditation on ephemerality and eternity. Each of the steel waterlilies is engraved with an abstraction of a clock face, with infinity signs in place of numbers. They have been cleverly engineered to look as though they are afloat, and organised into three sets of circles, representing past, present and future. 'It is a personal reflection and appreciation that "time present" is linked to a significant past and as yet undefined future', explains Munro. Time and Again is a work of great tranquility and power, made perhaps more poignant by the occasional trespassing duck.
INFORMATION
'Beyond Limits' is on view until 30 October. For more information, visit the Chatsworth House website (opens in new tab)
A preview video of 'Beyond Limits', filmed by drone, is available on the Wallpaper video channel
ADDRESS
Chatsworth House
Bakewell, DE45 1PP
VIEW GOOGLE MAPS (opens in new tab)
TF has been editor of Wallpaper* since December 2020. He is responsible for our monthly print magazine, planning, commissioning, editing and writing long-lead content across all our content pillars. He also plays a leading role in multi-channel editorial franchises, such as our annual Design Awards, Guest Editor takeovers and Next Generation series. He aims to create world-class, visually-driven content while championing diversity, international representation and social impact. TF joined Wallpaper* as an intern in January 2013, and served as its commissioning editor from 2017-20, winning a 30 under 30 New Talent Award from the Professional Publishers' Association. Born and raised in Hong Kong, he holds an undergraduate degree in history from Princeton University.